I've got another new release sneak peek to share with you today. It's called Jungle Friends from Craftin' Desert Divas. This set will be available to purchase beginning 5/24/2019. Each of the animal images are so adorable and I love all the tropical leaves that come with this set, too. You can make such cute scenes and use the leaves for foreground and background applications. Today, my card features five of the six animals and all of the cool leaves! The best part about this card…the monkey really swings!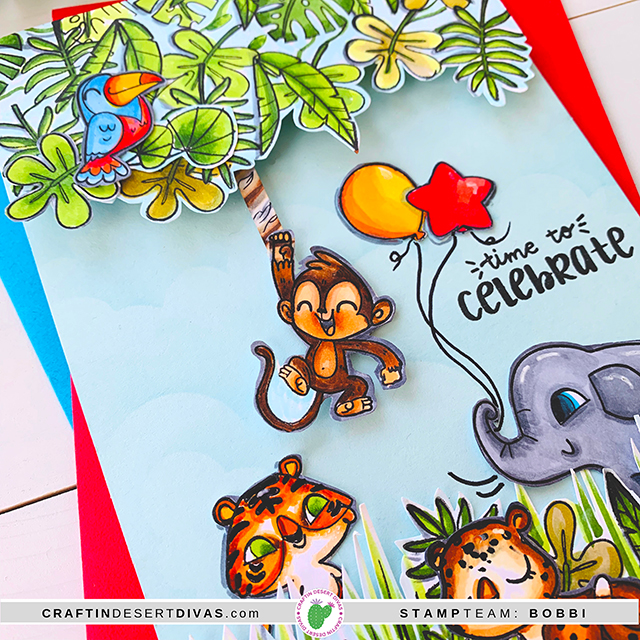 I knew I wanted to make my monkey actually swing so I created the swinging rope mechanism by adding a colored rope strip to a circular die (two sandwiched together with the Copic-colored strip in between) and a hole punched out in the center. I also created a foreground canopy of leaves by stamping and masking the leaves to hide this mechanism. I added some blue color using my BOO Copic in between the leaves to blend with the background and cut out the canopy of leaves and set it aside. I stenciled clouds on the entire card front using Tumbled Glass Distressed Ink on blue cardstock. It's subtle, but adds dimension.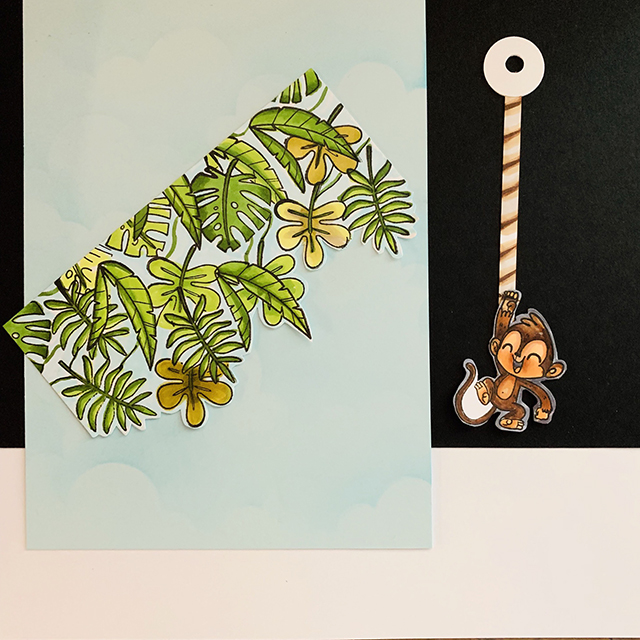 To allow the monkey to swing. I glued a plastic disk to the background, spooled the circular mechanism onto the disk and added another piece of cardstock (larger circle than the center circle on the swing mechanism) to the top of the disk as a stopper. Next, the canopy of leaves was layered on top using three thicknesses of foam to allow the swing to operate underneath. You have to create plenty of clearance for the swing to work.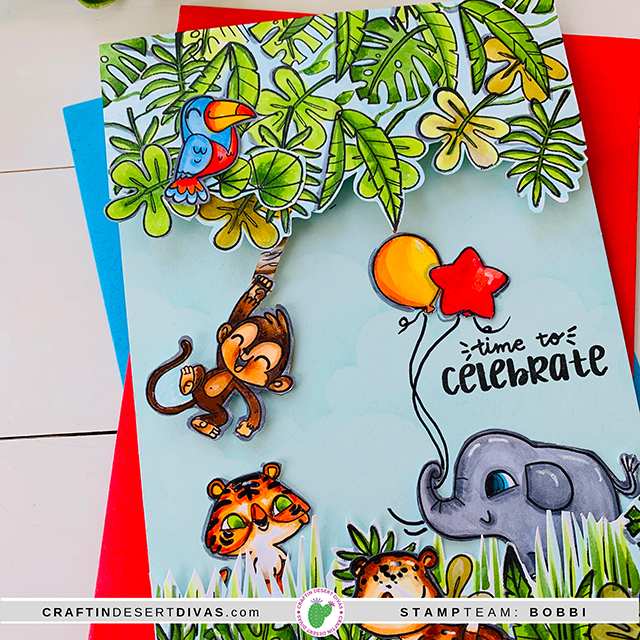 Next, I stamped and colored the bottom half foliage design on white cardstock and cut it out. Basically, I did the same thing as on top for the bottom, adding some tall brushstrokes to mimic tall grassy areas for the animals to live. The animals were positioned in the scene and a few balloons from the stamp set, Cake Tester  were added to the elephant and the phrase from Celebration Trolls was stamped in black. Again this set will be available in just four days, on 5/24/2019. 
Thanks for visiting! I hope you have a swingin' good time in the jungle with this set soon! 
Adding h♥art into every design
Bobbi ♥ Design