It's Day 3 of the Sneaks Peeks for Honey Bee Stamp's new release, Hello Summer. They say diamonds are a girl's best friend. I think they're right. The new Diamond Thin Frame Die creates ten nested frames and one centerpiece. Below, you'll find one way to use these flashy diamonds. 🙂 Check out my next post (see the link at the bottom) where I use the same die for another fun look.
Also, be sure to check back daily for more sneak peeks through 7/5. Then on 7/6 & 7/7  join the Design Team & Ten AMAZING Guest Designers for an inspiring TWO DAY long blog hop full of fun & prizes! The full release will go live Sunday, July 5th at 11:59 pm EST.
Martini, Please!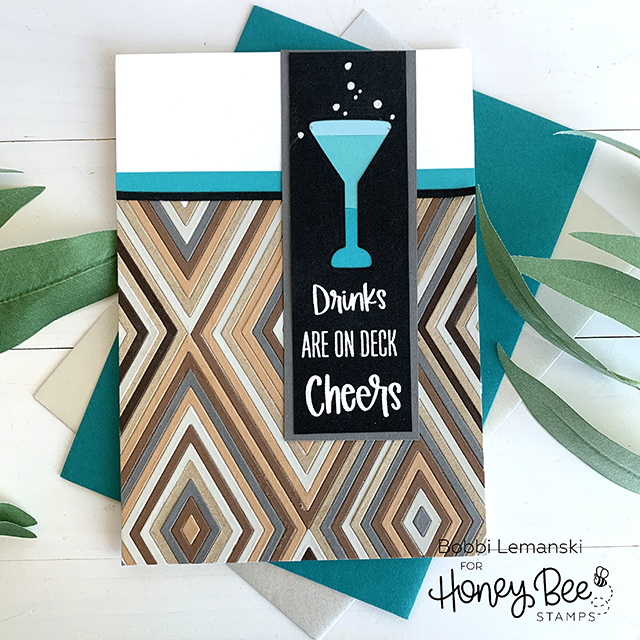 For my first card, I die cut the diamonds out of brown, tan, khaki, gray and black cardstock. I glued them on white cardstock, interchanging the colors to make these multi-colored diamonds and cut the piece down to fit on my 5″ x 7″ card base. (I left 2″ of space at the top for the white to show.) When I stepped back and took a look at the finished diamond design, I felt it looked very masculine. It reminded me of boards on decks or wood floor patterns and inlays. When I read the "deck" phrase in Sip Sip Hooray stamp set, I knew I had a fun match here. I paired the diamond design, resembling a wood plank design with teals for a splash of color.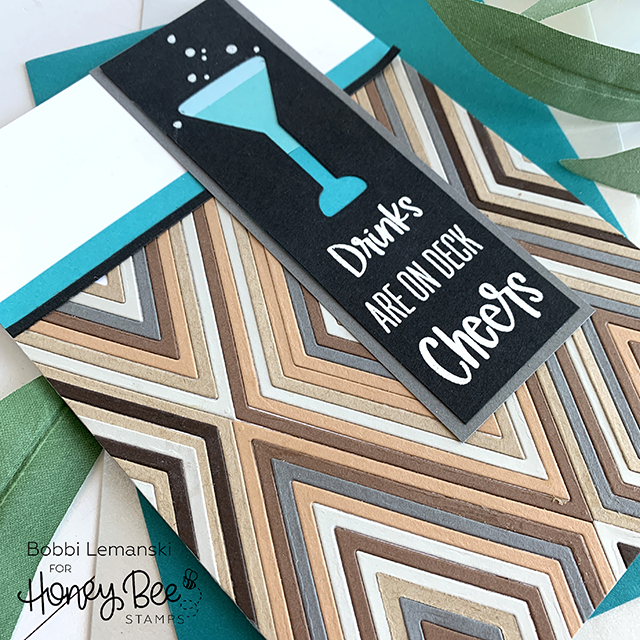 I die cut the martini glass (from the Raise A Glass die set) out of  a black rectangle and heat embossed the phrases from the Sip, Sip, Hooray set. Little white bubbles were added to the top of the glass with my white gel pen. I backed the opening with three shades of teal and aqua to match the teal strip used at the top.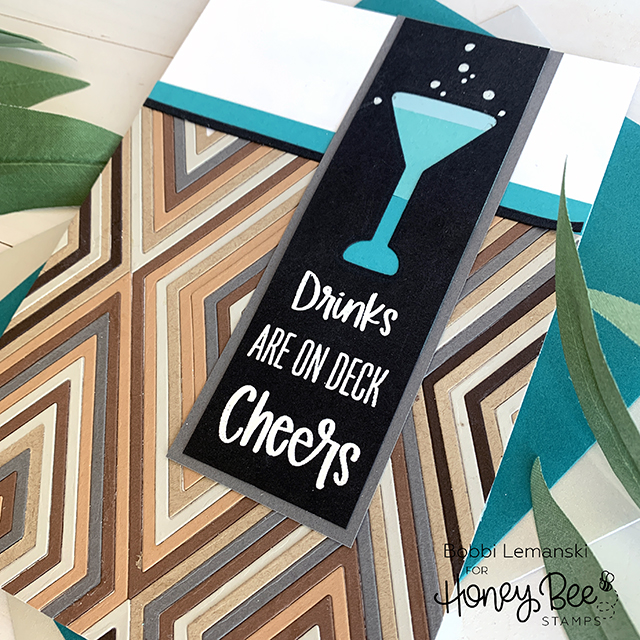 I matted the black rectangle with the steel gray cardstock used in the diamond pattern. After adding the 1/2″ teal and 1/4″ black accent strips at the top, above the diamonds, the black martini rectangle was glued to the front to finish the card. This is a 5″ X 7″ card.
Check out all the sneak peeks from the Honey Bee Design Team on the Honey Bee Stamps blog.
Want to see more ideas and inspiration from me? Subscribe to my blog, BobbiHartDesign.com. I'll send you updates on new posts! You can also find me on Instagram as @BobbiHartDesign and on Facebook as BobbiHartDesign.
Bobbi Hartmann Lemanski, Bobbi Hart♥ Design,
Adding h♥art into every design
Check out this card in my next post where I emboss the diamond design for another fun use.