Why did the chicken cross the road? Well, does the chicken really have to have a reason? Perhaps the chicken
retired from work
graduated from school
decided to go on an adventure vacation
attend school oversees
turned 50, 60, 70…
There's so many reasons why the recipient might decide to cross the road to the "other side" for a new experience.  A silly card to encourage or celebrate that risk or decision may be just what the person needs, especially if he/she is a "little chicken" or hesitant. Sometimes you just need to laugh when change is upon us! Perhaps a little nudge with a card and/or a "congrats" or "go for it" message may be just the ticket to celebrate a big accomplishment or change in life. 
These cards feature the amazing Honey Bee Stamps including the following products: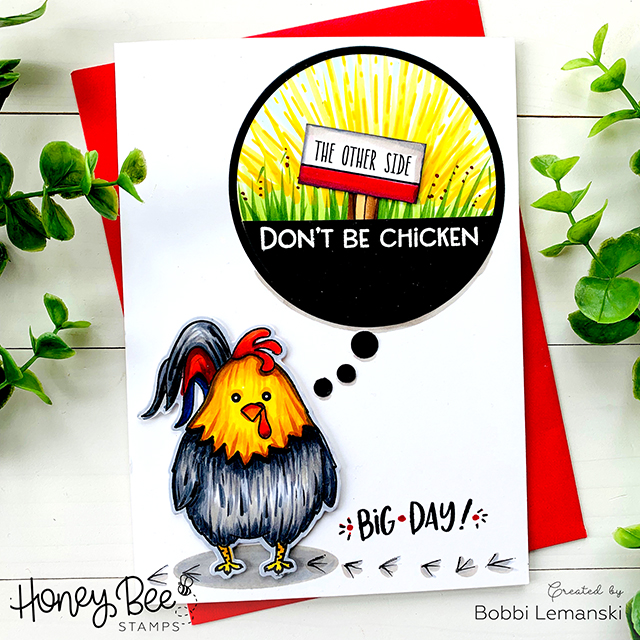 To be honest, I created the card with the field and road and then had an idea to create the thought bubble card. I'm not sure which I prefer so I decided to show you both of them. The two cards really convey the same message, but show it differently. Both cards were colored using Copic Sketch Markers. I created the scenes and signs by hand drawing elements. The white print phrases were heat embossed with white embossing powder on black cardstock. I used the radiant circle to create the sun rays in the thought bubble for the look of sun rays. Both cards are very easy to make as long as you create your scene and then add your rooster later. Positioning is a breeze then. Here's my Copic color choices:
Greens: YG01, YG03, YG65, Blue: B00, Yellows: Y19, Y38, Y05, Oranges: YR68, Reds: R46, R29, R14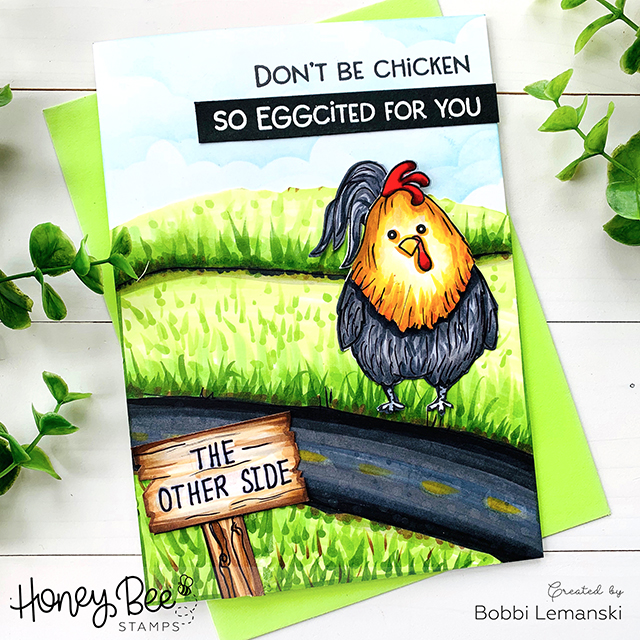 I think these cards are a unique and humorous way to celebrate, encourage and congratulate change in one's life. I'd love to know which one you prefer. 
Thanks for visiting! Try something new today. Explore the "other side" in life! 
Adding h♥art into every design
Bobbi ♥ Design