Happy Sweetest Day! I know some of you probably don't celebrate this day, but I thought it was kind of coincidental that I'm sharing a very SWEET card on a day called, "Sweetest Day!" My card today features more new products from Honey Bee Stamps. You've seen me use the Home Builder Die set to make winter houses and country stores in the past. Today, I've got a gingerbread house for you. How fitting that the Season to Sparkle Holiday release from Honey Bee includes the amazing Gingerbread Add-On die and stamp set! It's fantastic. If you love making gingerbread houses for real, try one made out of paper! It's a lot less messy in the kitchen (well, sort of) and it is better for the diet, too! There less temptation to snack while making. 🙂
To make this card, I used the following products:
While these stamp and die sets are bigger sets, there's lots you can do with just the accessories, beyond the gingerbread house. I'll be sharing ideas through the season so watch for those!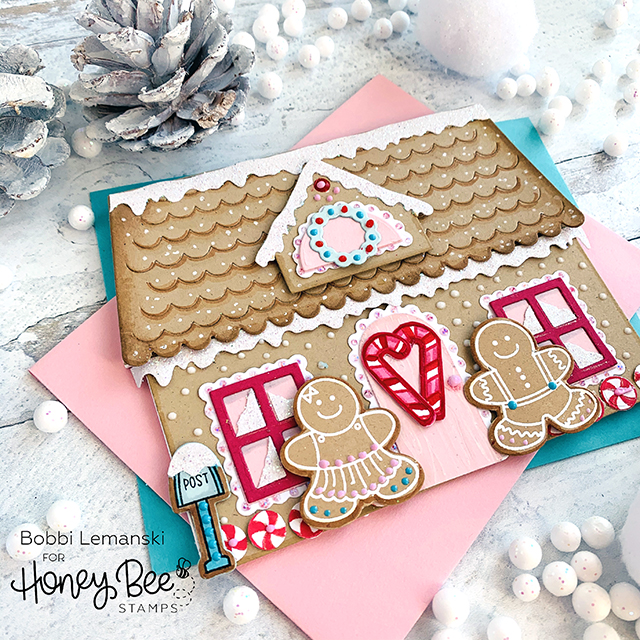 Card Details
To make this card, I die cut my base house from the House Builder Die set. This is the foundation set that actually makes the house-shaped card to decorate. Next, I stamped and die cut the pieces from the Gingerbread Add-On sets that I wanted to use to decorate my house. This is where you can get really creative because there are so many options! I chose the cute scalloped roof, the mailbox, candy canes, peppermints, frilly scallops for the windows, gable and door, the wreath and finally the snowy icicles. Everything was either stamped and die cut or just die cut (e.g., the roof) from either white or a light Kraft color cardstock with a few exceptions  I chose a color for the house that most resembled a real gingerbread color and then did some light shading around the edges to make it look more real or "baked." The door was cut from pink cardstock and I added white gel pen lines for a woodgrain texture. The icicle edging pieces were cut from white glitter cardstock.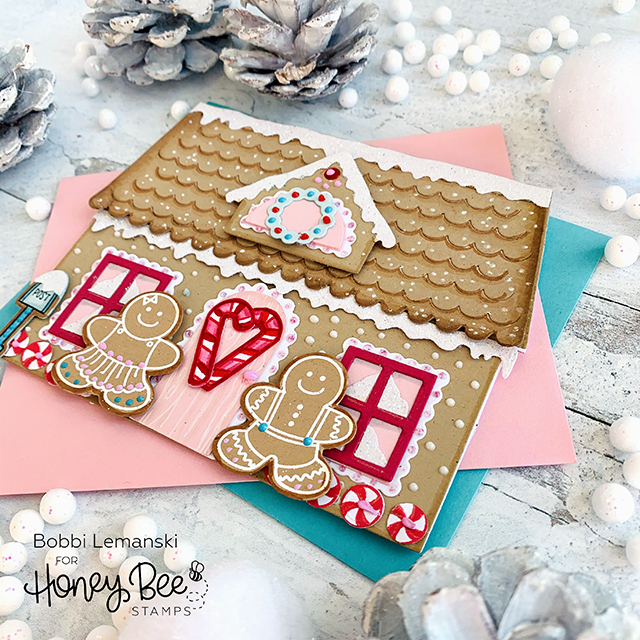 Notice that the gingerbread people were stamped in Versamark and embossed with white powder to make their outlines look like icing was added. I added a few extra details using Pearl Pen in pinks and blues. I assembled everything and then went back in with more Pearl Pen in white and Pink Glitter and added details to the house like dots on the front, centers on the peppermint candies and more glittery pink dots on every scalloped edge around the windows, etc. I also cut snow out of white glitter paper in imperfect triangle shapes and added them to the window sills as if snow had gathered in the window frames.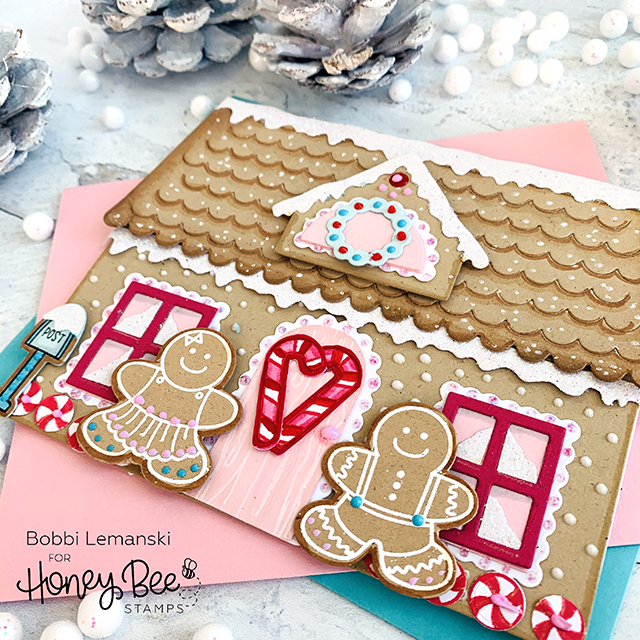 I added a few extra details like snow on the post office, pearl pen drop for the door knob in pink and more color to my candy canes to complete the look. I used my white gel pen to add more white dots on the scalloped roof to resemble snowflakes. This card is an A2-sized card and can mail easily, provided your layers are within thickness limits. I did add foam tape to the back of my gingerbread to make them stand out a bit from the house, but everything was simply layered with no dimensional dots or foam.
The Honey Bee Design Team has been busy making gingerbread houses this season, so check out all the great ideas using hashtag #HBSSeasonToSparkle on Instagram or take a look on the website for more looks using these sets! Happy Sweetest Day! 🙂
Want to see more ideas and inspiration from me? Subscribe to my blog, BobbiHartDesign.com.
I'll send you updates on new posts!
You can also find me on Instagram as @BobbiHartDesign and on Facebook as BobbiHartDesign.
Bobbi Hartmann Lemanski, Bobbi Hart♥ Design,
Adding h♥art into every design