The La-La Land Club Kit for October is so adorable and includes Warm Hugs Marci and three adorable Winter Piggies.  I shared a card yesterday on my blog and have another one to share today as a guest designer for this month. Let's see what these characters are up to today…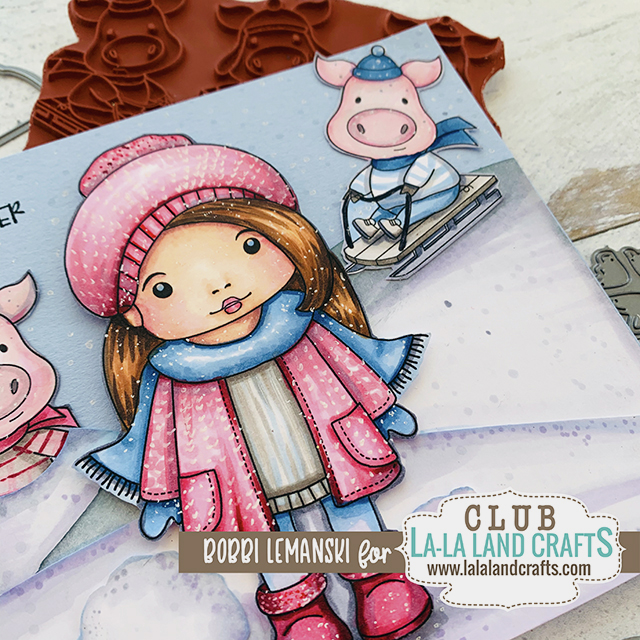 It's a snowy day and Marci and her pig pals are having fun in the snow. One piggy pal is sledding down a steep hill while the other two pigs are stuck in snow mounds at the foot of the hill. Meanwhile, Marci is getting ready to make a snow man with the snowballs at her side. She is absolutely as cute as can be in her winter wear. I colored Marci, the pigs and the scene using my Copic Sketch Markers in the following colors:
Copic Coloring Details
Marci Skin: E04, E02, E00, E000
Marci Hair: E49, E57, E33, E53, E40
Marci Cheek: R81
Marci Lip: R85, R83
Marci Jacket, Soes, Cap: R85, R83, R81, R89, RV11
Marci Shirt: W1, W3, , RV000
Marci Scarf: B93, B45, B41
Snow: C3, C1, BV0000, BV000 ,BV00, B21
Pig Skin: R21, R20, R00, R000
Pig Clothing: B45, B41, B93, R89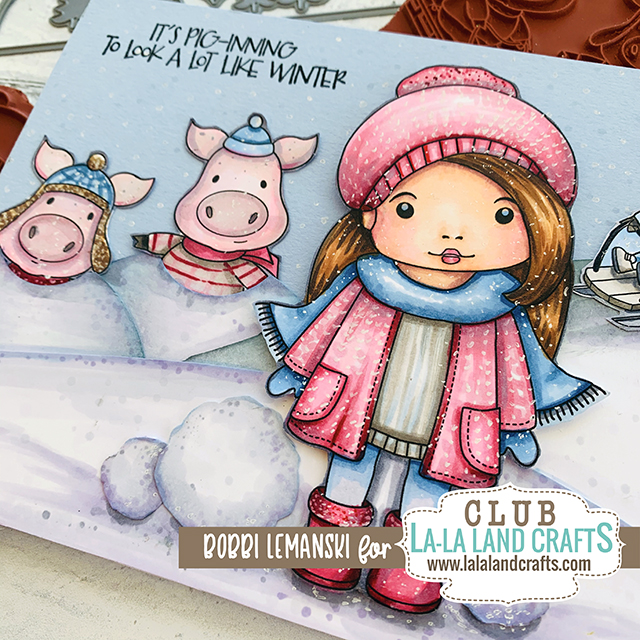 I used a lot of BV shading to blend well with the pink and blue color scheme. It's a very soothing color palette on the eye. I added texture using a white gel pen on the knit cap, boot trim and coat. Lastly, I added white and gray snowflakes for a fun snowfall.
Want to purchase this kit?
To purchase this adorable kit, go to La-La Land Crafts subscription page . This kit has a $68.99 value, but if you subscribe to the club, you can choose between three levels. To get everything in the kit (dies and stamps) the kit price is $39.99, saving you $29.00 this month. There are options to purchase on the dies and/or only the stamps for less, too. Keep in mind, this is the only way to get these exclusive stamps and dies from La-La Land Crafts. You can read the club details on the same page.
Keep updated on posts by subscribing to my blog to the right. You can find me on Instagram as @BobbiHartDesign and on Facebook as BobbiHartDesign.
Bobbi Hartmann Lemanski, Bobbi Hart♥ Design,
Adding h♥art into every design