It's reveal day for the La-La Land Crafts November 2019 club kit! This month's kit is all about loving to read. Book lovers, you will LOVE this kit. La-La Land offers a monthly kit that includes two coordinating stamp sets and a set of dies that all work together. It makes creating so fun! Get ready. You are going to want this one before the holidays. Let me show you why.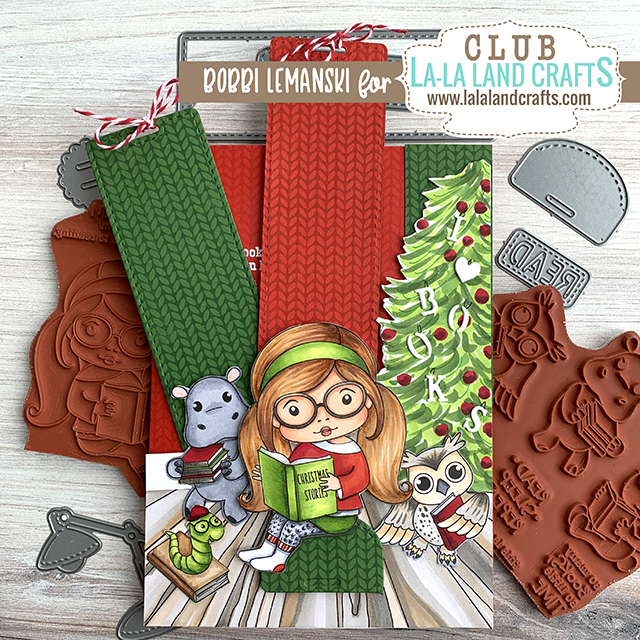 Imagine giving your daughter, granddaughter, or niece a special book or books (perhaps it's your favorite Christmas story) and a coordinating card for the holidays. Include a card like this one that also has a cute pocket that holds two bookmarks!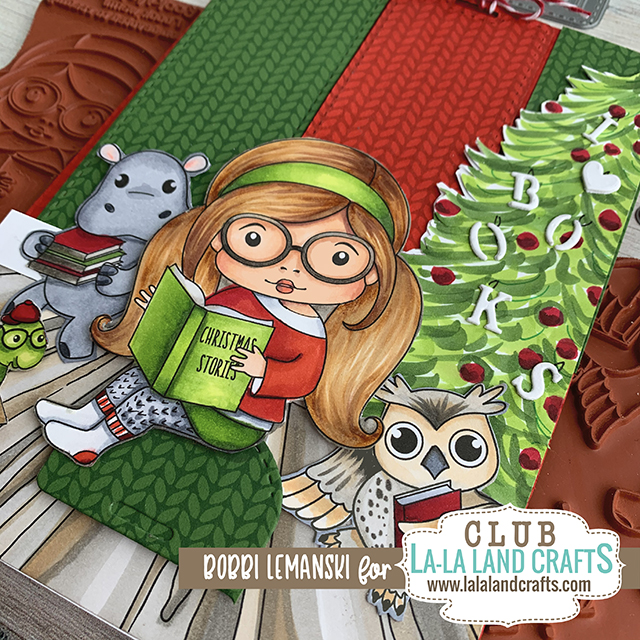 To make this 5″ X 7″ card, I used the contents of the November 2019 Club Kit as well as the Sweater Weather Background Stamp. (Note: The background stamp is not included in the kit, but is available to purchase at La-La Land Crafts.) The Club Kit includes two stamp sets called, "Bookworm Marci" and "One More Chapter" and several dies including a bookmark, two letter frames, a desk light, bookshelf and two bookmark toppers. Using the stamp sets,  I stamped, colored and fussy cut Marci, the bookworm, two hippos and two owl images from the sets. I used the following Copic Sketch Marker colors to color the images: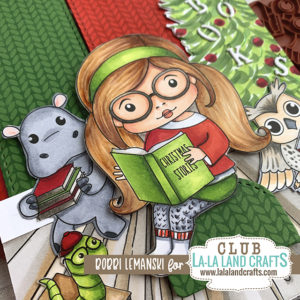 Skin: E04, E11, E00, E000
Lip: R21
Hair: E55, E44, E53, E50
Headband and skirt: YG67, YG17, YG03
Tops: R89, R39, R29, R17, R14, C3, C1
Leggings: C5, C3, C1
Socks: R17, R14, C5, C3, C1
Glasses: W5, W3, W1
Marci's Book: YG67, YG17, YG03
Hippo: C5, C3, C9 and books: R89, R46, YG17, YG03, W5, W3
Bookworm on book: YG17, YG03, YG00, E55, E44, E57, W1
Owl with book: W5, W3, E53, E50, R89, R46
Holiday Tree with bulb ornaments: YG67, YG17, YG03, R89, R46
Wood Floor: W5, W3, W1, E55, E25, E44
To make the base, I stamped the front of a red 5″ X 7″ card base with red ink using the Sweater Weather stamp. I stamped two 6″ X 6″ pieces of green and red cardstock using green and red ink (respectively) and die cut bookmarks out of each color. I also die cut another bookmark out of a solid green and a solid red cardstock for backing the stamped ones. I die cut the rounded bookmark topper out of the remaining stamped green piece. The die when turned upside down, becomes a  "knitted poof" ottoman for Marci to sit on to read her book!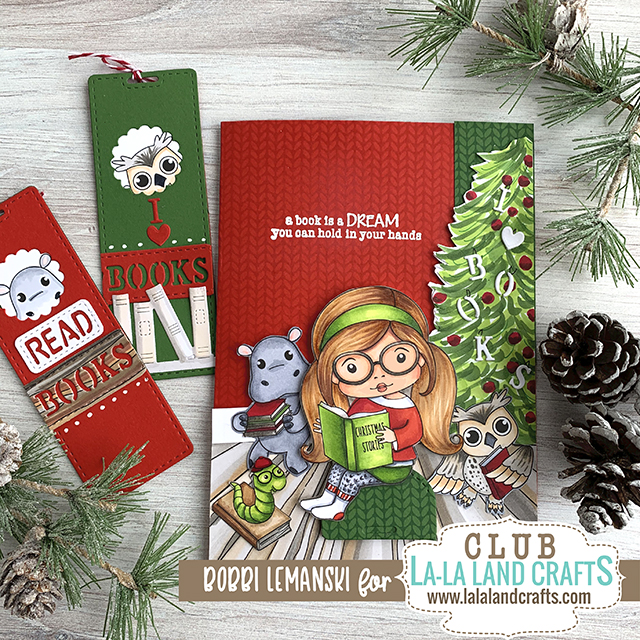 To create the front pocket to hold the bookmarks, I created a reading scene on white cardstock. To make the scene, I hand drew the wood floor with a black marker and colored with Copics in a woodgrain look, I left a strip of white at the top for white base molding woodwork. I hand drew the Christmas tree on the right with some simple green swooshes and red circles for bulbs. I hung white letters, "I (heart) books" on the tree, like ornaments. I attached Marci and the friends to the scene and then backed the entire scene with another piece of  white cardstock for a clean back (so my coloring would not show through) and cut it all out. The cutout scene was attached to the "wallpaper background" red stamped card front and attached using double sided 1/4″ wide tape applied all around the perimeter (only) to make a pocket. To keep the bookmarks from sliding around, I also added a stamped green strip behind the tree to stop the bookmarks from sliding in the pocket. I think the bookmarks make the walls look like wide red and green striped wallpaper. These are actually the backs of the bookmarks!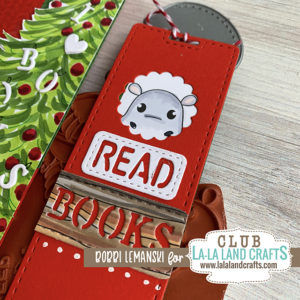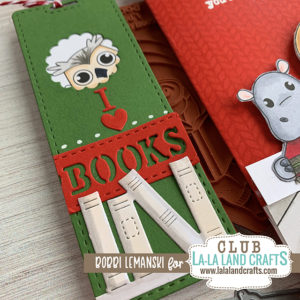 To finish the bookmarks, I die cut a peeking hole out of the solid backs using the scallop die. I added an animal peeking out of the circle and  finished the bookmarks by adding die cuts with words. The green bookmark was backed with the red and the red one with the green. Baker's twine bows were added to complete the two. Lastly, I embossed the phrase on the card front. When the bookmarks are removed, the phrase will be revealed.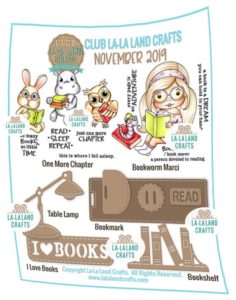 To get these exclusive stamps and dies, you must be part of the La-La Land Crafts Club Kit. They are only available to kit members. You can choose between stamps only, dies only, or stamp and dies together. Each option has a different monthly price, but the best value is getting both the stamps and dies together. The value of this kit is $88.99 and you can purchase it for $39.99, saving your $49.00 for the whole bundle. Plus, creating is more fun that way, too!  Sign up by November 20 and get this kit sent directly to your home! After the 20th, this kit will no longer be available. Thanks for stopping by. Keep watching for 3 more ways to use this kit, right here on my blog!
Want to see my video reveal? Check it out on Facebook here > Club Kit Video Reveal
Want to see more ideas and inspiration from me? Subscribe to my blog on the right.
I'll send you updates on new posts!
You can find me on Instagram as @BobbiHartDesign and on Facebook as BobbiHartDesign.
Bobbi Hartmann Lemanski, Bobbi Hart♥ Design,
Adding h♥art into every design