Last year, I fell in Love with Concord and 9th's stamp set called, Winter Wear so when I saw Daily Wear this year, I knew I had to purchase it. These sets along with Fashion Wear all work together. You'll see what I mean in just a bit. Today's cards, use the following Concord and 9th products: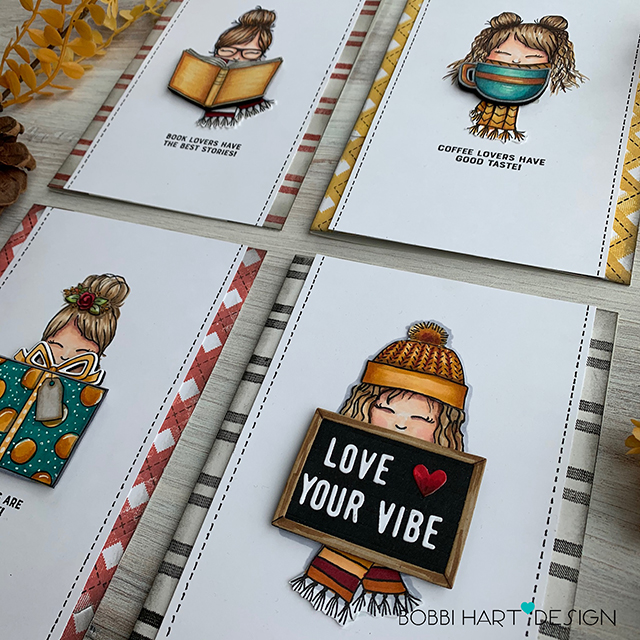 All four 5″ X 7″ cards use those fabulous fabric-looking C9 backgrounds. With these fun textures, I used a more vintage theme for my color palette choices to complement them. I stamped the backgrounds on a natural ((slightly off-white) white cardstock with a bit of black fleck in it. Once stamped, I used a little black ink around the edges (direct to paper method) to make them look slightly more vintage/aged. The faces were stamped on a 4″ wide by 7″ tall strip of Neenah 80lb Solar White cardstock. I added faux black stitching down the sides using a fine-tip black marker and ruler.
Each face and hair was stamped, changing up the hairstyles and accessories. For the faces/skin, I used Copics in E04, E11, E00 and E000. Each one has a bit of pink blush on the cheek, too. I used a different combo of colors for the hair on each one, but in general my go-to brown/blonde hair Copic color choices are E57, E55, E47, E44, E51, E50, changing up the combinations of these brown tones. I usually pick three colors and go with it. In reality, all of our hair is different so just pick a trio (dark, mid, light) and go with it!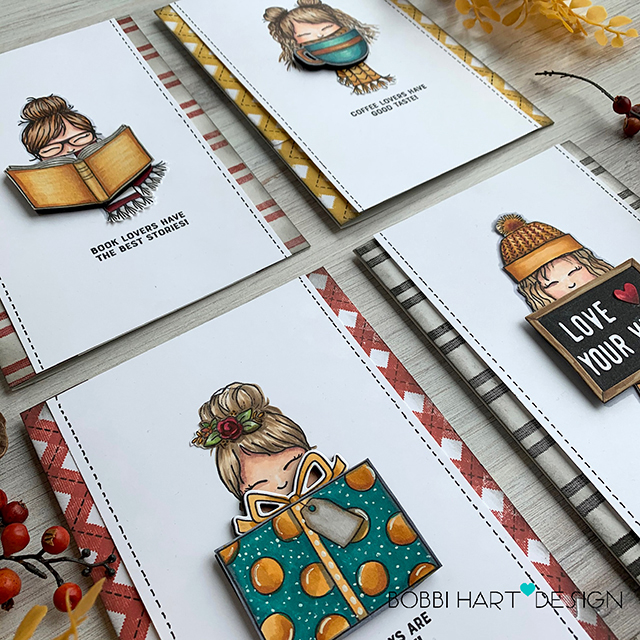 Scarves from Winter Wear were added to each woman (except for the one with a present since it would not show very much). These could easily be stamped directly on the card front as intended to save time. For me, it was an after thought and I wanted to adjust so I stamped and die cut them and then attached below the face. The book, cup, board and present accessories were stamped, die cut and added using foam tape on the back to make them stand out a bit on the card front. Here's a close-up look at each individual card.
The new Daily Wear set includes this fun blackboard – add any message to your card to personalize. How fun is that?!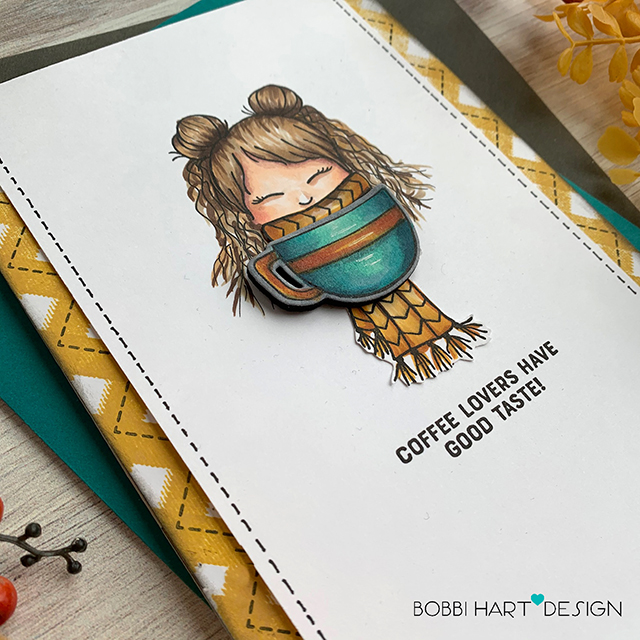 These cards could be used for the holidays and well beyond. I love this over-sized coffee cup in the Daily Wear set. Notice I added some pigtails from Fashion Wear to this girl, too. Know anyone that loves coffee? This card might be the perfect card for her!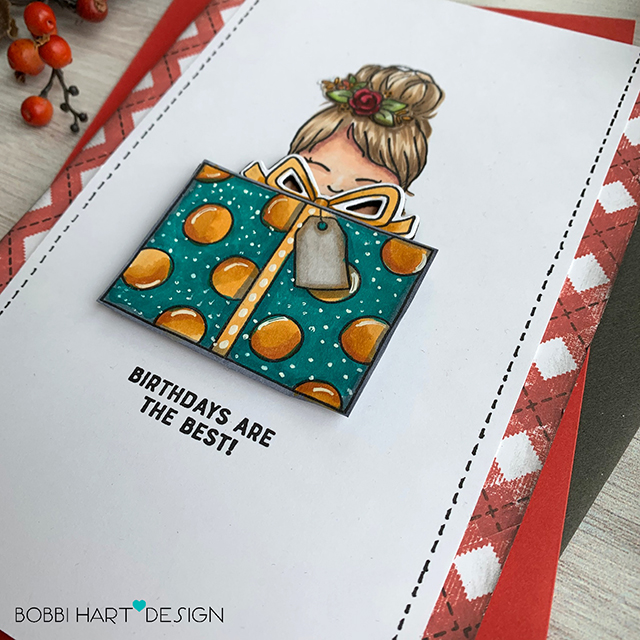 I use birthday cards to most from my stash and this one could be used for any age. I have a teenage daughter and her friends loved this card. You could color up the present to match the actual gift wrap of the physical gift to match!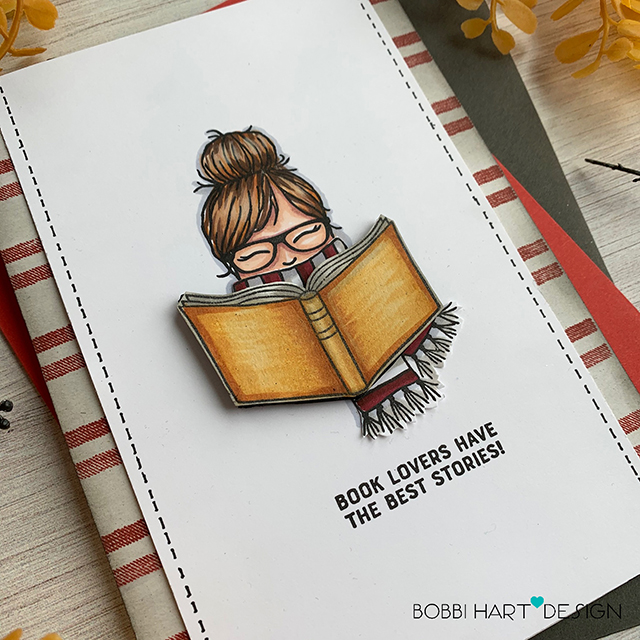 I am part of a book club and this card makes total sense for my book-loving friends. I really love all these new accessories from Daily Wear. The girl is from Winter Wear. Don't you just love her? I added glasses because at my age, we all are wearing reading glasses in my club!
A Quick look at last year's cards….
I also wanted to share the Winter Wear cards I did last year.  This is still such a cute set even on it's own! These cards were done in bright colors for another fun look.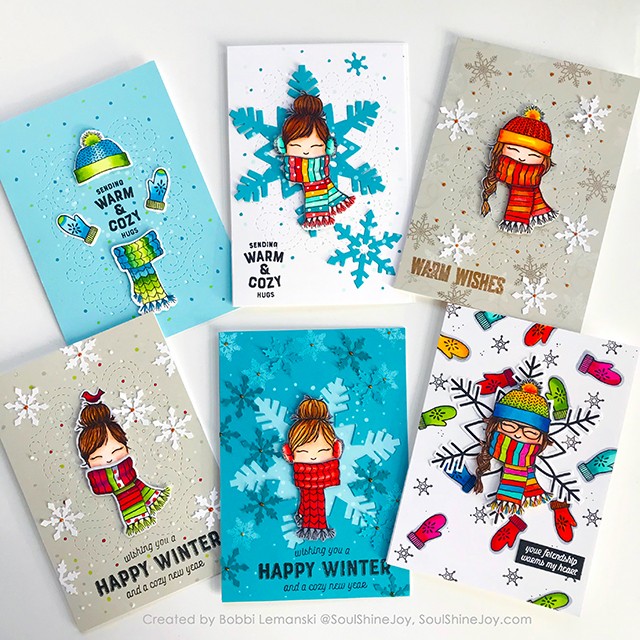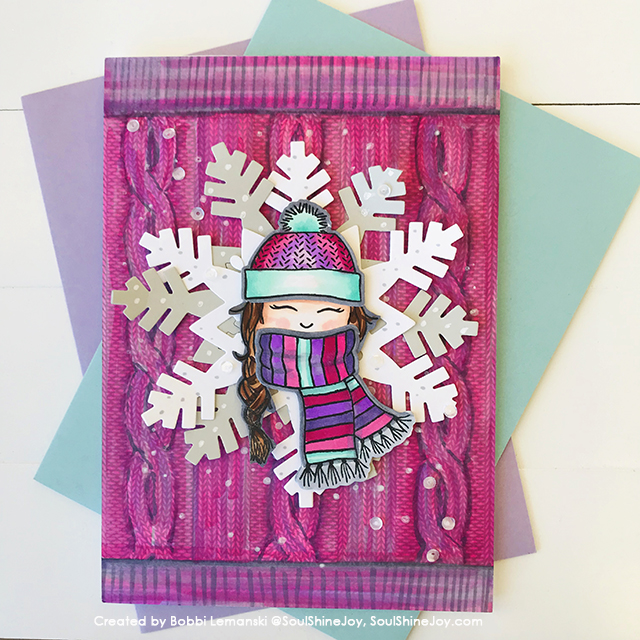 The large snowflake here is also from Concord and 9th. Here's a link to it > Snow Flurry Dies. If you like what you see, please consider shopping using my link here to Concord and 9th.
Want to see more ideas and inspiration from me? Subscribe to my blog, BobbiHartDesign.com.
I'll send you updates on new posts!
You can also find me on Instagram as @BobbiHartDesign and on Facebook as BobbiHartDesign.
Bobbi Hartmann Lemanski, Bobbi Hart♥ Design,
Adding h♥art into every design