How about a Pop-up Pizzeria? Well with the April 2020 La-La Land Club Kit, you can pop up a pizzeria or pizza party anytime, anywhere! This club kit has all the fixins for an amazing pizza party!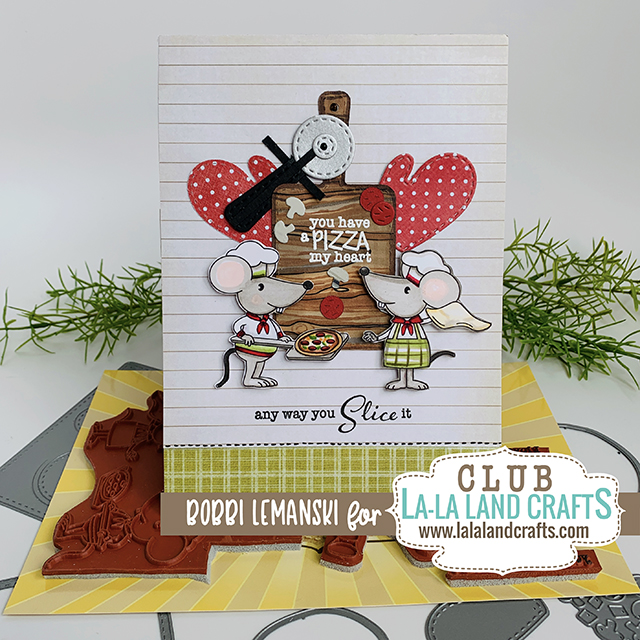 On the outside (i.e., card front), this card shows the sweet mice from this set, busy making pizzas. Pizza board, oven mitts, chefs' hats, pizza cutter… it's pizza-making time! In addition to the stamps and dies from the April Club kit, I also used the following pattern papers available at La-La Land Crafts.
Christmas Hodgepodge Paper Pack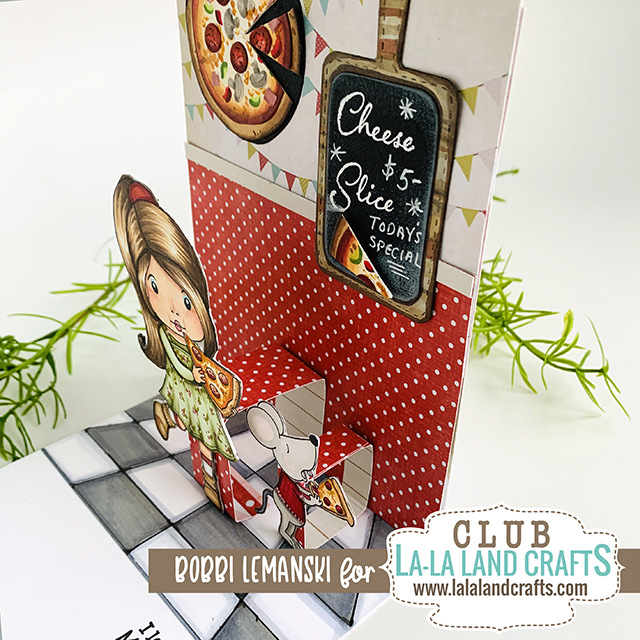 On the inside, the images were stamped, colored using the Copic colors below and hand cut. I created the pop-up characters inside the pizzeria by creating dimensional squares in pattern paper to match the background wallpaper. The checkerboard tile floor was created with a marker, ruler and some shading with C colors listed below.
Coloring Details:
Cutting Boards: E57, E55, W3, E35, E53, E44, E49
Mice: W1, W3, W5, YG03, YG67, R89, R29, R14, R20, 100
Dough: E53, E51, W1
Floor: C9, C5, C3, C1
Marci:
Skin: E04, E11, E00, E000
Lip: R83, R20
Cheek: R20
Eyes: B00
Hair: E49, E47, E55, E53
Dress: YG97, G94, YG61, YG93, R29, R89
Boot: E57, E35, E55, E43, E51
Sock: W4, W1, R89, R29
Pizza: E55, E57, E49, E35, R89, E04, YR30, YR21, Yr24, YR27, YG67, YG03, W5, W2, W1
The hanging chalkboard was created by adding a black "chalkboard" on the front of the faux wood pizza board (cut using one of the dies in the set) and attaching it to the wall. The words, "cheese" and "slice" were stamped and embossed in white from two of the phrases in the set. I hand wrote the other words using a white gel pen, too. The pizza was created using the dies in the set.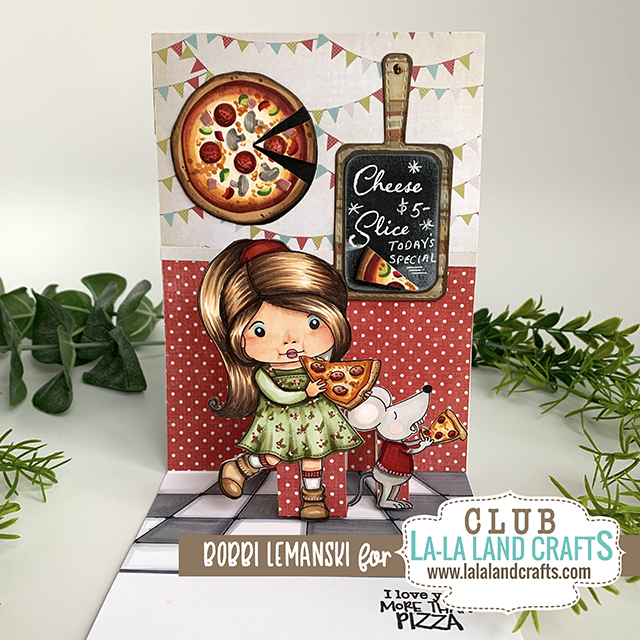 If you love this set, you'll love next month's set, too. Each club kit includes a beautiful Marci, accompanying friends (such as the mice), fun phrases and dies that coordinate with the stamp images. All the elements coordinate and work well to make lots of creative looks!
A recap of the card I made using this Club Kit (coloring is a little off due to filming)
How to Subscribe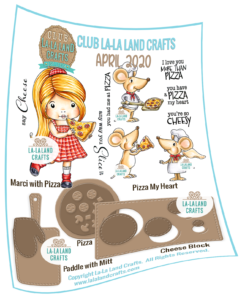 Now for the details…. You can sign up for a monthly La-La Land Club Kit subscription and get just the stamp sets, die or both. Full kits including stamps and dies are $39.99/month (a savings of $30.00 to $40.00 when you purchase the entire kit) which is the best value. Plus, you get all the goodies for your cardmaking, too. ?  For details on the Club Kits and how to sign up, go to La-La Land Crafts today. Keep in mind – these kits are only available on a subscription basis. You must be a member to purchase this kit and past kits, too.
If you missed the 4/20 deadline for the April kit, you still can get this kit! For new members, sign up today to get next month's kit. Once you are a member for two consecutive months, you will be eligible to purchase this kit and other past months' kits (one/month and while supplies last). This is a benefit of being a member of the Club!
Sign up now to receive next month's kit in the mail. Here's a link to the page to sign up.
Want to see more ideas and inspiration from me? Subscribe to my blog, BobbiHartDesign.com.
I'll send you updates on new posts!
You can also find me on Instagram as @BobbiHartDesign and on Facebook as BobbiHartDesign.
Bobbi Hartmann Lemanski, Bobbi Hart♥ Design,
Adding h♥art into every design