I'm sharing two cards today using the January 2020 La-La Land Crafts Club Kit.  The kit includes Marci with Pen and Happy Mail stamp set featuring three cute pigs and a number of phrases. There are also five coordinating dies including a mail box, pen, ink bottle, envelope border and the With Love stitched sign.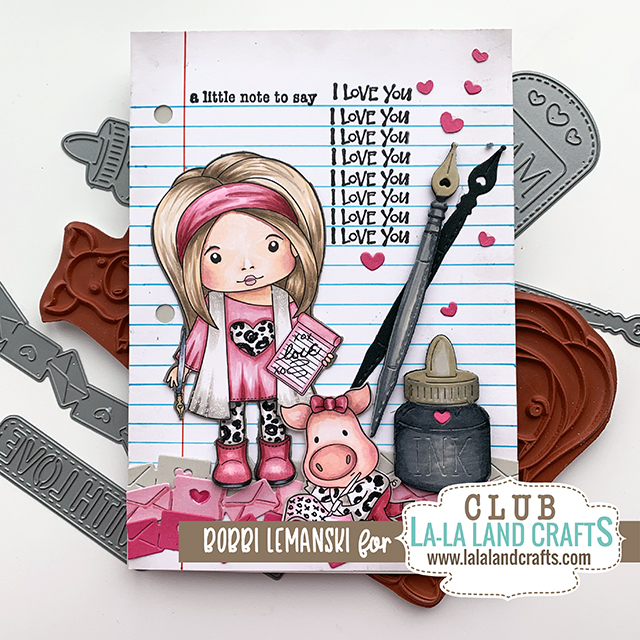 My first card features Marci, one of the pigs, envelope border die and the pen and ink bottle dies. Hearts from the mailbox and envelope border are also added for accents. The background notebook sheet was created using markers, a ruler and a small punch. I think it turned out great! I stamped two phrases on it. This is a 5″ X 7″ sized card. The images were colored using the following Copic Sketch Marker colors.
Coloring Details:
Skin: E04, E11, E00, E000
Hair: E44, E42, E51
Lip and Cheek: R81
Top, Boots & Scarf: R39, R85, R83, R81, RV01
Pant, Heart and Piggy top: 100, W1, W0
Tablet: R85, R81, black fine-tip marker
Pen: C6, C1, Y28
Pig skin: R11, R20, R00 R000,
Pig pants and bow: R39, R85, R81
Ink Bottle and Pen: Y28, W1, C9, C7, C5, C3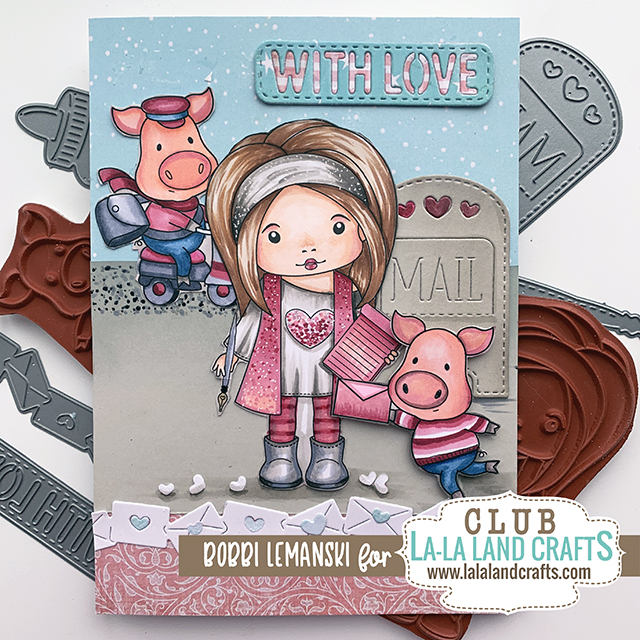 My second card features Marci and two of the piggies. I'm also using the With Love, mail box and envelope border.  I added pattern paper from the Merry Christmas Paper Pack and the Christmas Hodgepodge Paper Pack. This card is also a 5″ X 7″ size. Here are the coloring details.
Coloring Details:
Marci skin: E11, E00, R20
Marci lip: R85, R81
Hair: R57, E42
Marci top: W5, W4, W1, R39
Marci heart, leggings, vest: R39, R85, R81, R20, R00, white gel pen
Marci boots: 100, C5, C4, C1, W3
Marci headband: W5, W4, W3, W1, white gel pen
Pig skin: R20, R81, R11
Pig cap: B93, B91, R39, R81
Pig sweater, scarf, envelope, scooter seat and hubcaps: R39, R85, R81
Pig mailbag and scooter: C9, C5, C1
Pig Hooves: W5, W1
Pig pants: B95, B93, B91
How to Subscribe
Now for the details…. You can sign up for a monthly La-La Land Club Kit subscription and get just the stamp sets, die or both. Full kits including stamps and dies are $39.99/month which is the best value. Plus, you get all the goodies for your cardmaking, too. ?  For details on the Club Kits and how to sign up, go to La-La Land Crafts today.
Sign up now to receive next month's kit in the mail. Here's a link to the page to sign up.
Want to see more ideas and inspiration from me? Subscribe to my blog, BobbiHartDesign.com.
I'll send you updates on new posts!
You can also find me on Instagram as @BobbiHartDesign and on Facebook as BobbiHartDesign.
Bobbi Hartmann Lemanski, Bobbi Hart♥ Design,
Adding h♥art into every design