Surf's Up, Dude!  Well, at least as Paperie Ink, that's true! Here's a new release product – Surf's Up – now available to order. It's filled with cute critters you've come to expect from Sherry at Paperie Ink. There's also palm trees in two sizes, a surf board, two waves to surf and more. For my card today, all I could think of is snapshots of fun and adventure at the beach. So here are my shots…
The two turtles are ready to surf, but when I saw them all I could think of is a parent and child enjoying the beach together.  The "I shore miss you" phrase is from the new Whale stamp set. Of course, my next photo had to be a surfing shot with that awesome board. The phrase is from the Surf's Up stamp set. All I want to know is, "Dude, where are your swim trunks though?!"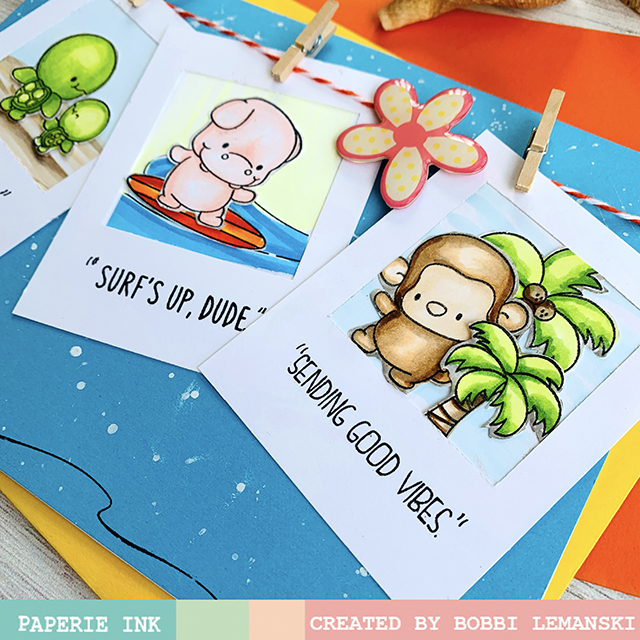 The last shot is Monkey enjoying the cool breezes of those sweet palm trees. Who wouldn't go coconuts for palm trees?! The good vibes phrase is from the stamp set, Don't Worry, Be Happy stamp set. One thing that I like about this layout is that the Polaroid shots allow smaller images to not get lost on a  5″ X 7″ card. Each photo's images are highlighted and special.
To make this 5″ X 7″ card, I splattered white ink on the bright turquoise cardstock for the card front. I added simple wave lines at the bottom using the stamps in the set for an accent. To make the Polaroids, I simply punched out a 1-3/4″ square from white cardstock scraps using my Marvy X-large punch (the pink one) and cut the white frame down to 2-1/2″ wide X 3″ long.  I used the punch outs for my photo designs and added them back in once they were colored up. I placed the frame over the photo and secured them in place with a smaller backing. The photos were clipped to baker's twine and secured in place with some additional adhesive. I also had this cute puffy flower that just happened to have the right colors in it so  added it to the top for accent. I like the dimension and playful nature it offers the card.
Check out all of the new products at Paperie Ink here! You can find the featured,  Surf's Up stamp set here.
Bobbi Hartmann Lemanski, Bobbi Hart♥ Design, Adding h♥art into every design