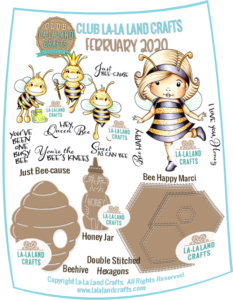 It's time for a new Club Kit (All the details are below or skip and sign up here by 2/20/2020 to get this kit!) reveal from La-La Land Crafts! The February 2020 kit is BEE-utiful because it is filled with sweet bees and Miss Marci who is as sweet as can bee! To the left, you can see all the items in this month's kit including:
Bee Happy Marci stamp set with sweet Marci and two phrases
Just Bee-cause stamp set including three bees and five phrases
Beehive die
Honey jar (i.e., a bear-shaped bottle) die
Double Stitched Nesting Hexagons – four sizes.
I'm in LOVE with this month's kit because there are so many possibilities! I've created a reveal video below. Take a look…
Reveal Video
Flower Garden Marci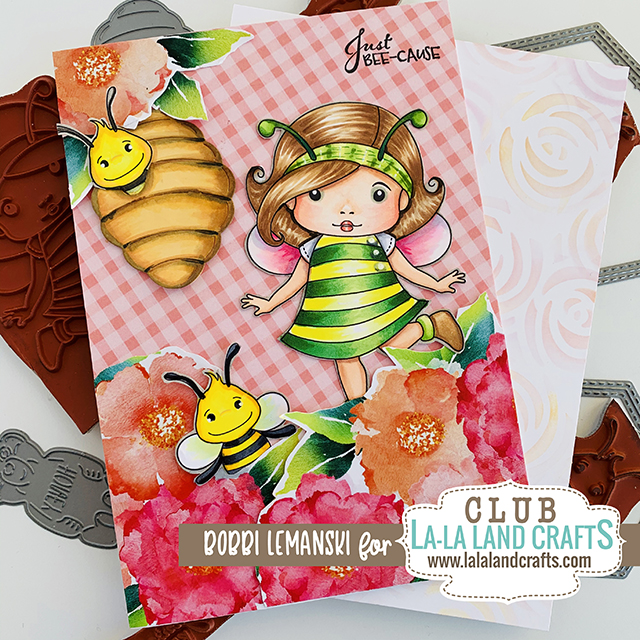 My first card features the following La-La Land Crafts products:
This card is easy to make because the flowers and background are done for you. They are made from the pattern papers pack. I simply colored Marci, the two bees and the beehive to make the card. Here the Copic colors I used to color the images.
Copic Details:
Marci
Skin: E000, E00, E21, E13
Cheek: R20, R21, R30
Lips: R43, R14, R30
Eyes: BG93
Hair: E55, E43, E50
Dress, socks & headband: YG67, G07, YG13, YG03, YG21, YG00, Y06, C7, C5
Dress buttons: White gel pen, C3, C1
Shoes: E57, E55, E31
Wings: R85, R83, R81
Beehive
Beehive: E47, E57, E55, YR24, Y28, YR23
Bees
Bees: YR24, Y02, 100, W7, W5, BG10
Wings: R83, R81, C3
After coloring, the images were fussy cut and the card was assembled. This is a 5″ X 7″ card.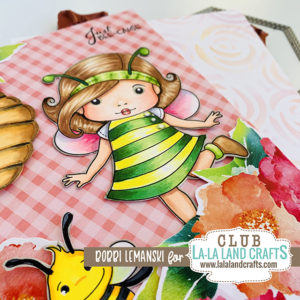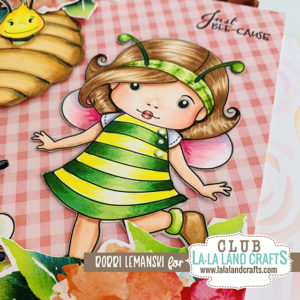 Sweet as Honey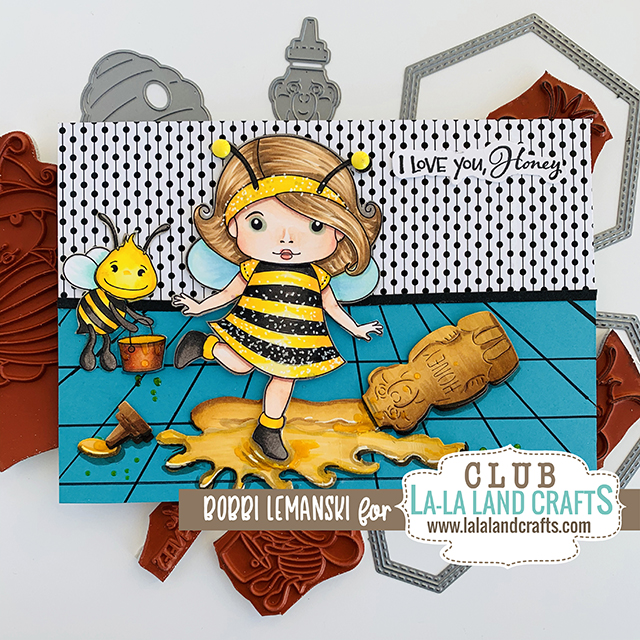 My second card features a sticky scene with spilled honey all over the floor. Our little worker bee is helping clean up the mess. This card uses the following products: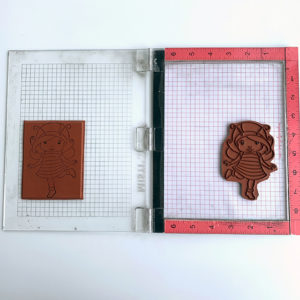 You may have noticed that Marci is actually flipped horizontally, i.e., a mirror image of the stamp. To do this, I used the Mirror Image Stamping technique which is simple to do and gives you more options with your images/scenes, too!  Here's how I did it using my MISTI tool .  1.) Place image on right and place a blank piece of rubber on the left. This is the transfer rubber. 2.) Ink the image and close the door, transferring the stamp image to the transfer rubber. The image will now be transferred to the rubber.
3.) Replace the image rubber stamp on the right with cardstock and close the door. Apply some pressure to transfer the image. Open the door and ta-da! There is the mirrored image on the cardstock!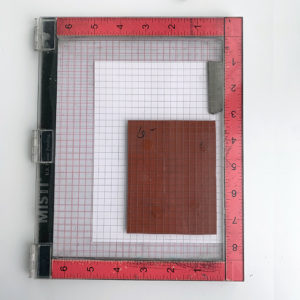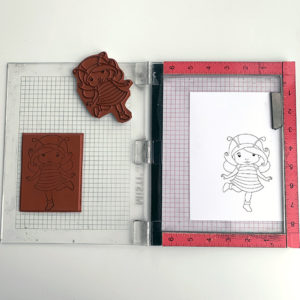 The tiled floor and spilled honey on this card was done by hand, using a ruler and a black marker for the floor. The honey was cut freehand and colored. The wallpaper is pattern paper from the pattern paper pack. I added Magic Transparent to the top of the spilled honey on the floor and down the bee's bucket for a textural and more realistic "wet" look. I used Copics to color the rest of the images from the kit.
Copic Details:
Skin: E04, E11, E00, E000
Lips: R11
Eyes: BG93
Hair: E57, E55, E53, E50
Dress, Bee: Y18, Y08, y04, 100, W9, W7, W5
Headband: Y18, Y08, W7, W5
Socks: Y18, Y08
Shoes: 100, W7, W5
Honey: W7, Y28,Y18, Y08, E55
Pail: Yr27, Yr24, YR23
Honey Bottle: E55, E44, YR24, Yr23
Wings: Bg11, BG10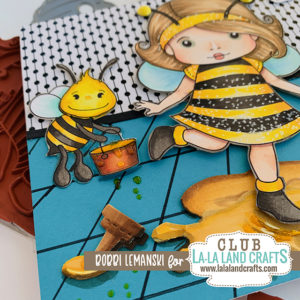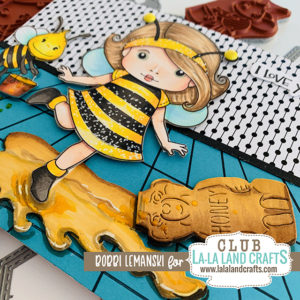 How to Subscribe
Now for the details…. You can sign up for a monthly La-La Land Club Kit subscription and get just the stamp sets, die or both. Full kits including stamps and dies are $39.99/month which is the best value. Plus, you get all the goodies for your cardmaking, too. ?  For details on the Club Kits and how to sign up, go to La-La Land Crafts today. Keep in mind – these kits are only available on a subscription basis. You must be a member to purchase this kit and past kits, too.
Sign up now to receive next month's kit in the mail. Here's a link to the page to sign up.
Want to see more ideas and inspiration from me? Subscribe to my blog, BobbiHartDesign.com.
I'll send you updates on new posts!
You can also find me on Instagram as @BobbiHartDesign and on Facebook as BobbiHartDesign.
Bobbi Hartmann Lemanski, Bobbi Hart♥ Design,
Adding h♥art into every design