A new Jane's Doodle (JD) Challenge begins today and will run for two weeks. We are challenging you to use a Jane's Doodles product on your card along with embellishments this time. Add glitter, paperclips, staples, sequins, stars, buttons, lace or any embellishment you choose. I chose to add crystal bubbles and sequins as well as a die-cut design to my inspiration card.
The embellishment challenge closes on Tuesday, April 28, 2020 at 11:00 PM CET (4:00 PM CST). All you do is link your card here on the challenge blog. Easy peasy! The JD challenge is a new and growing card challenge so your chances of winning are very good! One random winner will win a $30 gift certificate to be used at Jane's Doodles.
Thankful for You Hibiscus Card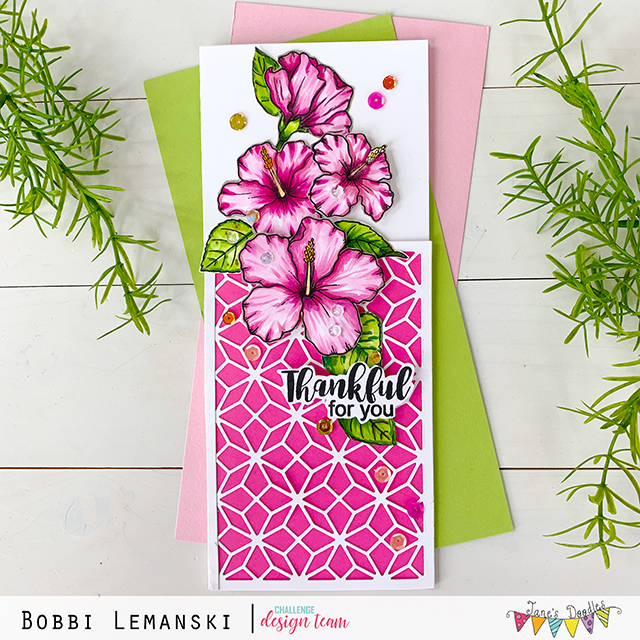 My 3-1/2″ wide X 8-1/2″ tall slim line inspiration card features two Jane's Doodles stamp sets: Hibiscus and Thankful. Both sets are awesome staple sets to use for future projects as well as this one. To make this card, I colored and hand cut the hibiscus flowers and leaves from the set. For the flowers, I used Copic Sketch Marker colors: RV99, RV09, RV17, RV55, RV52, RV00, YR30, YR38 and YR08. For the leaves, I used YG99, YG67, YG03, and YG01.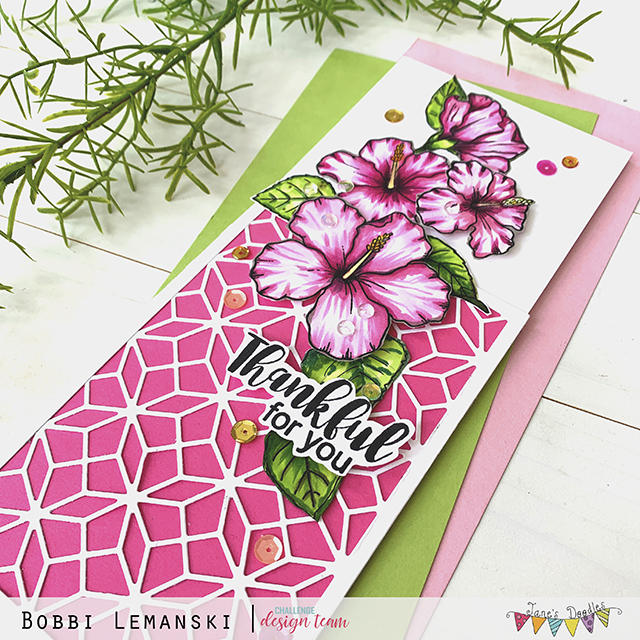 I stamped and hand cut the phrase from the Thankful stamp set. I layered a lattice-looking die cut over the deep azalea color on the bottom of the card using a Honey Bee Stamps die called Winter Prism Cover Plate Top.  This die is wider than my card, so I cut it down and reapplied the 1/4″ white border edge to the cut side of it for a full border on my slime line card. The flowers were arranged and layered over the card front, popping two of the flowers up with dimensional foam tabs. Sequins and crystal bubble embellishments were added to the card to finish the look. This card fits in a business sized envelope for mailing.
Now it's your turn to join the challenge with a card. Here's the link to add your card to the challenge and here's a link to Jane's Doodles to see all her adorable products. Have fun choosing one to use!
Want to see more ideas and inspiration from me? Subscribe to my blog, BobbiHartDesign.com. I'll send you updates on new posts! You can also find me on Instagram as @BobbiHartDesign and on Facebook as BobbiHartDesign.
Bobbi Hartmann Lemanski, Bobbi Hart♥ Design, Adding h♥art into every design