It's time to reveal a new La-La Land Club Kit and we are having a "pop-up" PIZZA party!  In the April 2020 kit it you'll find Marci eating pizza along with three little pizza-loving mice. This kit is perfect for any pizza-loving crafter. With dies to make your very own favorite pizza as well as a oven mitt, cutting board and one big cheese, this kit is for all pizza lovers!
Watch my reveal video here!
I made this 5-1/2″ square finished card using the kit contents. One the outside is the party goers, all enjoying pizza. On the inside, a pizza box folds down on a table to reveal one yummy looking supreme pizza ready for the party goers.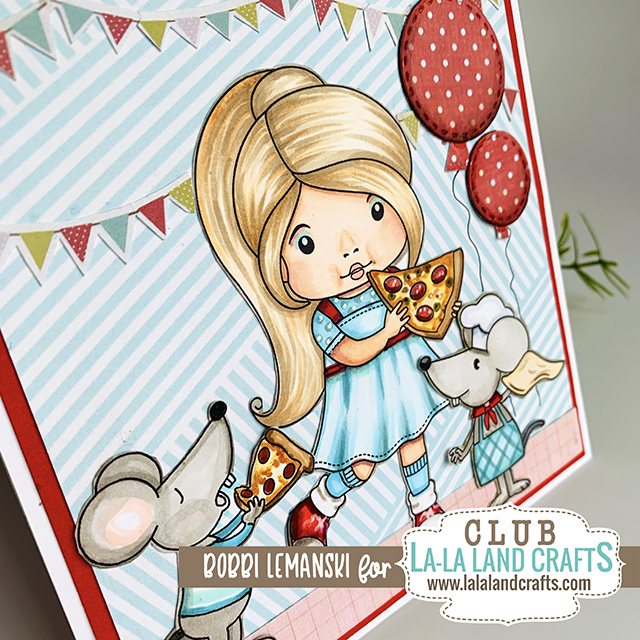 These party goers love a good slice of pizza. To create the background, banners and the floor, I used pattern papers from the following paper packs (available for purchase at La-La Land Crafts) to make the 5″ square scene.
I used the circle cutouts from the large cheese block die to create the balloons for the scene. The characters were colored in using the following Copic colors below and attached to the card front.
Coloring Details:
Skin: E000, E00, E11, E04
Cheek: R20
Lip: R11, R20
Eyes: BG10, BG11
Hair: E53, E50, E43, E42
Dress and socks: B00, BG01, BG02, BG23, BG13, R89, R29
Shoes: R89, R29, R14, W3, W1, W5
Pizza: E57, E55, YR27, YR20, Y26, YG99, R59, E04
Balloons: R89, R29
Mice: W1, W3, W5, W9, R20
Mice Clothing: B00, BG23, BG01, BG72, R89, R29
Dough: E50, W1
The entire 5″ square scene was matted with a 5-1/4″ square red cardstock and attached to the 5-1/2″ white square card base.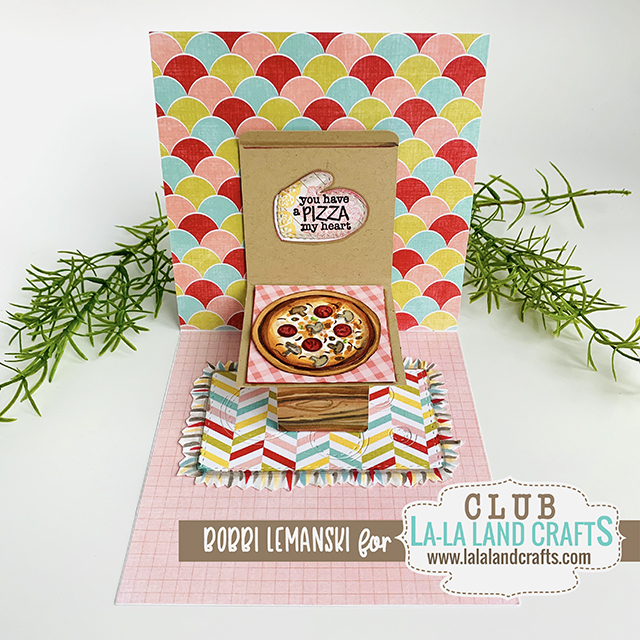 To create the inside of the card, I added more pattern papers from the Hello Life Paper Pack. I added a pattern rug using the cheese block. I added fringe edges around the perimeter of the rug using Copics in matching colors.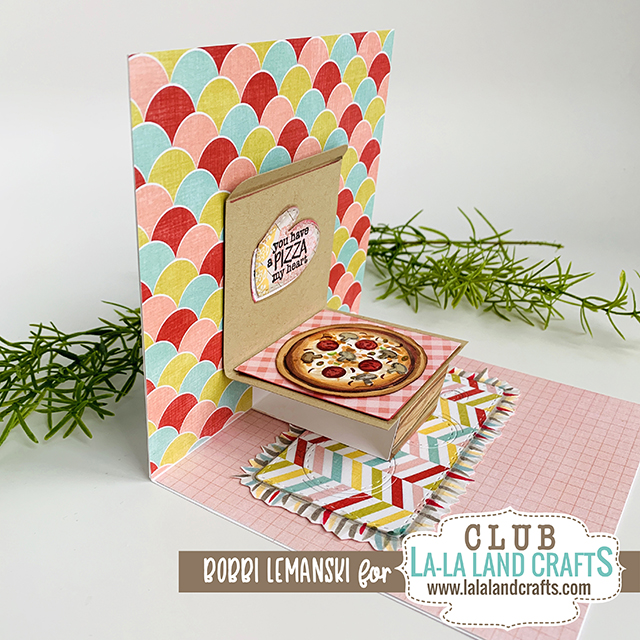 Pop-up Directions
Table
I created the table base by cutting a strip of white cardstock measuring 7″ long X 1-1/2″ wide and scoring it at 1/2″, 1-1/2″, 3-3/4″, 4-3/4″  to create a 2-1/4″ long X 1-1/2″wide X 1″ tall wood table for the pizza box to sit on. I hand drew woodgrain one of the 1″ sides of the table base. The square table base was attached to the card base on the bottom and on the backside of the card front using strong strip adhesive.
Pizza Box
A pizza box was made by scoring a 2-3/4″ wide X 5″ long kraft piece of  cardstock to fit the largest pizza crust die. I rounded the top corners and scored at 1/4″ from the top edge to create the box flap. I shadowed the scored line for dimension.
The pizza was created using the two circle pizza dies and the toppings die. I added pattern paper to the box to mimic a waxy 2-1/4″ wide X 2-1/2″ long gingham paper liner inside the box.  I die cut the mitt in pattern paper and white and stamped a phrase on the pattern and added them to the inside of the box, offset slightly, to complete the look.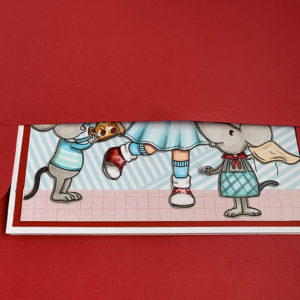 This card folds flat and fits inside a square 6″ envelope for mailing. Watch for more card inspiration ideas from me using this fabulous club kit here on my blog.
Kit Contents
The April kit includes two stamp sets – Marci with Pizza (Marci and two sayings) and Pizza My Heart (three mice and four phrases). There are six large dies: cheese block, oven mitt, pizza board, pizza crust base, pizza sauce/toppings base and pizza toppings.
How to Subscribe
Now for the details…. You can sign up for a monthly La-La Land Club Kit subscription and get just the stamp sets, die or both. Full kits including stamps and dies are $39.99/month (a savings of $30.00 when you purchase the entire kit) which is the best value. Plus, you get all the goodies for your cardmaking, too. ?  For details on the Club Kits and how to sign up, go to La-La Land Crafts today. Keep in mind – these kits are only available on a subscription basis. You must be a member to purchase this kit and past kits, too.
DON'T WAIT! For new members, to get this kit as your first kit, you need to sign up by March 25, 2020. If you sign up after March 25, you will receive next month's kit as your first kit.
Sign up now to receive next month's kit in the mail. Here's a link to the page to sign up.
Want to see more ideas and inspiration from me? Subscribe to my blog, BobbiHartDesign.com.
I'll send you updates on new posts!
You can also find me on Instagram as @BobbiHartDesign and on Facebook as BobbiHartDesign.
Bobbi Hartmann Lemanski, Bobbi Hart♥ Design,
Adding h♥art into every design