It's Day 1 of the Honey Bee Stamps 5-year Anniversary Release Blog Hop. The BEEhive turns 5 and we are celebrating with a two-day blog hop. There will be giveaways and loads of inspiration shared by the Honey Bee Stamps Design Team. Check out all the blog stops and comment for chances to win. Additional details are on the Honey Bee Stamps blog. A list of stops are listed below so read on, leave a comment here for a chance to win and then head to Jenny Hall's stop next on the blog hop!
Rustic Barn With a Garden Gallery Inside
My featured card below uses a number of the new stamp and die sets. I've created a rustic barn with a surprise garden gallery inside. My card was inspired by a beautiful barn in Wisconsin where my niece and husband celebrated their wedding reception. Inside the barn, their reception area was filled with rustic beams,  beautiful flowers, side windows with sunlight pouring in, skylights and trellis planters with climbing flowers along the walls. Here' my take on the barn using the new sets…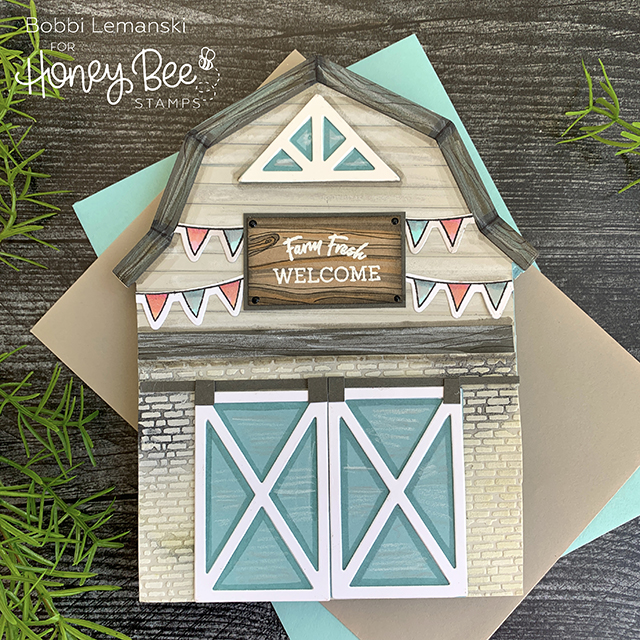 To make this card, I used the following Honey Bee Stamps products. While this list looks long, this card could be adapted to include fewer sets or sets that you may already own. The Barn Scene Builder die set and the Buffalo Plaid Cover Plate die are the key ingredients to achieve this look!  The original barn looked like this from the outside, with aged  and crumbled walls at the bottom! This one is for all of you farmhouse / rustic barn lovers out there!
Barn Scene Builder Honey Cuts dies
Buffalo Plaid Cover Plate Honey Cut dies
Additional Accessory Sets:
Spring Bouquets Honey Cuts dies
Birthday Buzzword stamp set and Honey Cuts dies
Farmhouse Add-on Honey Cuts dies for the triangular window frame, only.
In Full Bloom stamp set for the "Live Life in Full Bloom phrase, only
Farm Fresh Flowers stamp set  for the "Farm Fresh" sign, only
Happy BEEday stamp and die sets for the banners, only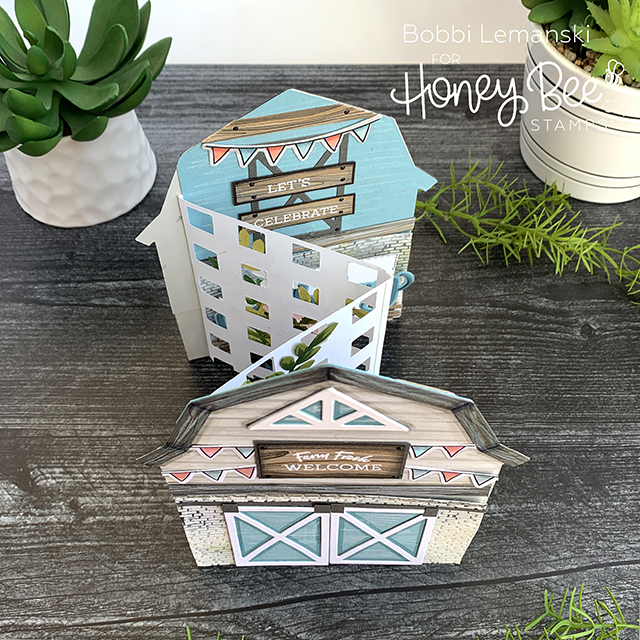 I connected the front and back barn walls using two of the Buffalo Plaid Cover Plate die cuts. They became the barn's pseudo side walls, allowing sunlight to pour in from both sides into the party scene!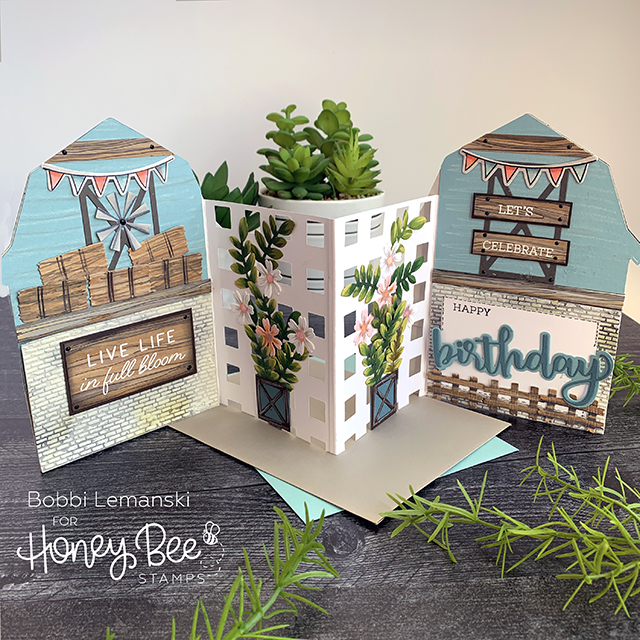 Planters with climbing flowers hang on the "trellis" walls in the garden gallery, similar to the inspiration barn. Faux wood signs were added to the outside and inside with phrases from other Honey Bee Stamps sets. Hay bails, rustic wooden beams, wood fencing, windmill elements and bright banners were added to the inside design for a rustic, party-like feel.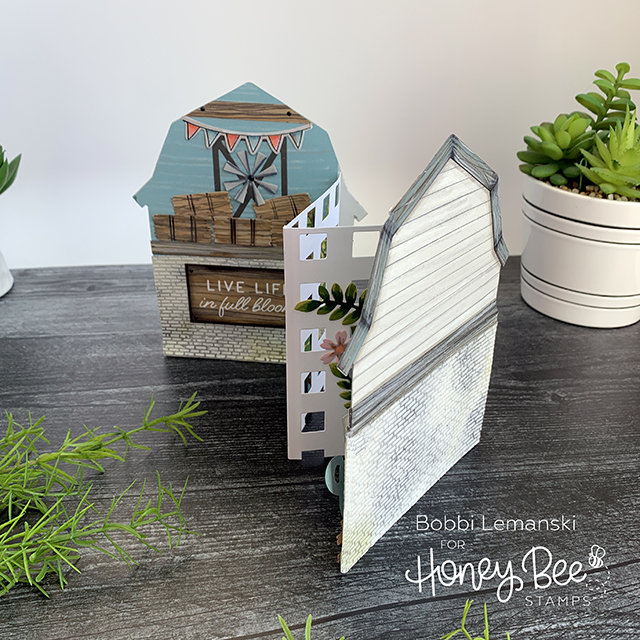 While the original barn frame is 5 1/2″ wide x 5″ tall, this card is 7″ tall. I added additional height to the barn die cut in order to be able to include the rustic brick walls at the bottom. I guess you could say I "Raised the Roof" on this one. 🙂 The inspiration barn was two levels!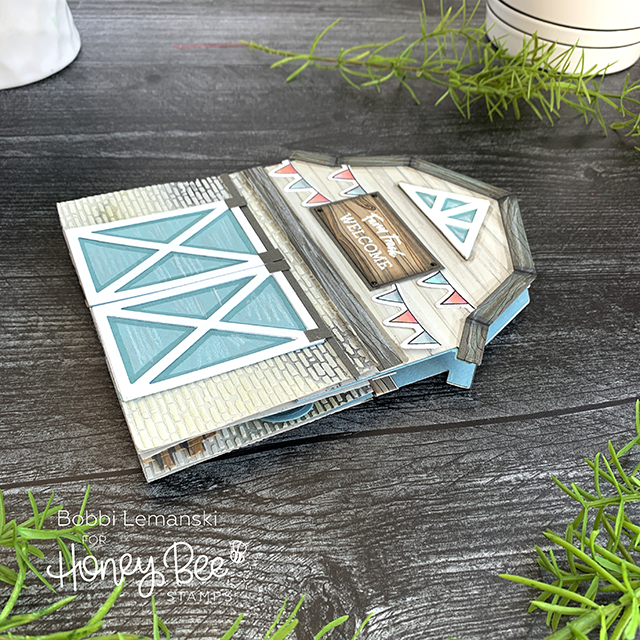 The card folds flat for easy mailing. With everything tucked inside the outer barn walls, the card does not require extra postage for special handling.
More Farm-Inspired Ideas
Little Red Barn
Here's a few more rustic, farmhouse/barn-inspired cards using new products from the latest release. I'll be sharing these on my blog soon, too!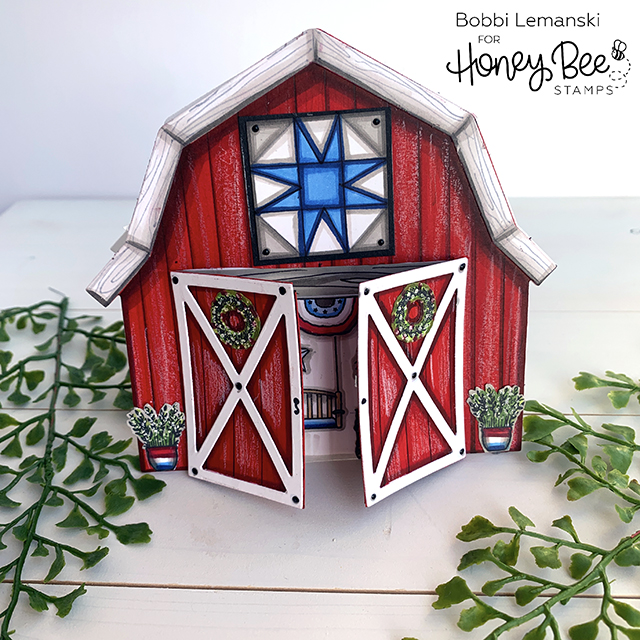 Here's the Barn Builder die set in its original size.  I made the doors open for inside viewing. 🙂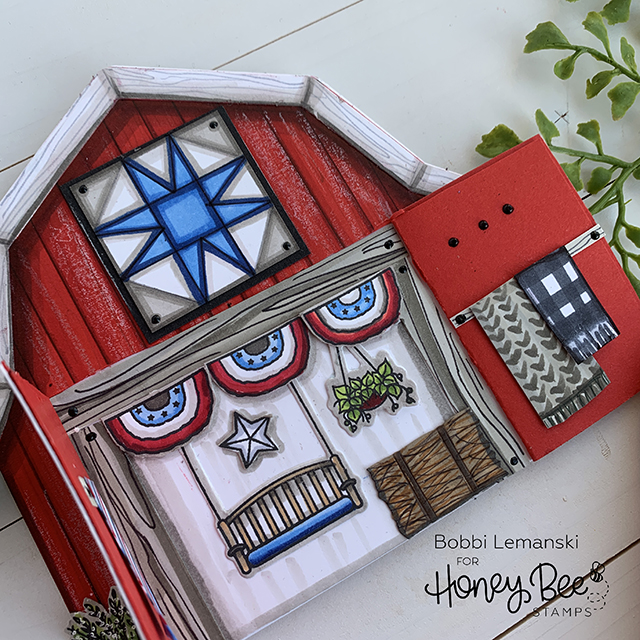 I combined the Barn Scene Builder die with the Farmhouse Add-on stamp and dies for a  cozy barn gathering space.  The barn quilt and the hanging quilts inside the door were hand drawn, cut and added to the red barn. They are very easy to make and personalize the space.
Honey Bee Stamps products used:
Barn Scene Builder Honey Cuts dies
Farmhouse House Add-On die set to make this card. 
Farm Fresh Flowers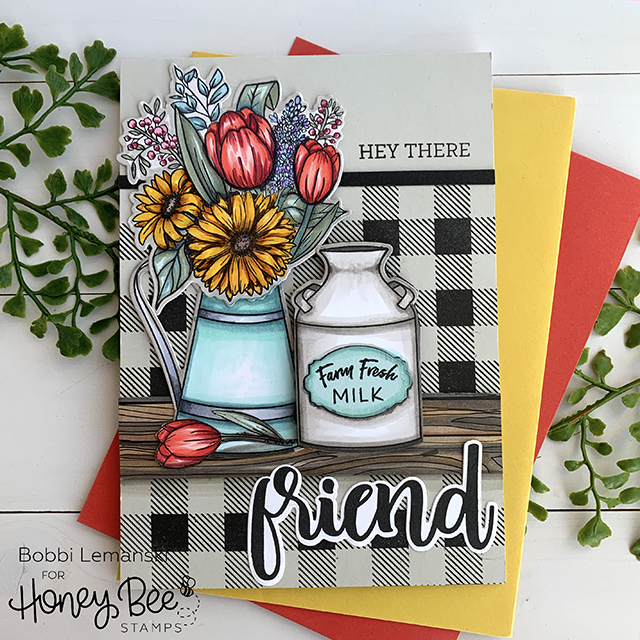 For this farm-inspired card, I stamped an extra tulip from the bouquet to rest on the wood shelf, by the jugs and pitcher. The Buffalo Plaid wallpaper background seals the deal for me. I love that stamp!
Honey Bee Stamps products used:
Farm Fresh Flowers stamp and die sets
Friend stamp and die sets
Farmhouse Tulips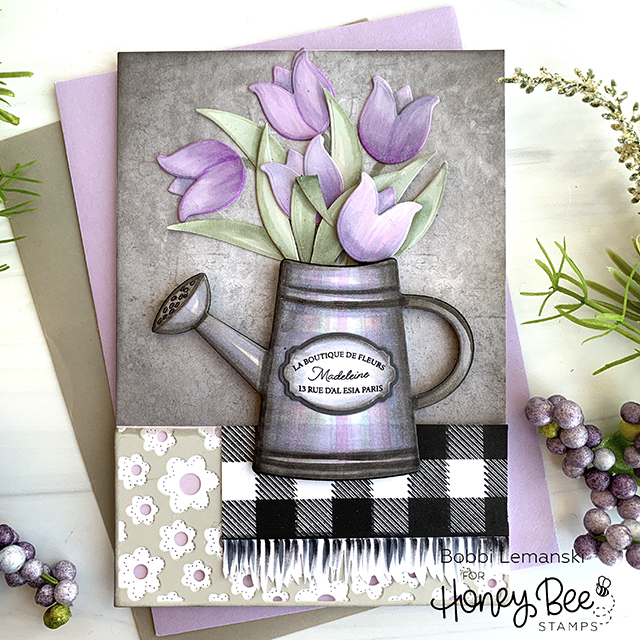 For this card, I used pattern paper for the background. The rustic watering can got a plaid design in soft colors. The tulips, tablecloth and table runner were made using new sets, too. I added some soft fringe to the buffalo plaid runner for added interest.
Honey Bee Stamps products used:
Farm Fresh Flowers stamp and die sets for the watering can
Flower Centers Cover Plate and Flower Petal Cover Plate 
Spring Bouquets Honey Cuts dies for the tulips and leaves and watering can
Buffalo Plaid stamp set for the table runner
Home Essentials Paper Pad for the wall background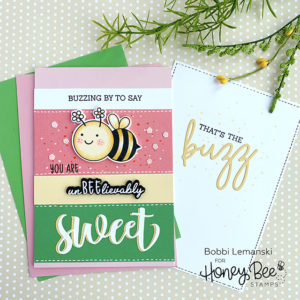 Check out the Honey Bee Stamps Blog for more inspiration using the new sets from the fifth anniversary release. Plus, leave a comment for a chance to win prizes, too! Details on the  Honey Bee Stamps blog.  Also, qualifying orders will receive the free bee and die set with your order! Un-BEE-Lievable fun!
Next Blog Hop Stop: Jenny Hall
Want to see more ideas and inspiration from me? Subscribe to my blog, BobbiHartDesign.com. I'll send you updates on new posts! You can also find me on Instagram as @BobbiHartDesign and on Facebook as BobbiHartDesign.
Bobbi Hartmann Lemanski, Bobbi Hart♥ Design, Adding h♥art into every design
BLOG HOP STOPS FOR DAY ONE