Honey Bee Stamps has designed two stamp and coordinating die sets for the purpose of donating 50% of the proceeds to a fabulous organization, FeedingAmerica.org  Honey Bee Stamps is truly a wonderful company and they do so much to help others. BEE-lieve me – there is a lot of love behind the scenes of the beehive!  These limited edition sets are only available at the Honey Bee Stamps online store. Why? Melissa, the owner of Honey Bee wants all of the proceeds to go to the organization. The stamp sets are available for pre-order NOW. They should ship later in April. You can order now and they will ship out to you once they arrive. The hope is to ship them out by April 21, 2020, but this could change depending on the warehouse demands and changes in our environmental situation with COVID-19. We'll keep our fingers crossed!
Paper Hugs card
My card below features the stamp set called, Paper Hugs which includes a large heart with embracing arms. The set has many phrases fitting for our current world's pandemic situation. For many families, it's hard to see our loved ones due to preventive isolation, quarantine, hospitalization, and long workdays (especially for our front line medical and emergency staff). This card is perfect for sending love to those we can't visit or see in-person right now.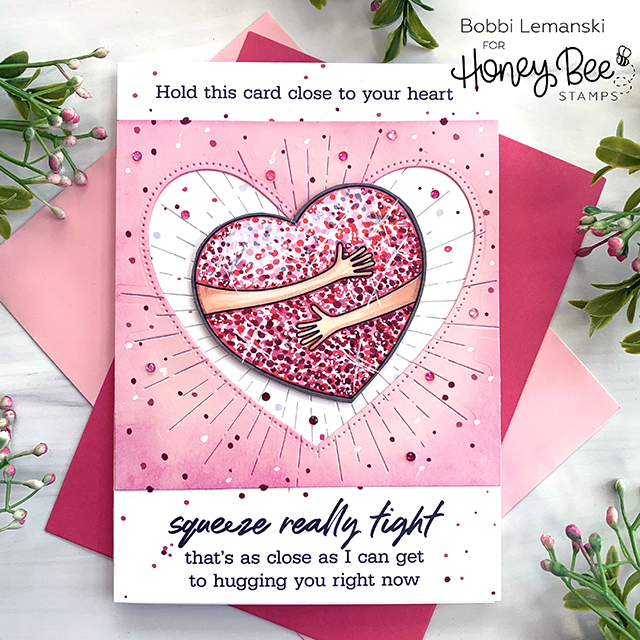 To make this card, I used the following Honey Bee Stamps products:
Paper Hugs stamp and coordinating die set (50% of proceeds from the stamp and die set will go to FeedingAmerica.org!) $19.95 stamp set, $16.95 die set with 1/2 of that going to FeedingAmerica.org Buy both and $18.45 goes to FA!)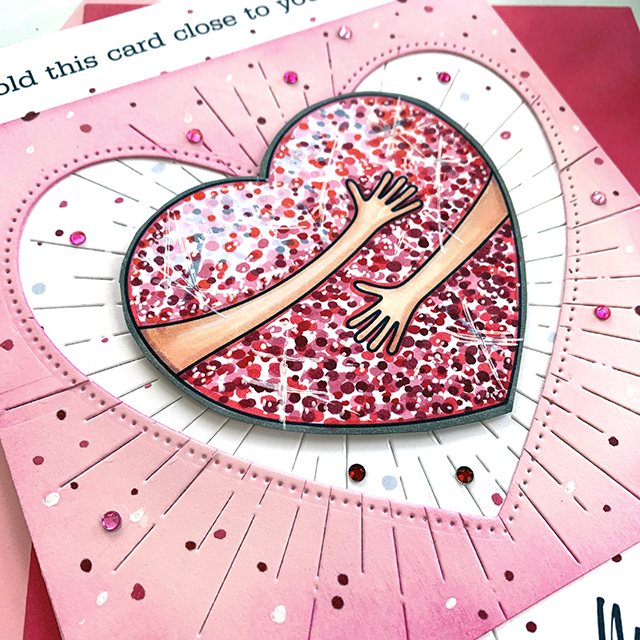 Most of this card is easy to understand. I just wanted to share some details on the faux sparkle heart. To achieve this look, I simply dabbed Copic colors of reds and pinks, going from dark at the bottom to light at the top to create a sparkly look. You want to add in some gray for shadows at the top. I added a few shimmery reflections using a white gel pen.  I added dots outside on the pink heart as well and finally added a few actual Perfect Petals Gemstones for added sparkle. This is a 5″ X 7″ card.
I will be posting more cards on my blog and Instagram using the charity sets so stay tuned and check back here!
Want to see more ideas and inspiration from me? Subscribe to my blog, BobbiHartDesign.com. I'll send you updates on new posts! You can also find me on Instagram as @BobbiHartDesign and on Facebook as BobbiHartDesign.
Bobbi Hartmann Lemanski, Bobbi Hart♥ Design
Adding h♥art into every design