Honey Bee Stamps has designed two stamp and coordinating die sets for the purpose of donating 50% of the proceeds to a fabulous organization, FeedingAmerica.org  BEE-lieve me – there is a lot of love behind the scenes at the beehive!  These limited edition sets are only available at the Honey Bee Stamps online store. You can pre-order them now and they will ship out to you once they arrive in the Honey Bee warehouse. Honey Bee Stamps hopes to ship them out by April 21, 2020, but this is only a tentative date right now. We'll keep our fingers crossed!
I'm sharing a humorous card I made using one of the charity stamp sets called, "Hang In There" as well as the coordinating die set. The card is designed to be more lighthearted, poking fun of the toilet paper hoarding we have experienced during the COVID-19 pandemic situation we are living in today in the United States and other parts of the world. Many of us have said or thought, "Oh, crap! I'm out of toilet paper!"-  knowing that there is none available on Amazon OR on the local grocers' shelves. Well, it does get better. Eventually, the toilet paper gets restocked and the situation gets better.
This card can help comfort someone that is working through a challenging time. Just letting someone know life will get better or back to normal, can relieve stress. If you don't mind a little masking, this card is fairly easy to make. 🙂 I stamped a few toilet paper rolls from the set on post it notes and cut them out tight to the image lines. Then I continuously stamped the stack of rolls for the bottom image, using the masks to help create this look. I used one single roll for the top image.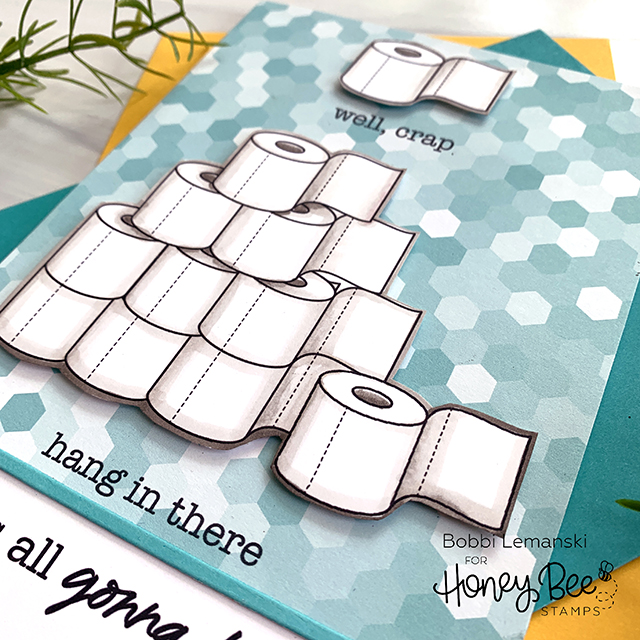 The words, "well, crap" and "hang in there" were stamped on a piece of 5″ wide X 6″ tall pattern paper from the The Bee's Knees paper pad for the background and attached to a 5″ X 7″ white card base. "It's all gonna be okay" was stamped on the white base at the bottom. An 1/8″ strip of teal finished the pattern piece edge to complete the look.
You can shop Honey Bee Stamps here.
Want to see more ideas and inspiration from me? Subscribe to my blog, BobbiHartDesign.com. I'll send you updates on new posts! You can also find me on Instagram as @BobbiHartDesign and on Facebook as BobbiHartDesign.
Bobbi Hartmann Lemanski, Bobbi Hart♥ Design
Adding h♥art into every design