If you've been following me for awhile, you know I'm a fan of the Little Pickup from Honey Bee Stamps. Honey Bee has now come out with a paper piecing version of this cute truck. It will be available on April 19 when the entire Honey Bee 4th Anniversary BEEday release goes live online!
To make this card, I pieced together the little pickup using cardstock in black, silver fleck and white. I like to color and shade so I colored most of my truck using Copics in shades of E and YRs, but the whole idea of a paper piecing image is that you don't really have to color it. Instead you use different colors of cardstock to create the look. I just can't help myself!
Here are the products used to create the card. Notice I still got out my original Little Pickup stamp set because all of the accessories fit this truck, too!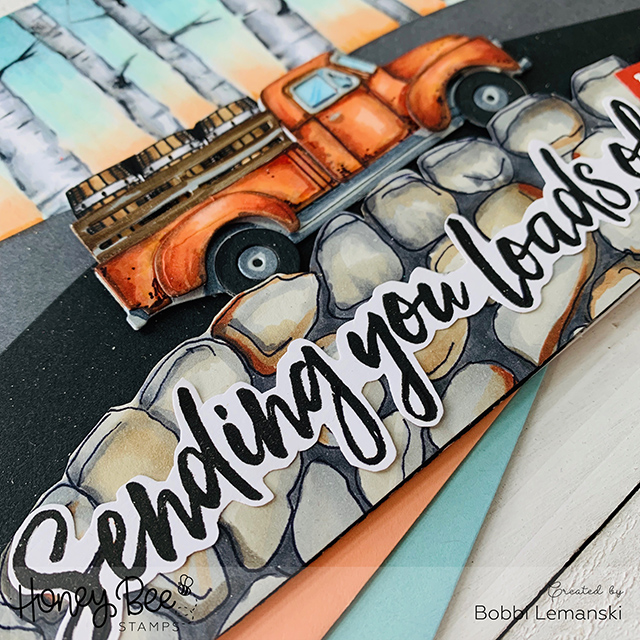 To make the card, I started by stenciling the birch trees in the background. The Outdoor Scene Builder is a must if you like to create landscape scenes for your focal points like I did here.  I added an aqua blue sky using Copic Sketch Markers in several shades such as BG11, BG15 and BG72. I did go back and add some orange tones in the horizon to connect to the orange/rusty truck. Next, the hills were die cut from black and grey cardstock and layered. I needed a foreground so I hand drew stones/rocks to represent a rocky drop-off or rocky bridge for the truck to travel on. I'm not sure if it looks like one or the other, but I like the dimension and texture it gives this scene!
The truck was constructed by adhering all of the pieces from the die set. This takes awhile, but well worth the time. I "popped" the fenders up to be dimensional and shaded each piece with color, too. I added rusty spots where you would tend to find rust on a vehicle. I'm from Wisconsin so I know all about rust on vehicles from winter salt applications!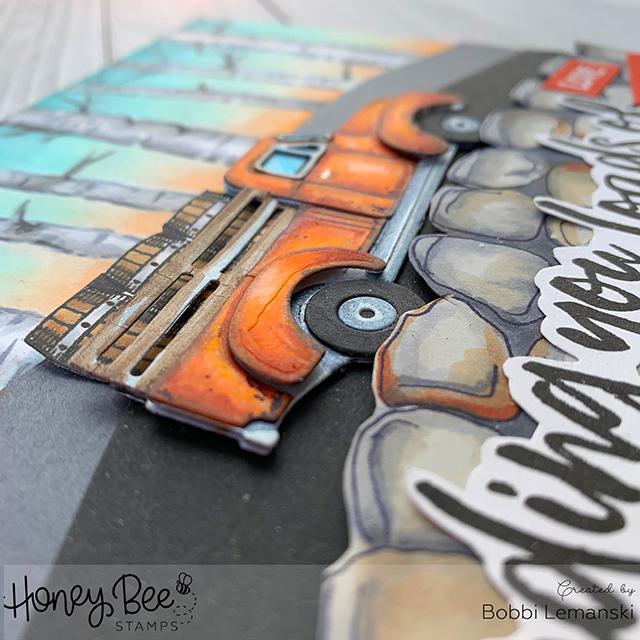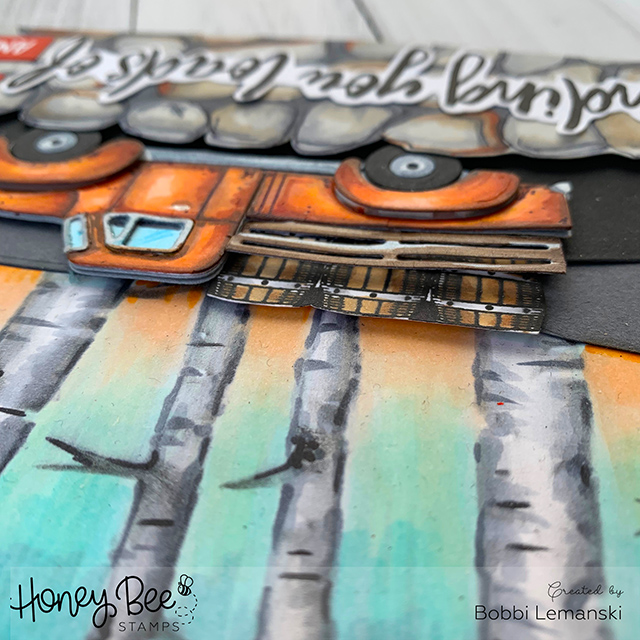 I added the sentiment and fussy cut it out so that I'd have some white behind the letters so they could really stand out. Since I added the beer barrels in the bed of the truck, I had to add the word "beer" here, too. I found that word from Blah, Blah, Blah (one one my all-time favorite sets by Honey Bee, BTW!)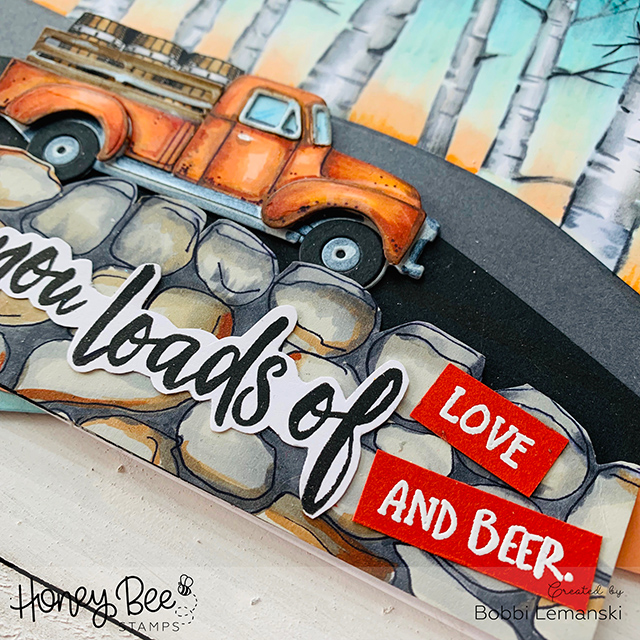 Thanks for visiting!  Don't forget to "pickup" your phone or laptop and go visit the Honey Bee blog today! 
Adding h♥art into every design
Bobbi ♥ Design