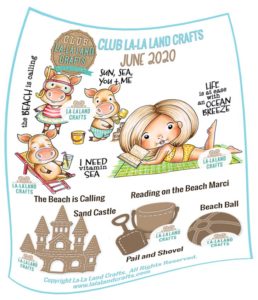 Happy Tuesday! I'm back today with two summer scenes featuring the adorable Marci from La-La Land Crafts June 2020 Club Kit. For variety, I changed up Marci from a beach girl wearing a super cute bikini to a sweet girl reading a book in the park.
I've got all the details on the Copic colors used to color these scenes as well as any other products used. For details on how to get this set, you can scroll to the bottom, "How to Subscribe" for links on signing up. You have until June 30, 2020 to snatch up this kit before it is gone! 
On the left you can see this month's kit contents. With just a little imagination and a few marker strokes, look how versatile Marci is in these to two scenes below. For card one, I converted Marci's blanket into a pool float. In card two, I converted Marci's bikini into a shorts and halter top outfit, fitting for a lazy afternoon at the park.
Card 1: Floating in the Pool Scene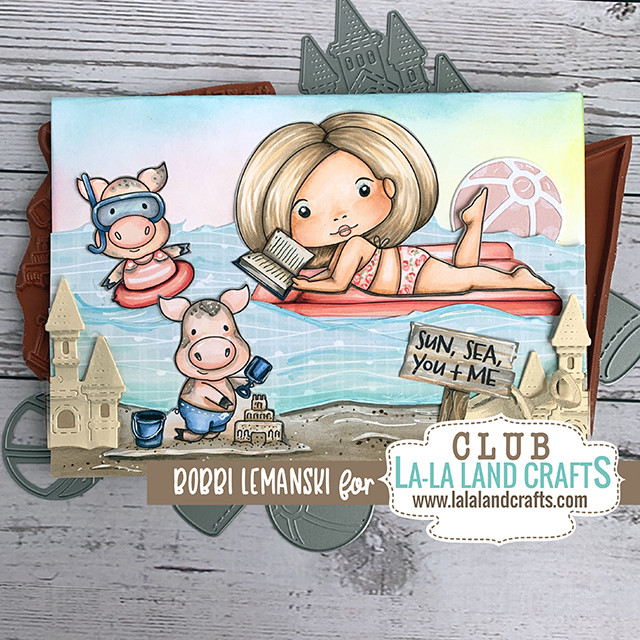 For this 5″ X 7″ card, I transformed Marci's beach towel/blanket into a floating device for the pool. This is simple to do with a few brushstrokes and shading. The sign in the sand was simply hand cut using one of the phrases in the set. I think she is pretty cute floating. Although, I'm not sure if reading a book in the pool is the best idea! No splashing, please!
Here's the coloring details for this scene:
Marci
Hair: E50, E53, E43, E44
Skin: E000, E00, E11, E21, E04
Lip R20, R21
Eye: BG10
Suit: R000, R21, R43, G82Pigs
Skin: R000, R00, R01, R20, W1
Clothing: B99, B45, B41, B21, R20, W1
Pig tube and Marci's float: R35, R22, R43Sand: W1, E55, E44,W7, W3
Sky: Ranger Distressed Inks in Squeezed Lemonade, Tumbled Glass, Spun Sugar
(blended with a blending brush)
I used a pattern paper from
Hello Baby
  – a new paper pack – to create the water. I simply hand cut waves to make the pool water. The sandcastle was cut in half and added to both sides of the scene. You can also see the sand shovel and beach ball die cuts, too. To create the sky, I blended several colors of Ranger Distressed Inks to make the colorful backdrop. This is a great way to add hints of color to unite your foreground and background.
Card 2: Reading in the Park Scene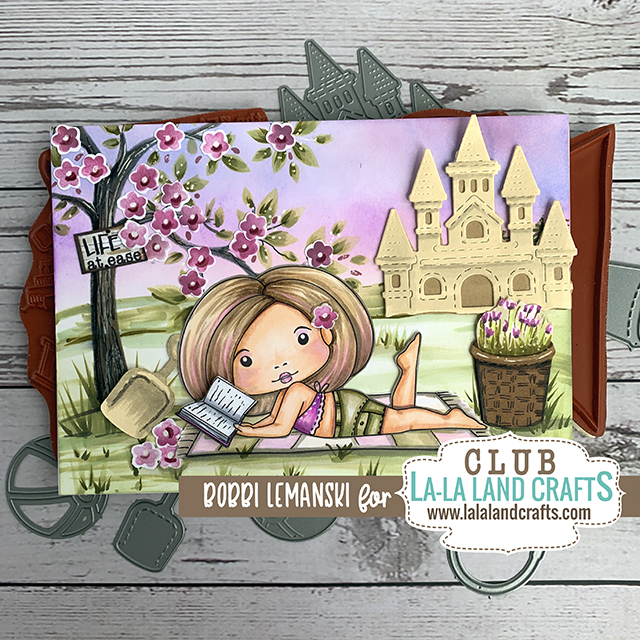 For my second card, I added shorts to Marci to give her a new look and a more appropriate style for this scene setting. The lovely flowering tree was created by using the Tree in Bloom Layering Stencil along with Ranger Distressed Inks in Black Soot, Picked Raspberry, and Peeled Paint. The sand pail was transformed into a planter with a weaved design pattern on the outside. The sign in the tree was made using a partial phrase from the set. I removed the "ocean" piece to make the sign fit this scene. The sand castle in the background transforms into a real castle seen from a distance. Here are the coloring specifics…
Copic Coloring Details
Marci
Hair: RV63, RV52, E42, E43, E44, E50
Skin: E000, E00, E11, E34
Eyes: V01
Lips: RV52, RV93
Shorts: YG97, YG93, YG91, W0
Halter top: V04, V06, RV52
Blanket: W7, YG91, YG93, V01
Flowerpot: E59, E55, 110, V04, V01, YG03, YG91, YG97, W7, V99, white gel pen
Book: C1, C3, V04
Landscape/distant trees: YG97, YG91, YG03, E42
Wood sign: C1, E43, E42, W1
Tree/Flowers: RV99, RV56, layered over Picked Raspberry, Peeled Paint and Black Soot Distressed Inks with white gel pen accents
Castle and shovel: W3, W1
Sky: Distressed Inks in Spun Sugar, Wilted Violet and Picked Raspberry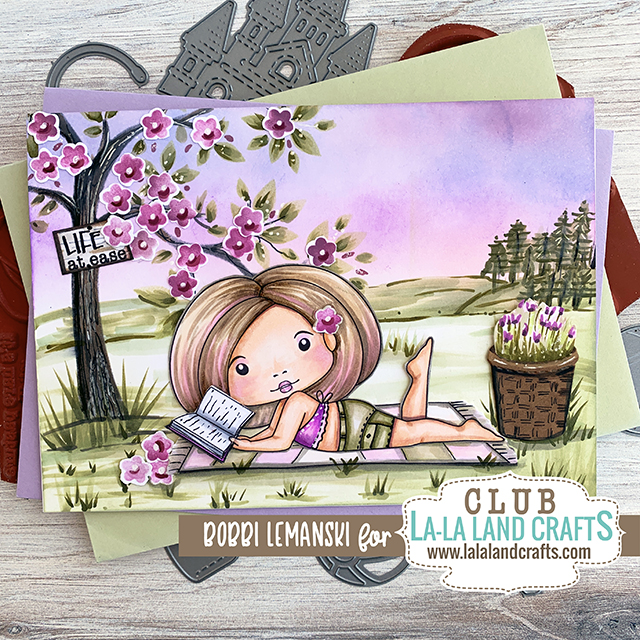 Here's a another view of this scene without the castle in the background which allows more of the sky and background trees to show. Notice Marci's pink hair? She's quite the modern girl! A little flower behind the ear from the tree matches her gorgeous and colorful hair. This is a fun set and the design team did some really fun things with the contents of the kit. You'll want this one for your summer cards, for sure!
For more ideas, check out my reveal post here for the looks below.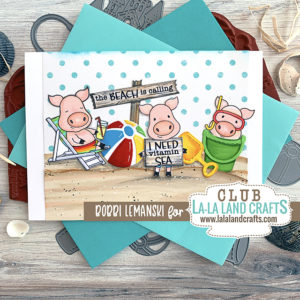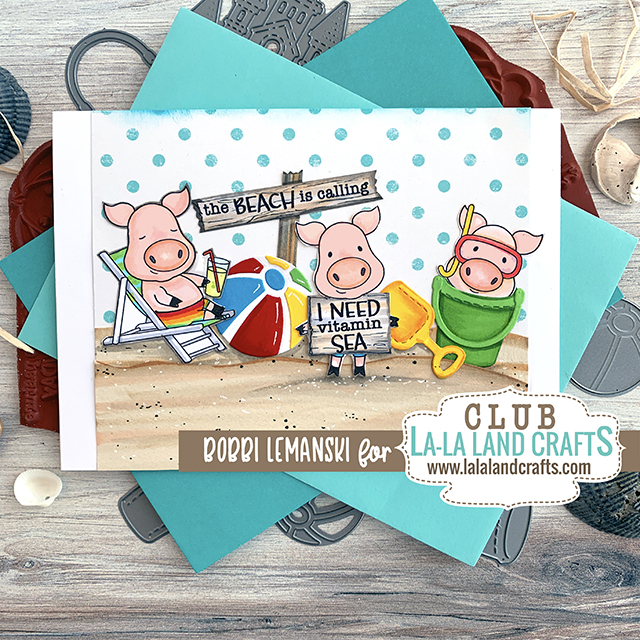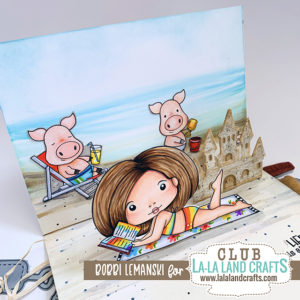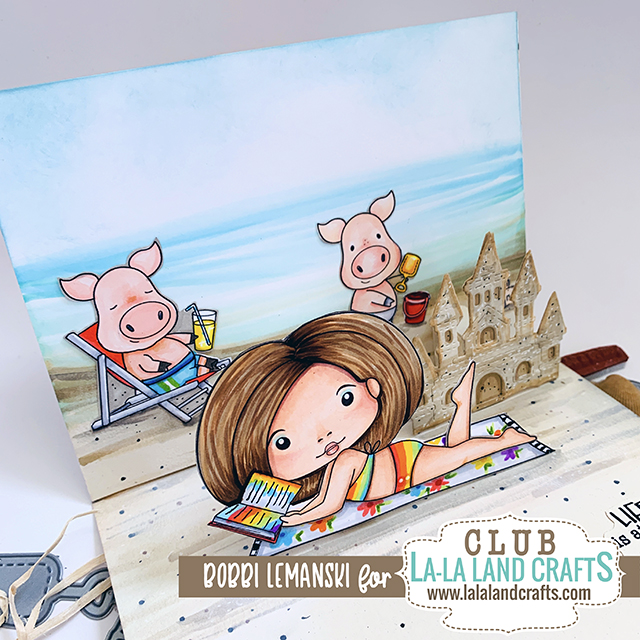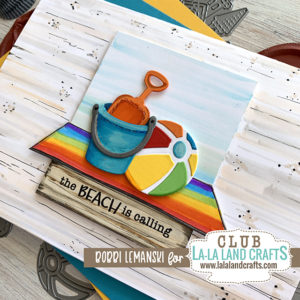 How To Subscribe
Now for the kit details…. You can sign up for a monthly La-La Land Club Kit subscription and get just the stamp sets, die or both. Full kits including stamps and dies are $39.99/month (a savings of $38.00 when you purchase the entire kit – a retail value of $77.99) which is the best value. Plus, you get all the goodies for your cardmaking, too. ?  For details on the Club Kits and how to sign up, go to La-La Land Crafts today. Keep in mind – these kits are only available on a subscription basis. You must be a member to purchase this kit and past kits, too.
Sign up by 6/30/2020 to get this kit!  Once you are a member for two consecutive months, you will also be eligible to purchase other past months' kits (one/month and while supplies last). This is a benefit of being a member of the Club! Full details on the kit subscription page.
Sign up now to receive this kit in the mail. Here's a link to the page to sign up.
Want to see more ideas and inspiration from me? Subscribe to my blog, BobbiHartDesign.com.
I'll send you updates on new posts! You can also find me on Instagram as @BobbiHartDesign and on Facebook as BobbiHartDesign.