Greetings, friends! Today is my first official blog post as a design team member for The Greeting Farm (TGF). I'm on the TGF blog with a hotel-themed, pop-up card. I used various digital sets for this card. What I love about the TGF digi sets is that I can mix, match and size the elements to fit any scene. It's so fun and the possibilities are endless! I hope my card receives a five-star rating! 🙂
Now for the details…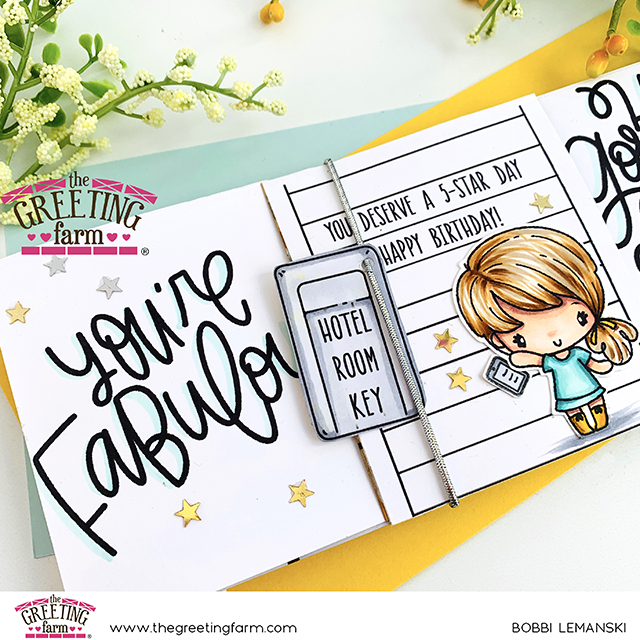 For my card, my goal was to make a birthday gal feel special and deserving of a five-star hotel stay. After all, what better day to pamper yourself, than on your birthday, right?! My card shares multiple mini luxury hotel scenes, perfect for the special guest. I used the following digi sets:
I created the verse, "You deserve a 5-star day. Happy birthday!" on my laptop for the front of the card.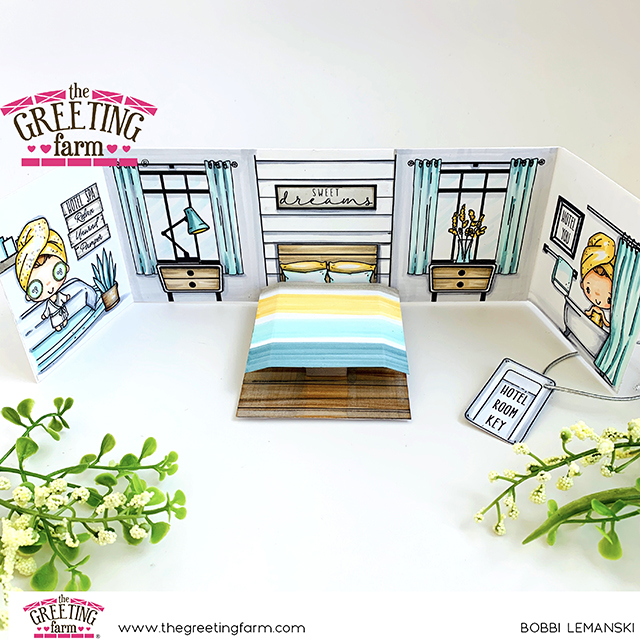 When folded, this slimline card measures 8-1/2″ wide X 3-1/2″ tall. It fits inside a business- sized envelope for mailing. Here are the finished panel dimensions (the cut dimensions are in parentheses):
Center interior panel 8-1/2″ wide X 3-1/2″ tall (same cut dimensions)
Side interior panels 2-3/4″ wide X 3-1/2″ tall (cut: 4-1/4″ wide X 3-1/2″ tall)
Center fold down panel 3-1/8″ wide X 3-1/2″ tall. (cut: 3″ wide X 5-1/2″ tall)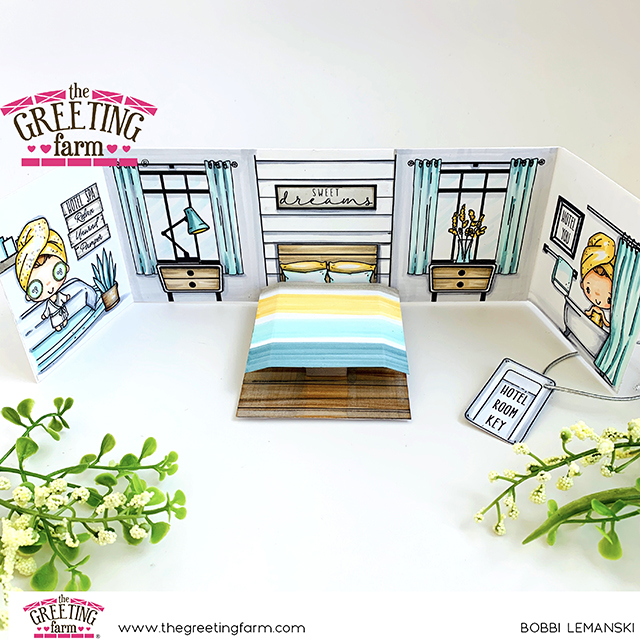 All of the panels are hinged to the back panel and concealed with another piece of cardstock. Basically, I added 1″ to 2″ to each panel and scored at the finished size to add the hinge. I also covered the front panels to conceal the Copic bleeding from the interior panels. Those dimensions are the finished panel dimensions listed above.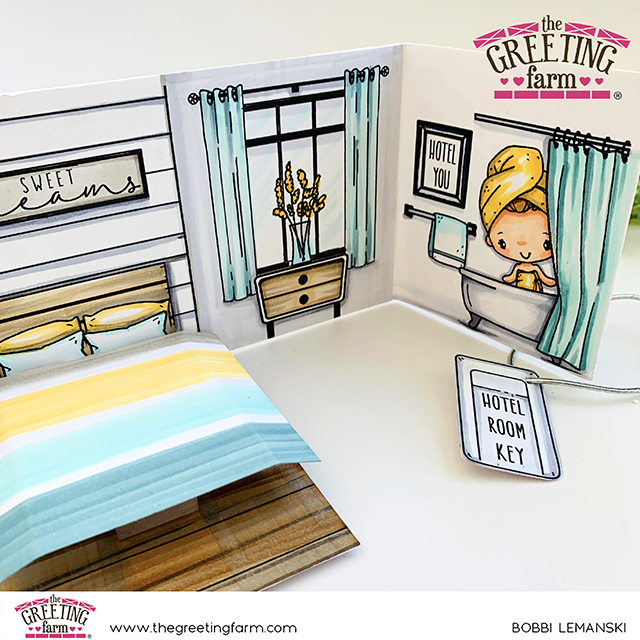 For the bed, I used a 1/2″ wide X 7″ tall strip of cardstock to create a pop-up support measuring 2-1/2″ long by 1/2″ tall. Adhesive was added to the bottom, top and one 1/2″ square side and adhered to the center back panel and the fold-down panel to create the pop-up feature. The quilt measures 3″ wide X 2-3/4″ long and is scored at 3/8″ in from both 2-3/4″ sides to create the sides of the quilt that fold down. The quilt was adhered to the top of the box support. How cute is that comforter?! Everything folds flat for mailing. The entire card was colored using Copic Sketch markers.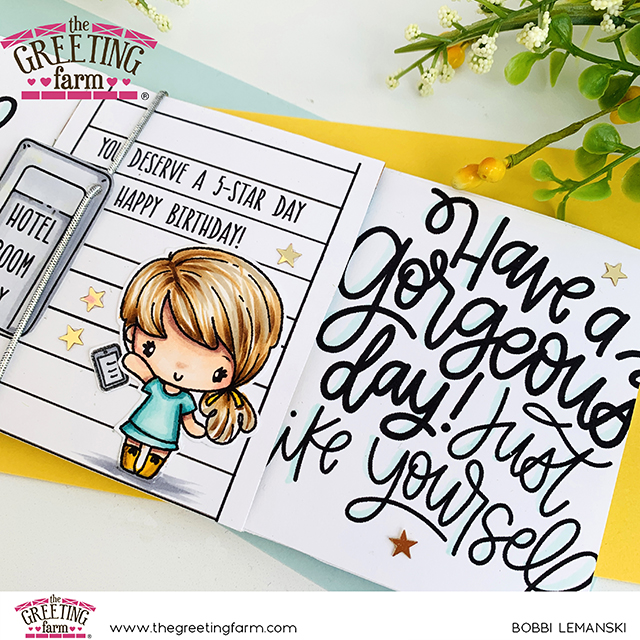 Inside the card, the bed comforter sides actually hold the side panels in place which was a happy accident. To keep the center panel in an upright position and folded flat for mailing, I added the hotel key strung on a silver elastic cording band to the card. Did you notice that the gal is holding a mini hotel key replica in her hand?! It's just a fun little detail along with some sparkly stars added to the front to finish the look!
If you are interested in making this card and have any additional questions, feel free to comment below or contact me directly at [email protected]. I'm  happy to help!
Bobbi Hartmann Lemanski, Bobbi Hart♥ Design, Adding h♥art into every design