If you grew up in the 80s, you probably can answer this question very quickly, "Who you gonna call?"
GHOSTBUSTERS! Even my 18 year-old son could answer the question easily and he was born in 2002. 🙂
My card today was inspired by the 1984 movie, Ghostbusters. The stamp set I'm using is called, "My Boo" by Paperie Ink. When I saw this stamp set for the first time, I immediately said to myself, "who you gonna call?" There are so many playful ghosts in this set, I had to give this "Ghostbusters" idea a try.
Do you remember the Ghostbuster vehicle? Well it was a long white, stationwagon with red striping. I didn't have one of those, but I did have a van to help recreate the iconic car from the film. I used the Christmas Care-A-Van die by The Greetery to make the vehicle.
I added a bold red stripe along the side of the van and a red circle with a diagonal line through it with a ghost like the one used in the movie. One of the cute ghosts became part of the logo.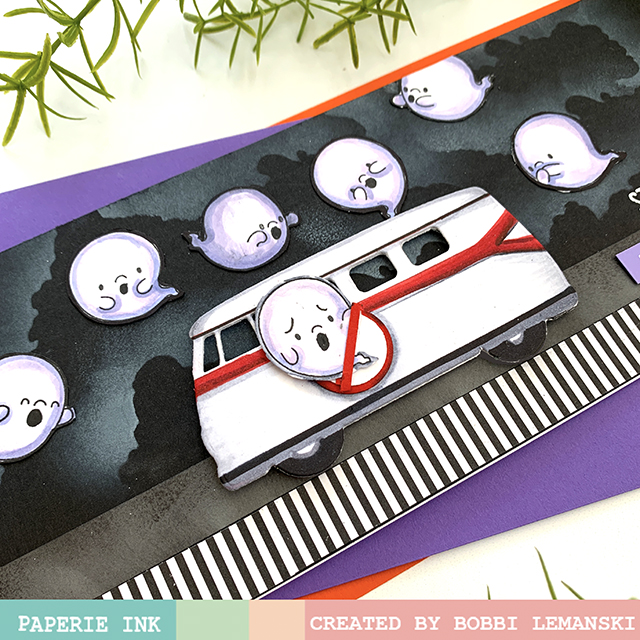 To create this slimline card measuring 8-1/2″ wide By 3-1/2″ tall, I used white ink on black cardstock and the Cloud Edger stencil by A Clolorful Life Designs to make the night sky backdrop. This is my favorite cloud stencil and I have a lot of them! I added a gray strip for the van to travel on / anchor it and a black and white stripe pattern paper for high contrast at the bottom.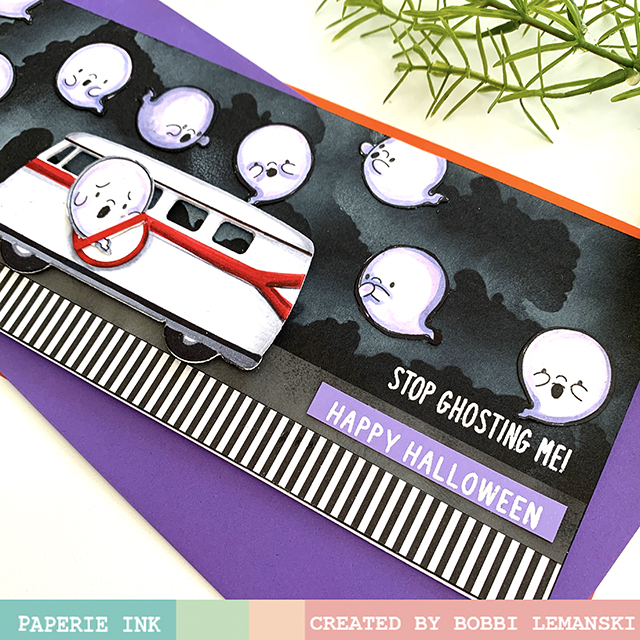 The ghosts were added all around the van as if they are swarming it. "Stop ghosting me!" was embossed in white as well as the "Happy Halloween" phrase on purple (from the stamp set, "Oh, Bats!") I used BV00 and BV000 to shade the white ghosts a bit. I also used a black marker to change their mouths and for the one on the side of the van, I added concerned eyebrows, too. To change the expressions, it only takes a fine-tip black marker. You can easily have more new looks for these sweet ghosts to fit your scene/card theme! I think I changed every mouth here to be an open mouth. I love how this card turned out and I know I have a few friends from the 80s that will get a kick out of this slimline card.
Want to see more ideas and inspiration from me? Subscribe to my blog, BobbiHartDesign.com. I'll send you updates on new posts! You can also find me on Instagram as @BobbiHartDesign and on Facebook as BobbiHartDesign. Bobbi Hartmann Lemanski, Bobbi Hart♥ Design, Adding h♥art into every design