With the leaves changing, pumpkins arising and Thanksgiving around the corner, I feel thankful. It's been a tough year for the world with Covid-19, but I'm thankful that my family is safe, healthy and together. This is our last year with the twins at home. As seniors they have had to finish out their long school career at home with virtual classes. While I wished something different for them, I'm thankful to have them with us. I'm thankful they are safe and healthy. I am also thankful for my family and friends who have been with me through my sister's illness and eventual death in August. I have a few cards to send and so a "thanks" fits my heart at this time in my life and my need to send cards to let others know how much I appreciated them this year.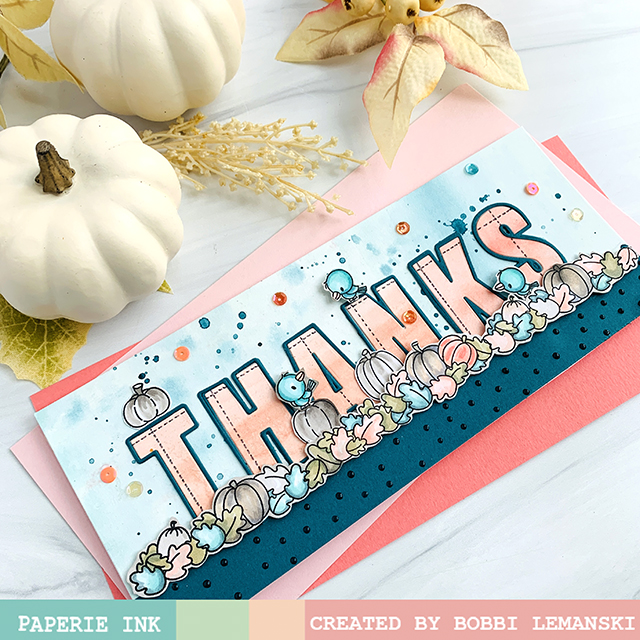 Today's card uses the Autumn is Calling stamp set by Paperie Ink. If you have not checked this company out, please do. Sherry, the owner, has such a talent for sweet images and lovely stamp sets. This is a young company, but it will not disappoint you in terms of talent and awesome products. If you like the Hello Bluebird style of stamp, you'll love Paperie Ink, too!
I started off by creating a background out of watercolor paper with a aqua-to-teal colorwash. Once the wash was done, I went back and splattered teal watercolor paint on it for more contrast. The paper was cut down to fit my the front of my slimline card measuring 8-1/2″ wide X 3-1/2″ tall. This card will fit inside a business-sized envelope.
I added a strip of teal cardstock to the bottom of my card front that measures about 3/4″ tall. I used a teal Pearl Pen and added drops to the teal bottom border for texture.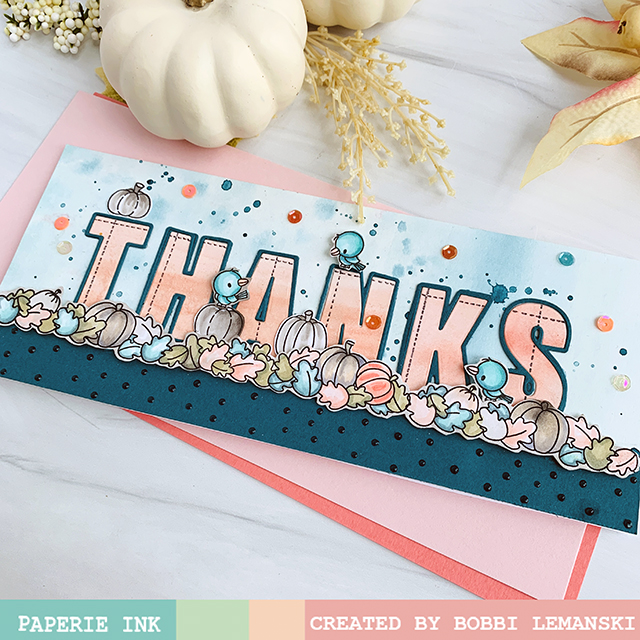 Next, I placed my letters slightly above the top of the strip. The letters are from The Stamp Market and are called Bold Alphabet Dies. They were cut out of teal and a watercolor paper with a light coral wash on it. The letters have a thin die cut border which I used from the dark teal cardstock and the insets are from the coral wash. I added the faux teal stitching lines to them. Once the letters were in place, I added the Autumn is Calling goodies including these cute birds, pumpkins and pumpkin/leaf border. All the the elements from the set were colored in pale corals, aquas/teals and warm grays. I kept everything fairly muted for a softer look. The border has dimensional foam tabs under it so it stands out from the letters. Finally, sequins were add to the front above and on the letters in corals and teals aqua tones. The card front was attached to a plain white card base. It's ready to send!
Shop Paperie Ink here!
Thanks for stopping by today. If you want to see more ideas and inspiration from me, subscribe to my blog, BobbiHartDesign.com. I'll send you updates on new posts! You can also find me on Instagram as @BobbiHartDesign and on Facebook as BobbiHartDesign. Bobbi Hartmann Lemanski, Bobbi Hart♥ Design, Adding h♥art into every design