It's Day 4 of the Sneak Peeks of the Honey Bee Stamps Holiday Cheer release. This is the last day of the peeks. I think some of the best was left for the best day! I love the Little Pickup stamp set from Honey Bee and now the Bee is giving us the BIG sibling pickup, too! This time, the view of the truck is from the front and the back. Today, my card features the tailgate side.
I'm using the following products from the Holiday Cheer Release:
Big Pickup Tailgate Stamp and die set
Farmhouse Tree Builder Stamp and Dies sets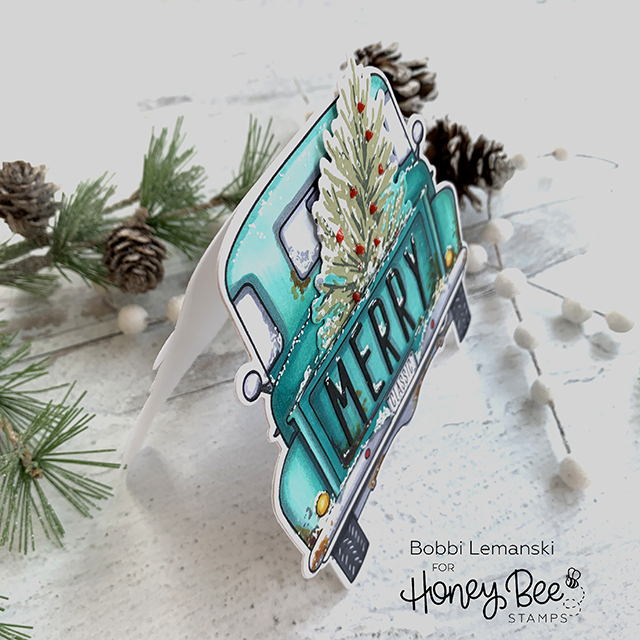 To create this shaped card, I folded 80lb white cardstock and die cut the design allowing the top of the truck cut line to be positioned slightly above the fold. This creates the shaped base.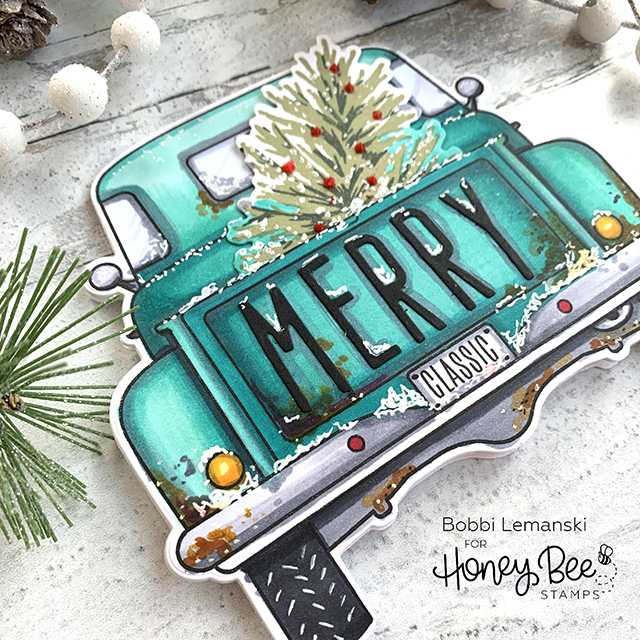 I stamped and cut another truck for the front panel. Using my Fiskars cutter, I cut a slit right about the tailgate to allow my tree to sit "inside," sandwiched between the front panel and the card base. The tree was stamped and cut out using the Farmhouse Tree Builder sets.
I used Copics in the BG family – BG75, BG72, BG49, BG1, BG13, BG11. If you want to create this look and don't have these exact colors – no worries. You can achieve this look with many different mixes of the BGs. The key is to make sure you are really getting in those shadowed areas with some dark, muted colors. My key colors on this truck are BG72 and BG13. BG13 is the brightness, while BG72 is the muted gray look. I also shadowed and muted some of the color using a C3 and C1 over some of the shadows to tone it down. The rust is done in YR27 and YR24. These are my "go-to" rust colors. I like to mix in a little E browns to make them less bright. All the metal is done in cool grays – C5, C3, C1. For my red, I use R29, R17 and R14.  My yellows are Y19 and Y08 or similar.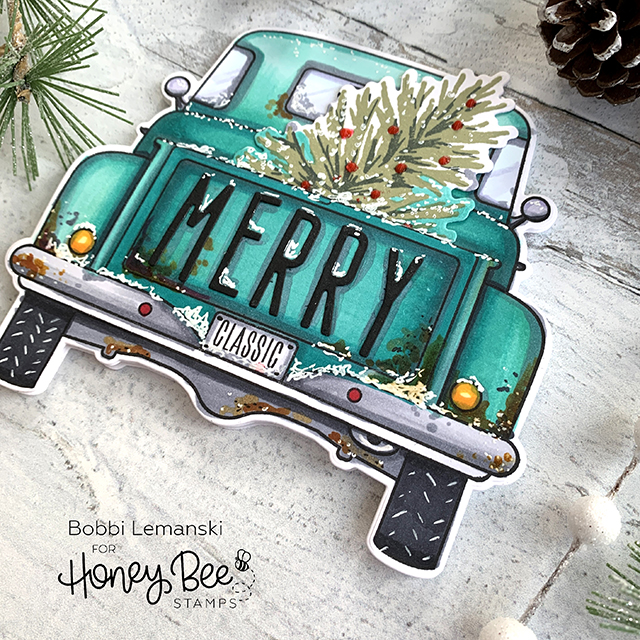 I added the letters, "MERRY" to the tailgate from the Tailgate Alphabet die set. To make them looked raise (like the real ones) I added gray shadow lines to make them look raised. Classic was stamped inside the license plate, too. Using my white gel pen, I added lots of snow and tire treads to the the nooks of the truck to lighten and brighten the look!
Check out all the fun ideas on the Honey Bee Stamps blog today. Then head to Honey Bee Stamps tonight to shop the new release!
Thanks for stopping by today. If you want to see more ideas and inspiration from me, subscribe to my blog, BobbiHartDesign.com. I'll send you updates on new posts! You can also find me on Instagram as @BobbiHartDesign and on Facebook as BobbiHartDesign.