Hello from the sea! It's time for another new set by Paperie Ink. This time we have a flock of fun on this 5″ X 7″ card. I'm using the new set called, Mine, Mine Mine. There are so many cute seagulls in this set along with the trunk, sea accessories and a few phrases, too. I believe I used all of the seagull images on this 5″ X 7″ card. In fact, two were duplicated.  They are so adorable, I had to use them all!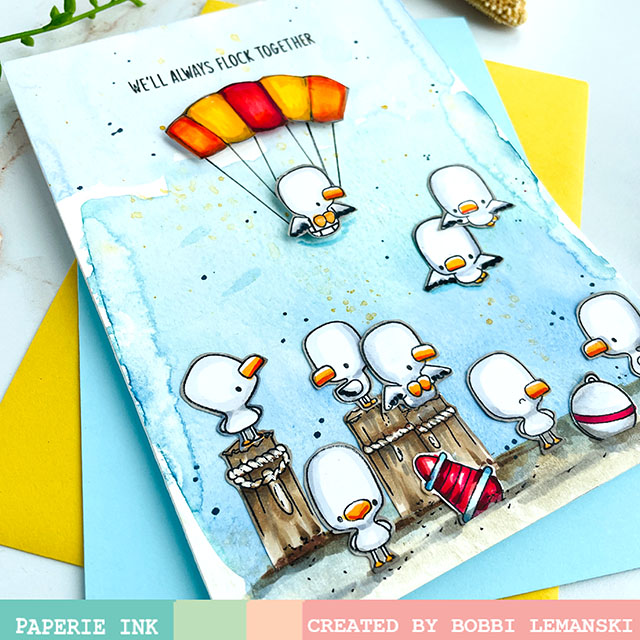 To make this card, I started by applying a light wash on watercolor paper. Shades of blue with a little green/tan coloring at the bottom set the stage for this flock. I always like to splatter a little color to make it look imperfect. I used a gold and a dark teal for the splotches. I stamped, colored, and fussy cut the seagulls. I used the following colors:
Seagulls: C3, C1, Y38, YR07
Trunks in E47, E44, E43, E50
Bobbers in R489, R46, R29, R14, C3, C1
I also applied more Copic browns to the base to make it more "sandy" like.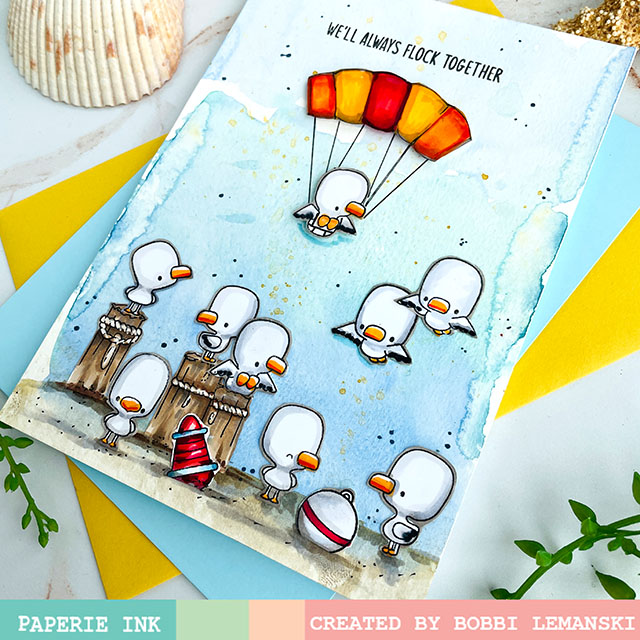 I noticed that one of the seagulls is in a funny position and it reminded me of skydiving, something my 18-year old daughter just signed up to do this summer. Yikes! Anyway, I had to hand draw this simple parachute for the one with his knees bent. It looks like he is ready to land! This is simple to draw. Once I positioned the seagull and the parachute, I drew lines with a black fine-tip marker and ruler and then attached the images permanently with dimensional foam tabs. Easy peasy! This card would be cute for family or a friends! Just add the appropriate phrase for the event inside (birthday, get-together invite, anniversary, etc.)
Thanks for stopping by today. If you want to see more ideas and inspiration from me, subscribe to my blog, BobbiHartDesign.com. I'll send you updates on new posts! You can also find me on Instagram as @BobbiHartDesign and on Facebook as BobbiHartDesign.