Hello! Before March is over, I have one more card featuring the March digital stamp collection by The Greeting Farm. Anya Dress Up digital set is a fun set for versatile looks.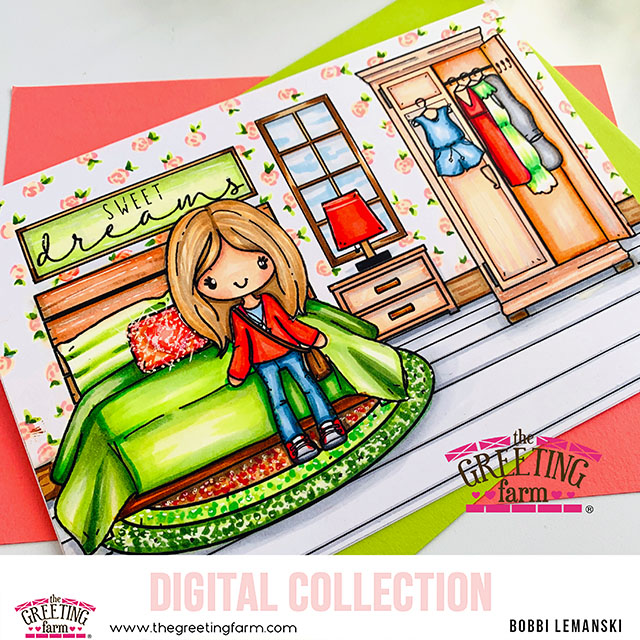 I'm using digis from the following collections for this 5″ X 7″ card.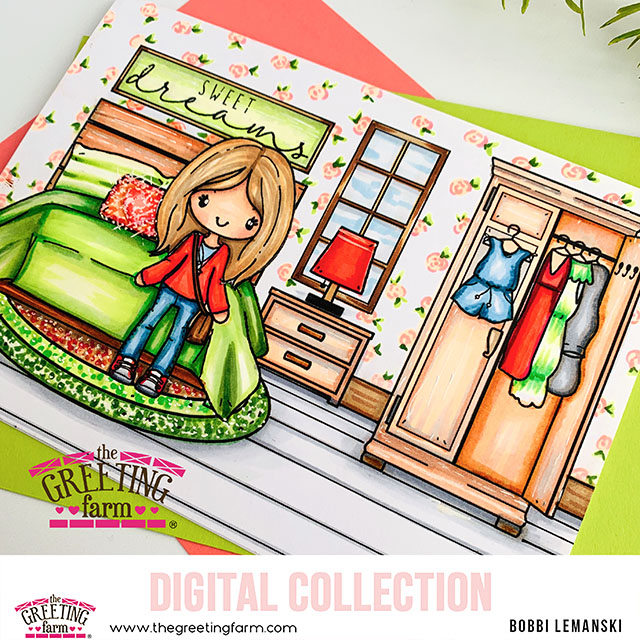 The floor and wallpaper were hand drawn using a marker and some Copic coloring. I used Neenah Solar White 80lb cardstock for the front panel and card base. I always print out and color on a front panel then adhere it to a card base so that the marker bleeds are concealed and not seen!
Copic Colors Used:
For Copic coloring, I used the following colors, but you could use any combination of colors to recreate this look.
Rug, bedspread, sign, hanging green dress: YG67, YG17, YG03, YG00
Painted furniture: YR65 range of shades for furniture. I toned down my colors by adding a W1 over the orange tones.
Browns (millwork/trim around window) – E55, E57
Shading on the floor: C3, C1
Wallpaper: R20, R22, YG67, YG03
Anya's face/hands: E000, E00, E11, E04, R20
Anya's hair: E50, E53, E55, E42
Anya's handbag: 100, C9, E59, E57, E55
Anya's outfit: B45, B42, B21, C3, C1, R29, R14, R22
Lamp: R29, R14, E55, C9, 100
Decorative Pillow: R29, R14, YR04, white gel pen
Sky/clouds: BG000, BG0000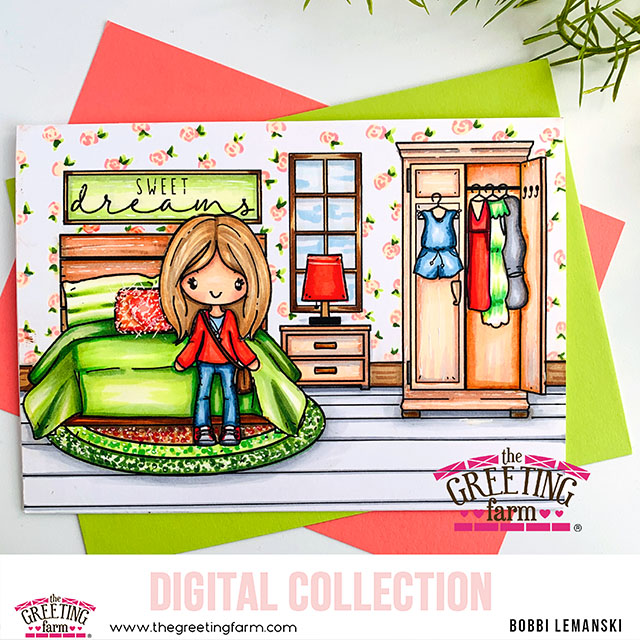 If you decide to place an order, please use my links in this post so that the companies know how you found these products.  I appreciate it very much. It helps me to continue to bring more ideas to you!
Thanks for stopping by today. If you want to see more ideas and inspiration from me, subscribe to my blog, BobbiHartDesign.com. I'll send you updates on new posts! You can also find me on Instagram as @BobbiHartDesign and on Facebook as BobbiHartDesign. Bobbi Hartmann Lemanski, Bobbi Hart♥ Design, Adding h♥art into every design