If you are a Stacey Yacula fan like I am, you will love this new stamp collection offered at Purple Onion Designs. It's called "A Happy Little Place" and it is filled with the sweetest images you can imagine. I love all her collections, but this one gives you the feel of a quaint town in the countryside of an English landscape. Today, I created a market stand scene. I used the following images from the collection:
Alice (Squirrel carrying basket)
My card measure 5″ X 7″ and I used 80lb Neenah Solar White cardstock for the front panel design and the card base.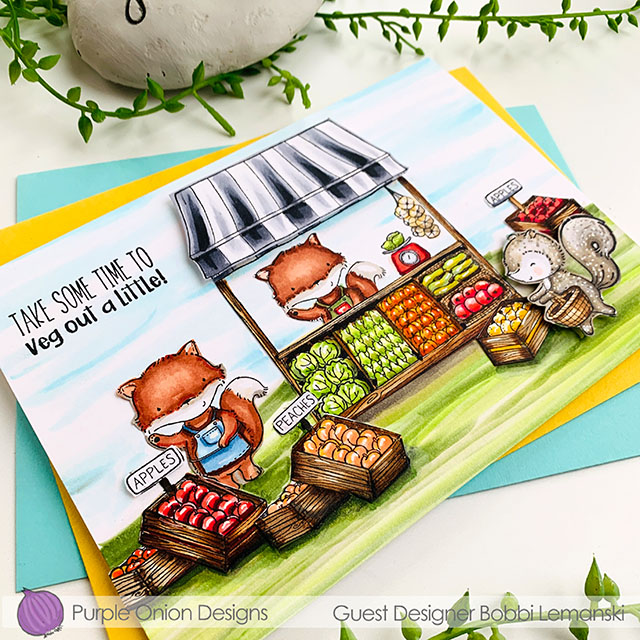 I started by stamping my images. For this card, I had stamped the images on a separate sheet of cardstock, colored them and fussy cut them out to avoid masking. If you hate fussy cutting, masking is your best option to create your scene.
I colored the images in and placed them in the scene. I used the following colors:
Produce stand: C9, C7, C5, C3, C1, E59, E57, E55, E43
Fruit/Veggies:  R29, R14, YG17, YG67, YG03, YG00, Y21, YR30, W1
Crates: E59, E57, E55, E43
Squirrel: E44, E43, E42, E40, R000, white gel pen
Foxes: E18, E15, E13, W0, E40
 Fox aprons: B45, B41, B21, YG63, YG61, R29, R14
Scale: R89, R29, R14, C3, C1, YG03 YG00
Grass: YG67, YG63, YG61, YG03, YG00
Sky/Clouds: B00, BG0000, BG000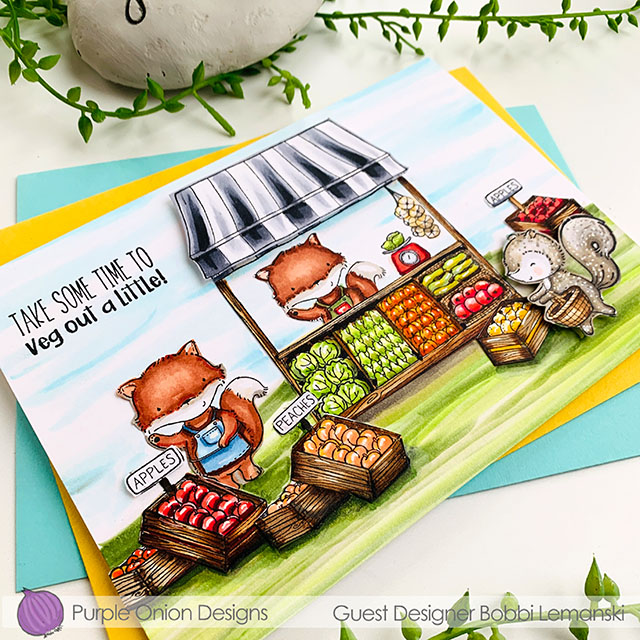 Once everything was in order, I shaded around the images to create shadows. I also ended up popping up the market stand striped canvas and the squirrel for more dimension. I also stamped the phrase in the upper left corner in black. This card could be used for all sorts of occasions.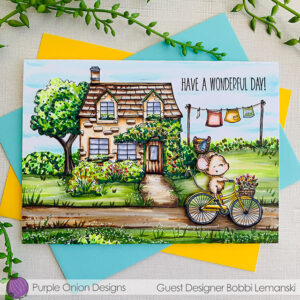 In case you missed it: Check out my blog post on the A Happy Little Place stamp collection country cottage, too!
If you decide to place an order, please use my links in this post so that Purple Onion Designs Stamp what inspired you. I appreciate it very much. It helps me to continue to bring more ideas to you!
Thanks for stopping by today. If you want to see more ideas and inspiration from me, subscribe to my blog, BobbiHartDesign.com. I'll send you updates on new posts! You can also find me on Instagram as @BobbiHartDesign and on Facebook as BobbiHartDesign.
Bobbi Hartmann Lemanski, Bobbi Hart♥ Design, Adding h♥art into every design