Having some fun today with these silly seagulls by Paperie Ink. They are from the stamp set, Mine, Mine, Mine. If you are a Nemo fan, you'll remember all those seagulls singing "mine, mine, mine" in the movie. I'm wondering if that movie was the inspiration for this set. 🙂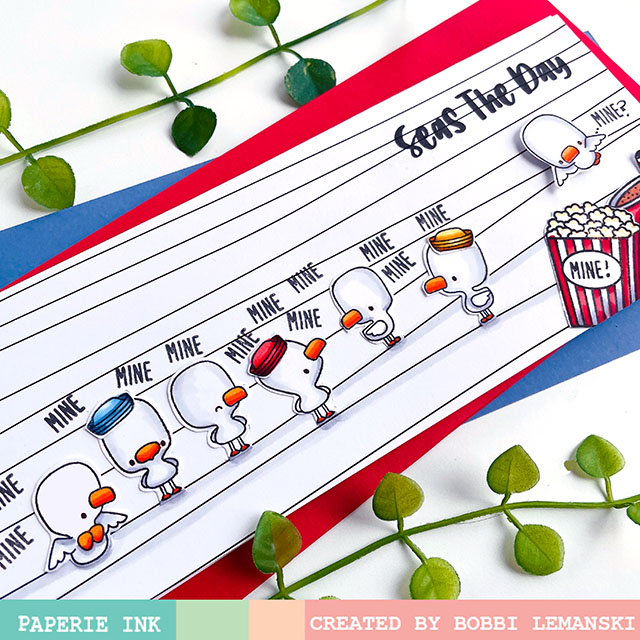 This slimline card measuring 8-1/2″ wide X 3-1/2″ tall was a quick and easy one. I used a pattern paper with black messy horizontal lines across its width. It's older paper from my stash and I can't remember who makes it, but you could make this paper yourself with a fine-tip black marker. Next, I stamped, colored and fussy cut my clan of seagulls and attached them to lines on the card front. It's almost like they are on electrical lines by the sea. Three of them got cute sailor hats. 🙂 I added the "mines" words around them. Can you hear them?!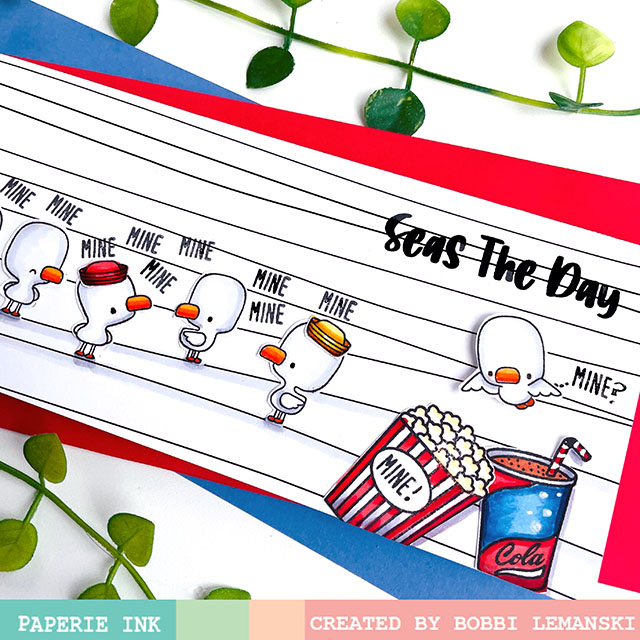 I thought it would be funny to have the one seagull that is flying in, be ready to swoop down to get the popcorn and soda while the other seagulls were still on the lines deciding who got the treats. The popcorn and soda stamps are from the stamp set Fast Food Fun by Sunny Studio Stamps. This set has great food options for teenager cards!  I adhered the flyer with a Scrapbook Adhesive foam tab to make him stand out a bit. His mine got an "?" mark after it as if he's saying, "Can you believe this is all mine?!" He must be the smart bird in the seagull clan. 🙂 This would be fun to give f for a birthday card.
I colored the following using these Copics:
Popcorn and soda: R29, R14, B99, B45 and B21
Sailor hats: YR24, YR23, Y21, B99, B45, B41, R89, R29, R14
Seagulls: C3, C1, YR09, YR68, YR14
Thanks for stopping by today. If you want to see more ideas and inspiration from me, subscribe to my blog, BobbiHartDesign.com. I'll send you updates on new posts! You can also find me on Instagram as @BobbiHartDesign and on Facebook as BobbiHartDesign.