Hi Friends! I've got another card to share featuring the talented Stacey Yacula illustrations available at Purple Onion Designs. The Onion has three FANTASTIC holiday releases available to order now.  Today, I'm sharing new stamps that are part of the I'll Be Home for the Holidays collection including:
Shirley and Sharon (owl and bird snowflake garland)
Home for the Holidays Sentiment set
Mountains Large (from a prior release for the background trees)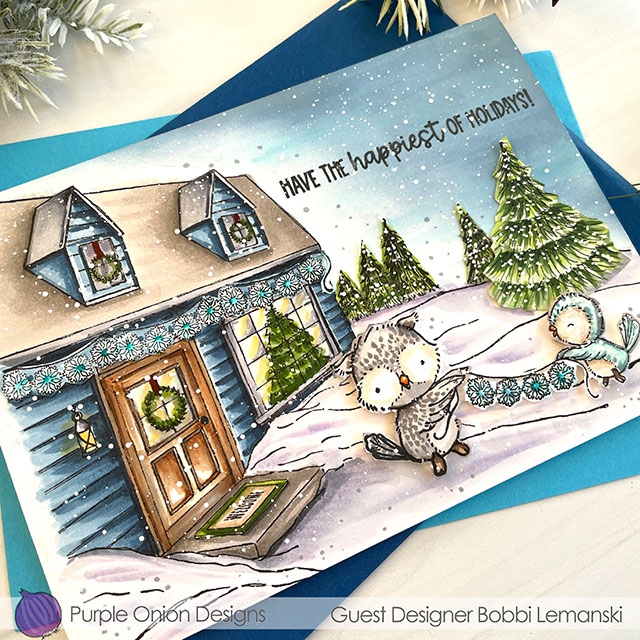 To make this card, I stamped the house to the side of my 5″ X 7″ card front panel cut from 80lb Neenah Solar White cardstock. I colored the house, snow and sky (see colors below). I ink blended Distressed Oxide Ink in Stormy Sky over the sky, allowing more darkness away from the house, to make the sky darker, more towards dusk. Next, I stamped the snowflake duo several times, one for the scene and then three more times for the house snowflake garland. They were all colored and fussy cut out.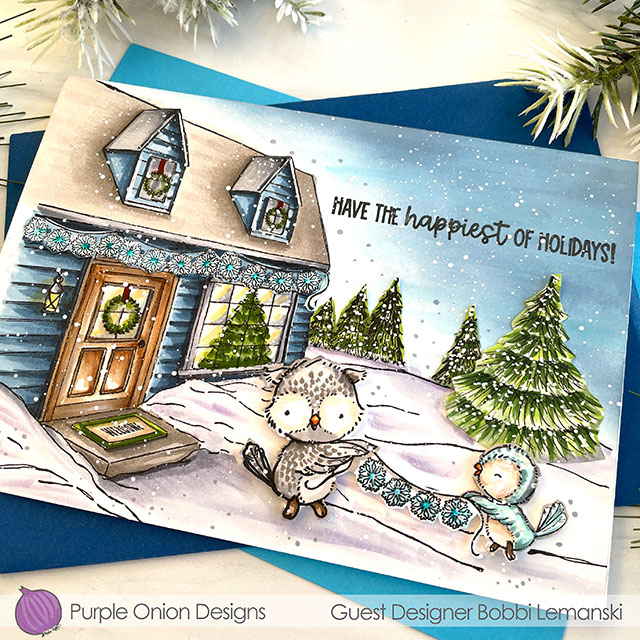 I added trees to the scene. The three, smaller background trees were stamped from the Mountains Large stamp. The larger foreground tree was handmade. I simply drew a simple tree, colored and cut it out to fit the scene. Purple Onion offers larger tree stamps like this one. I just didn't have one in my stash of stamps. Shirley and Sharon. were attached to the card front scene with Scrapbook Adhesives White Foam Squares to make them stand out. I attached the snowflake garland sections to the eaves of the house. I added snow by flickering on Dr. Ph Marten's Bleed-Proof white paint to complete the snowy look. I stamped the phrase from the set, Home for the Holidays Sentiment set in the upper right corner.
Copic Marker Colors Used:
Blues: B97, B95, B93, B91, B21 (house colors)
Warm Grays: W7, W5, W3, W1 (roof, front stoop and owl feathers)
Cool Grays: C5, C3, C2, C1, C0 (for the snow shadows)
Blue Violets: BV00, BV000, BV0000 (for the snow shadows)
Browns: E57, E55, E43,E41, (for the mat, wood front door and trim)
Blue-Greens: BG01, BG000, BG00, B00, B00 (Bird, sky and garland)
Greens: YG67, YG63, YG61, YG03, YG00 (for the indoor/outdoor trees)
Yellows: Y19, Y21, Y13, Y00 (for the indoor lighting)
I attached the colored card front to an A7 card base made from 80lb Neenah Solar White cardstock to complete the card.