The snow is falling and the trees are draped in beautiful white flakes. A large wreath adorns the front door while candy canes flank the stoop. Mr. Snowman is welcoming friends and family to our home. It's Christmas time at The Greeting Farm. 🙂 I am using the latest digital set called, Porch Christmas to create this festive scene. The larger side evergreens and front stoop are from other digi sets called, Christmas Day and Porch II, respectively.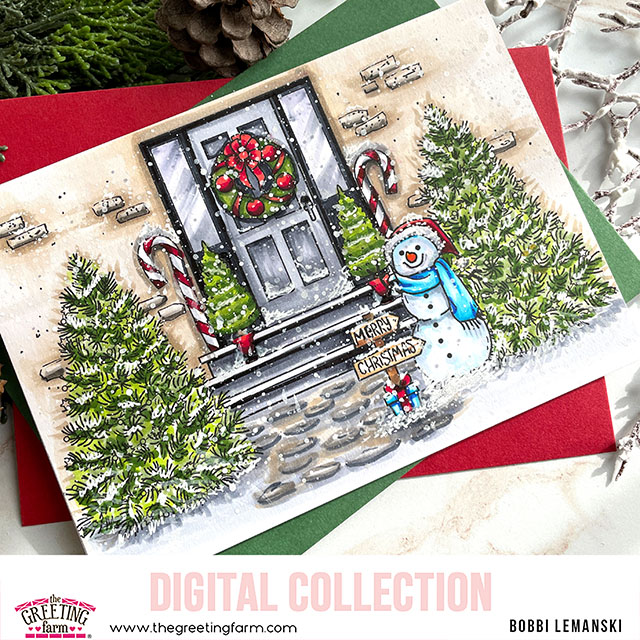 My 5″ X 7″ holiday card screams traditional Christmas to me. It's got all the fixings for a fabulous happy holiday. I used Copic Markers to color the entire front panel scene using the following:
Greens/Trees and wreath: YG67, YG63, YG61, YG03
Grays / Stoop and Door: 100, C9, C7, C5, C3, C1
Warm Grays and Browns /Stone path: W8, w7, W3, W1, E43, E42
Reds/Snowman cap, topiary pots, wreath ornaments and bows, candy canes: R89, R29, R17, R14
Browns/House exterior: E44, E43, E42, E40
I used 80lb Neenah Solar White cardstock for the front panel, running it through my HP Inkjet printer after designing the scene in Photoshop. Other programs will work, but Photoshop is easiest for me to set up the scene.
White paint was used to splatter on the snow once the design was completely colored and dry. I attached the front panel to a A7 white card base made from 80lb Neenah Solar White cardstock to complete the look.
If you decide to place an order, please use the links in this post so that the companies know what inspired you. I appreciate it very much. It helps me to continue to bring more ideas to you!
Thanks for stopping by today. If you want to see more ideas and inspiration from me, subscribe to my blog, BobbiHartDesign.com. I'll send you updates on new posts! You can also find me on Instagram as @BobbiHartDesign and on Facebook as BobbiHartDesign.
Bobbi Hartmann Lemanski, Bobbi Hart♥ Design, Adding h♥art into every design