You drive me crazy…  Sending loads of love… There are so many ways you could go with a phrase for this card. It drove me crazy just thinking about it. Heehee. I decided on, "I love you this much!" I think that works perfectly and it also belongs in a Jane's Doodles set, too.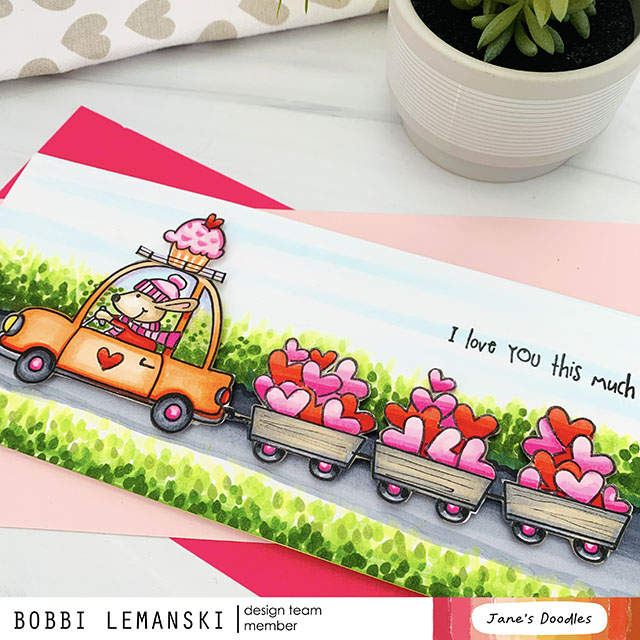 I'm using three stamp sets by Jane's Doodles.  The main set is called Driving Home for Christmas. That's right. I'm using a Christmas set for a Valentine card. I'm also using these stamp sets:
Belated Birthday (for the cupcake on the car)
Seamus (for the phrase)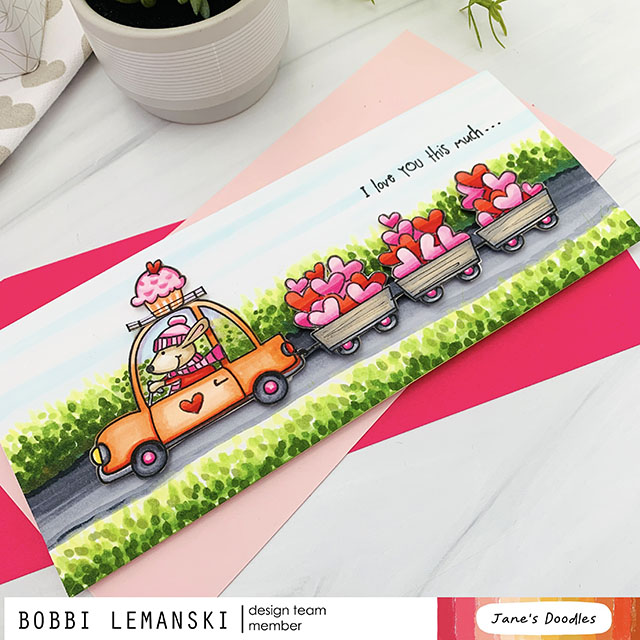 I stamped and colored all the elements – one car, three trailers and the cupcake. Next, I created three heart masks using a sticky note and stamped the hearts in each trailer using the masking method. Each one was colored using shades of reds and pinks. I used the following Copic Sketch Markers: R29, R17, R14 for the reds and RV17, RV55, RV02, R10 for the hearts.
The background, bushes, sky, and road – were all hand drawn/colored as well. I also drew a luggage rack over the cupcake before I cut that out. I used the following greens for the bushes/landscape: G99, YG67, YG61, YG17, YG03, YG00. I used B00, B000 and B0000 for the sky. The road was done in C9, C7, C5, C3 and C1.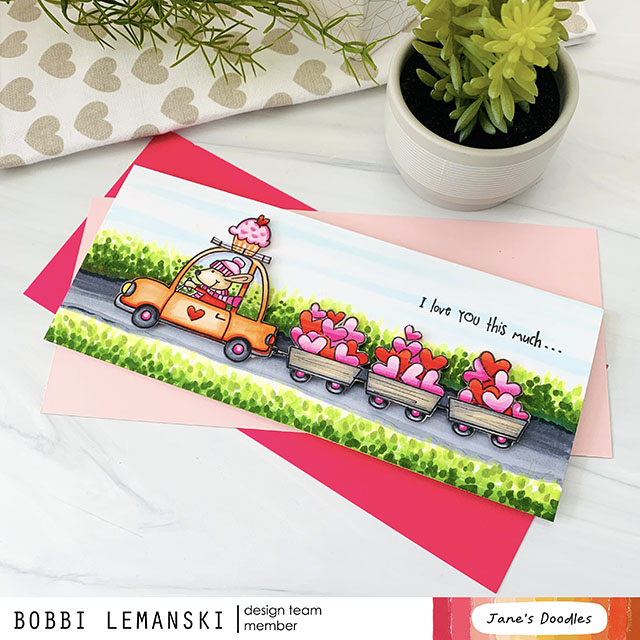 I cut out all the stamped images and added them to the background. I used dimensional foam tabs under the entire car/trailer design to make it pop a little from the page. I think it looks so cute with the vibrant green in the background and foreground. This slimline card measures 8-1/2″ wide X 3-1/2″ tall. It mails in a business-sized envelope.
Thanks for stopping by today. If you want to see more ideas and inspiration from me, subscribe to my blog, BobbiHartDesign.com. I'll send you updates on new posts! You can also find me on Instagram as @BobbiHartDesign and on Facebook as BobbiHartDesign. Bobbi Hartmann Lemanski, Bobbi Hart♥ Design, Adding h♥art into every design