Hi friends! We're having a blog hop today to celebrate Jane's Doodle's new sets for fall. Jane just released the Sleepy Fox and Greetings stamp sets. Both are ready to stamp and color up for your fall cards. To celebrate the release, Jane is giving away a free stamp set to one winner that leaves a comment on every blog on the hop. The winner gets to choose the stamp set. Jane is also offering free shipping for orders over $40 to everyone.
My card today features the Greetings stamp set and includes a little hidden surprise, too! I'm using the following sets:
Hygge Time  (for the blanket in the trunk)
Warm Hugs (for the falling leaves and phrase)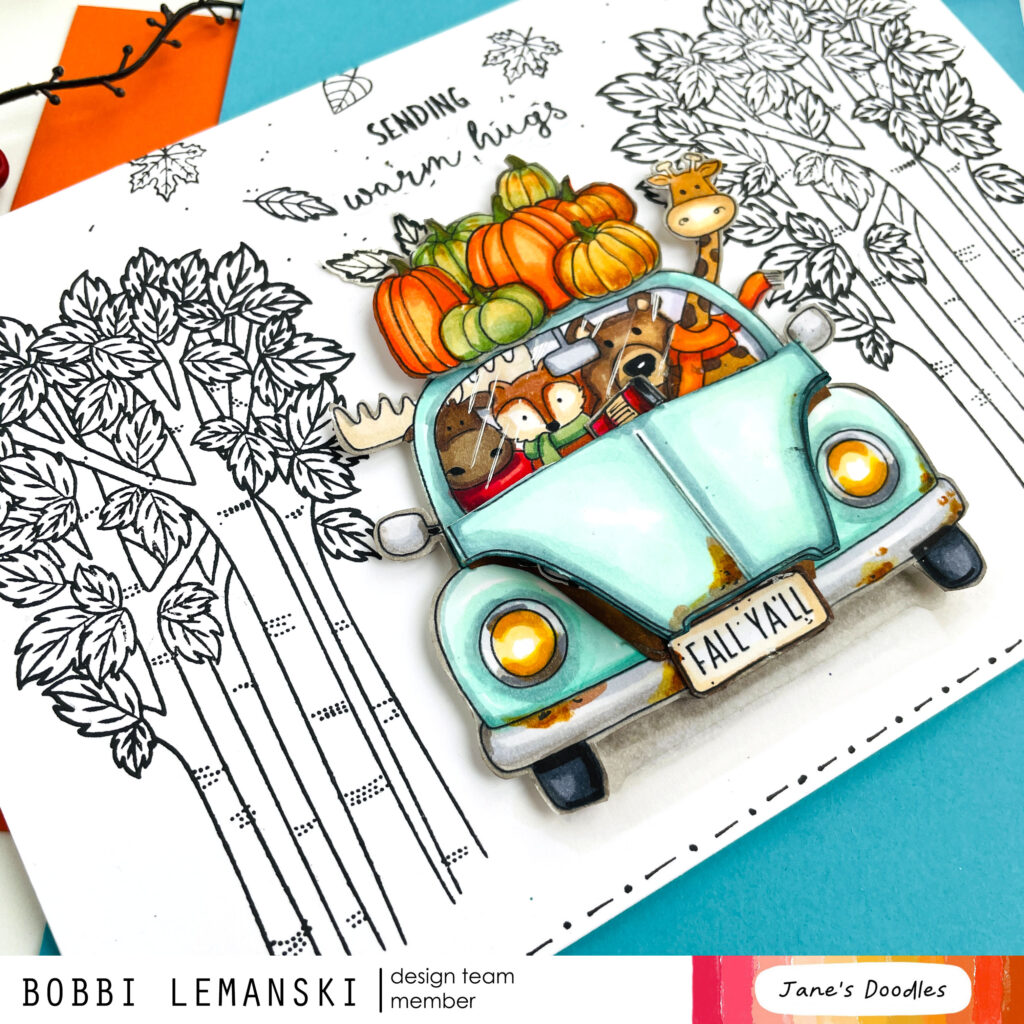 This carload of friends is cruising through the woods after a long day of pumpkin picking. They have quite a load they are taking home. For this 5″ x 7″ card, I created a simple black and white background scene to keep all the attention on this fun Beetle car filled with paw pals. (The background stamp is called "Through the Woods" by SweetNSassyStamps.com) The leaves and phrase are from Jane's  Warm Hugs stamp set.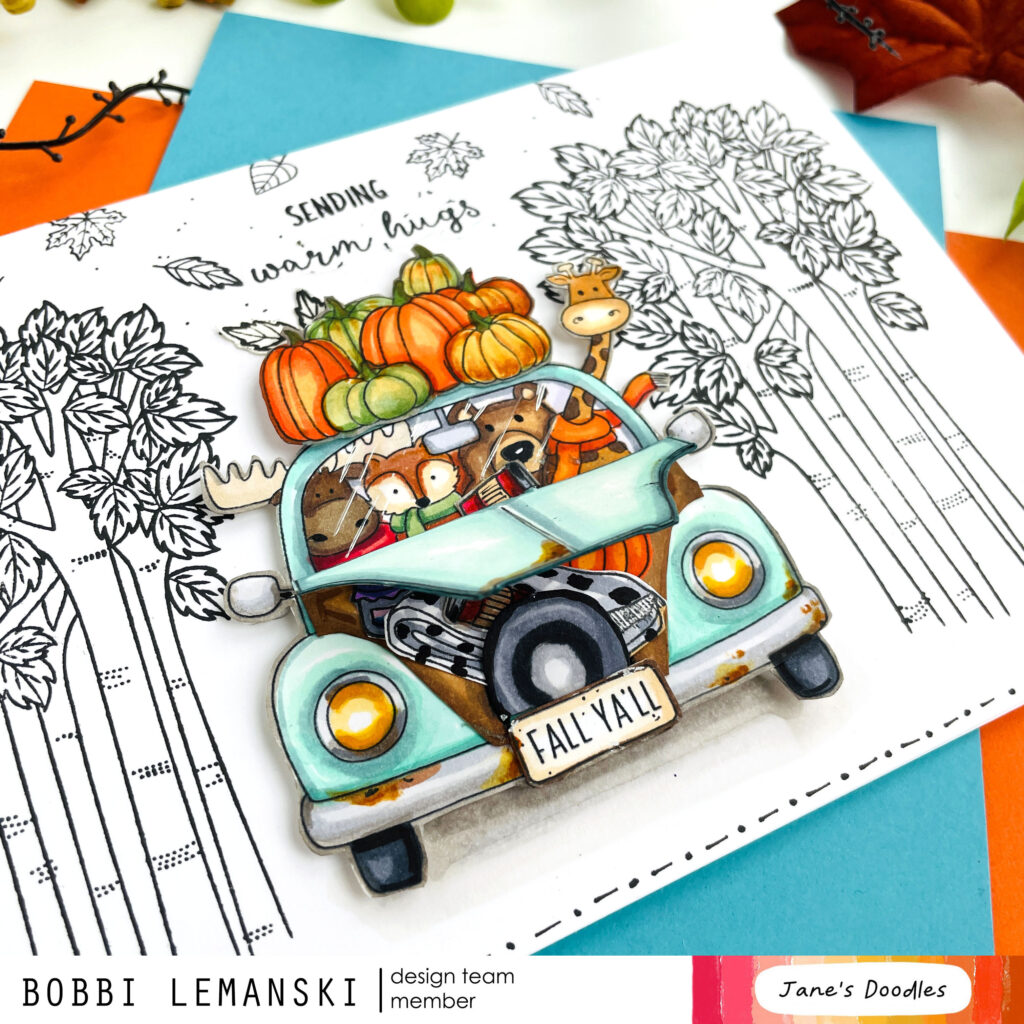 I stamped, colored and fussy cut the carload as well as the blanket image from Hygge Time and leaves, two coffee cups and a jar of jam from the stamp set, Warm Hugs. For the interactive trunk hood, I stamped another car and cut out the hood portion. I attached it to a folded piece of white cardstock, with the score at the top and cut the shape out again using the stamped hood as my front panel and guide. I attached it to the front of the car with adhesive.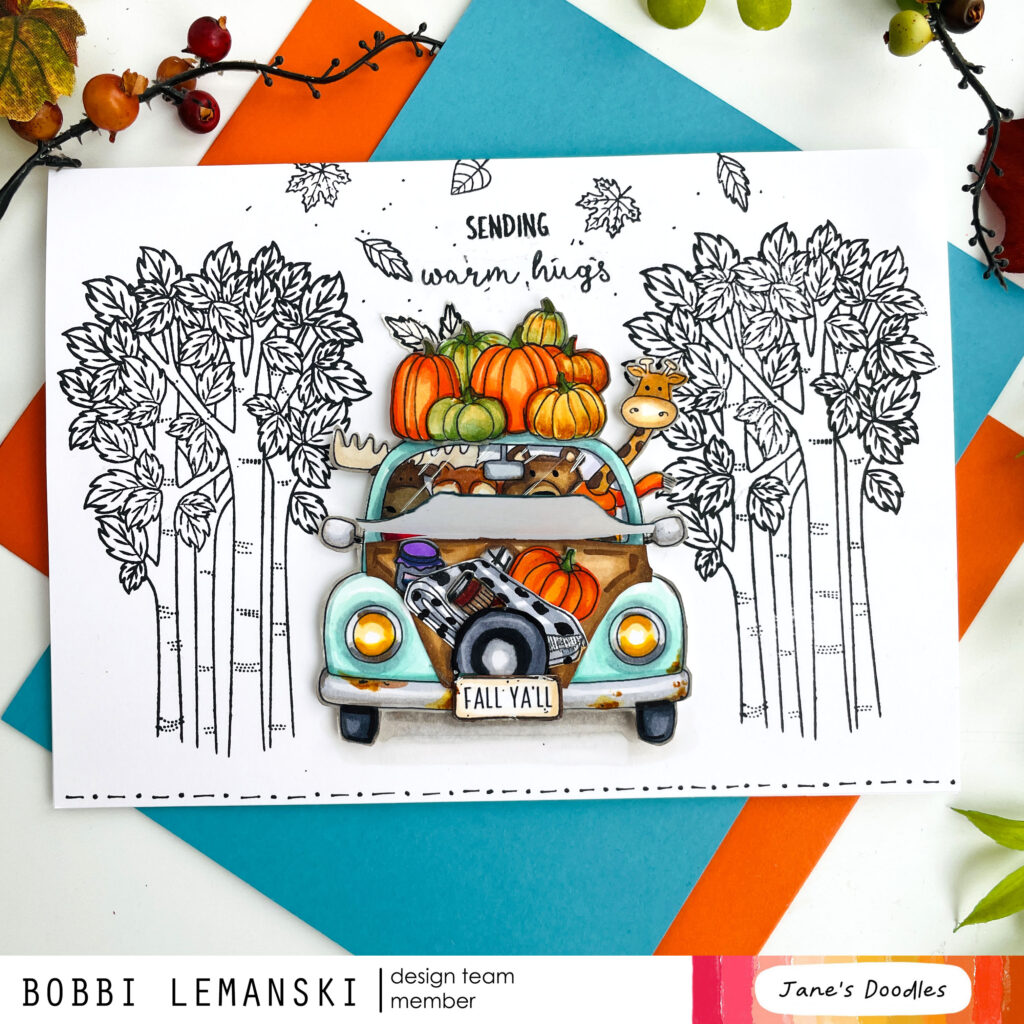 Old VW Beetles have trunks in the front (v. the back like most cars) so I filled the trunk with a buffalo plaid blanket, pumpkin, used coffee travel cup and some jam. Oh, and I also added the spare tire, too! I hand drew that one. I checked where the tire belongs with simple internet search of old VW beetles and it is housed right in front of the "frunk!"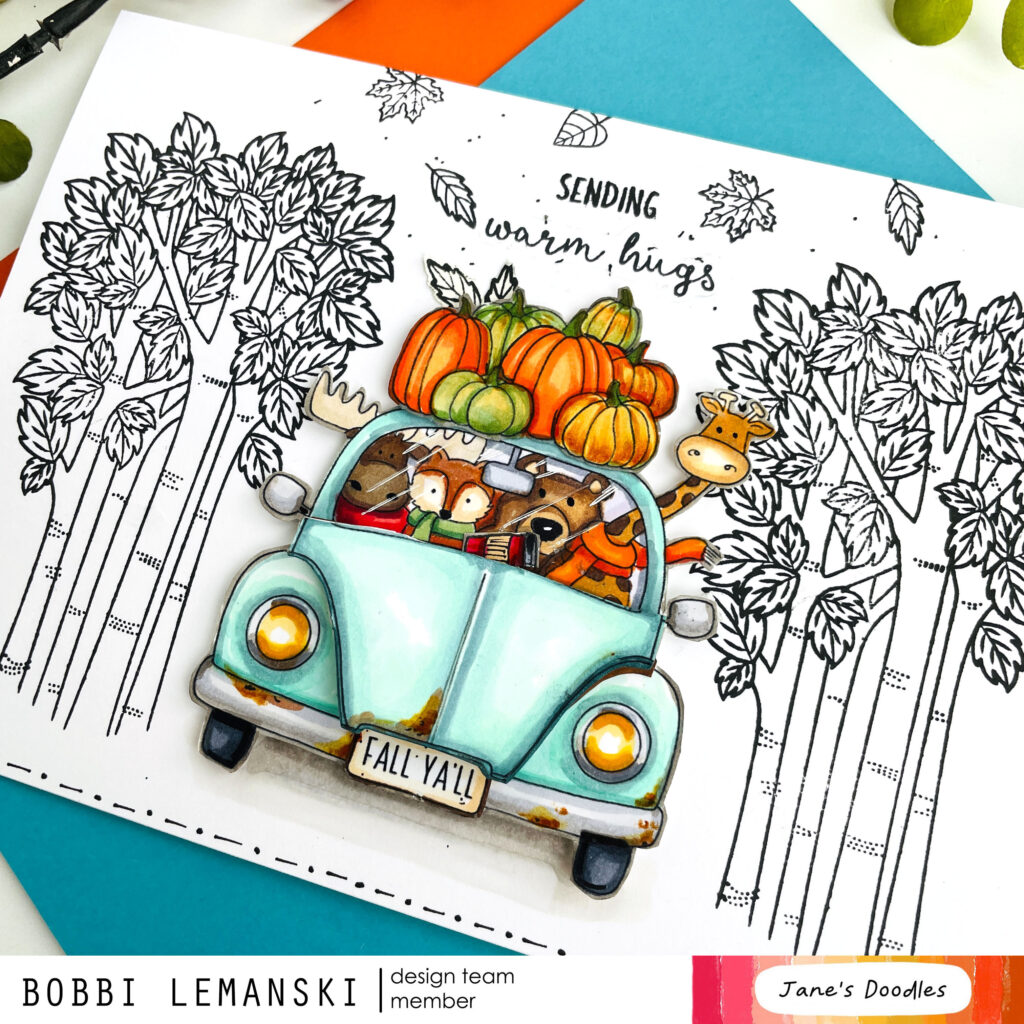 If you look closely, I've added a tipped over, empty (hopefully) travel coffee cup on the dash. I love to add unexpected details to this fun scene. If you want to see another VW van, check out this blog post from a few years ago, here. Well, it's time to cruise on to the next stop on the blog today. Here's the blog hop order:
Thanks for stopping by today. Have fun on the hop and don't forget to leave a comment for a chance to win!
Thanks for stopping by today. If you want to see more ideas and inspiration from me, subscribe to my blog, BobbiHartDesign.com. I'll send you updates on new posts! You can also find me on Instagram as @BobbiHartDesign and on Facebook as BobbiHartDesign.