Hello friends! I'm excited to share this bold and modern card featuring products by Altenew. I love watercolor backgrounds for their fluid and organic nature. I was also drawn to the beautiful fluidity of the Hanging Flowers die set. The layers allow for a variety of color and depth as well as the vines provide wonderful, organic movement. To contrast the background and vines, I combined them with a wood veneer frame that is very graphic with strong edges and  a modern design for my card. Here's a list of the Altenew  products I used:
New Day Card Kit Wood Veneer Frames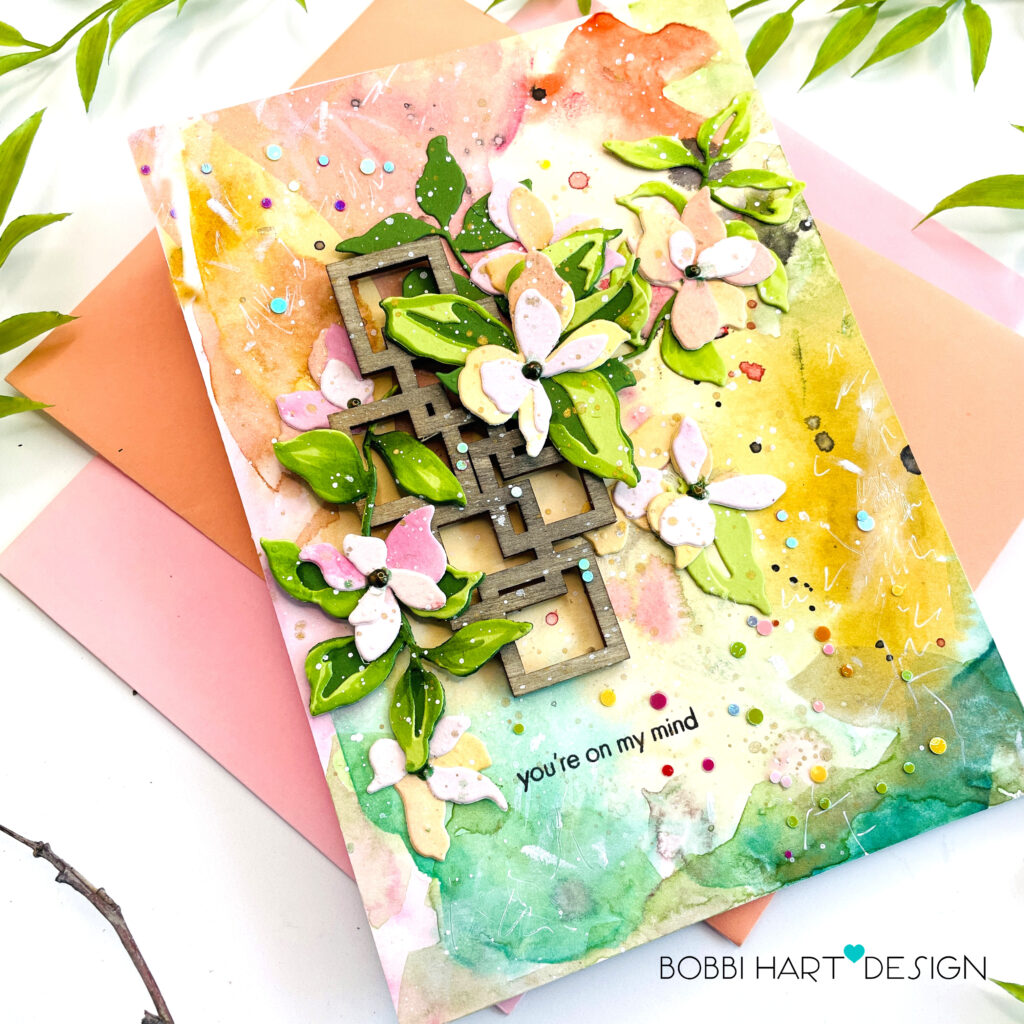 To make this 5″ X 7″ card, I started by applying watercolor in lots of different colors to a 9″ X 12″ sheet of watercolor paper using watercolor paints. Once my paper was dry, I cut a 5″ X 7″ piece for the card front, choosing my favorite section of colors for my card's background design. I painted the wood veneer piece using a brown watercolor paint to darken the wood tone, while still allowing the grain to show through. I love how it turned out! I attached the wood piece to the left center of the card front, keeping it off-center for more artistic interest. The veneer comes with adhesive on the back, making it super easy to attach and use on a card.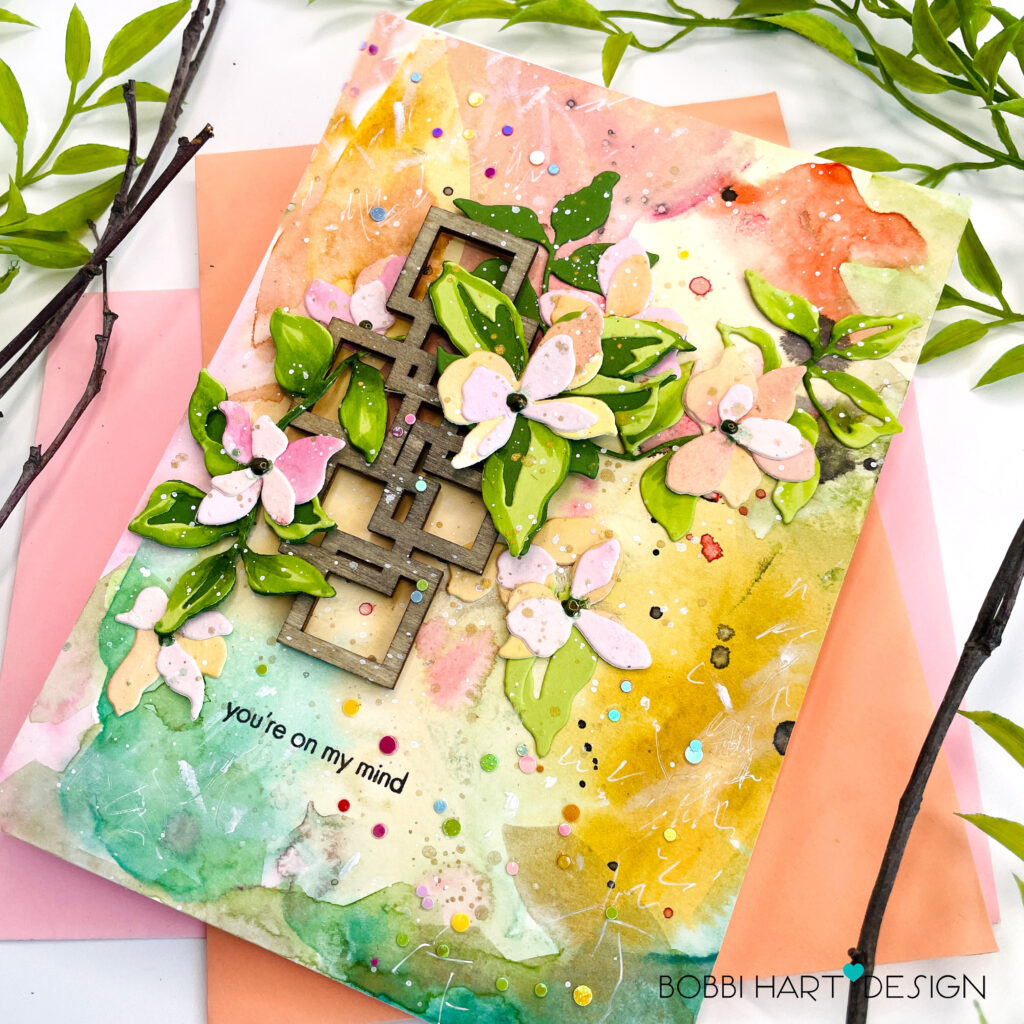 Using the Hanging Flowers die set, I cut the vines and leaves from green cardstock and the layered flowers from a piece of watercolor paper painted in light pinks and coral watercolors and splattered with metallic golds and white paints. I attached the petal layers to create the dimensional flowers and added additional green tones to the leaves for more dimension. I attached the vines to the veneer, making it look like they are intertwined in the modern wood design. I glued the elements on and applied Pearl Pen in metallic gold to the flowers for dimension and sheen.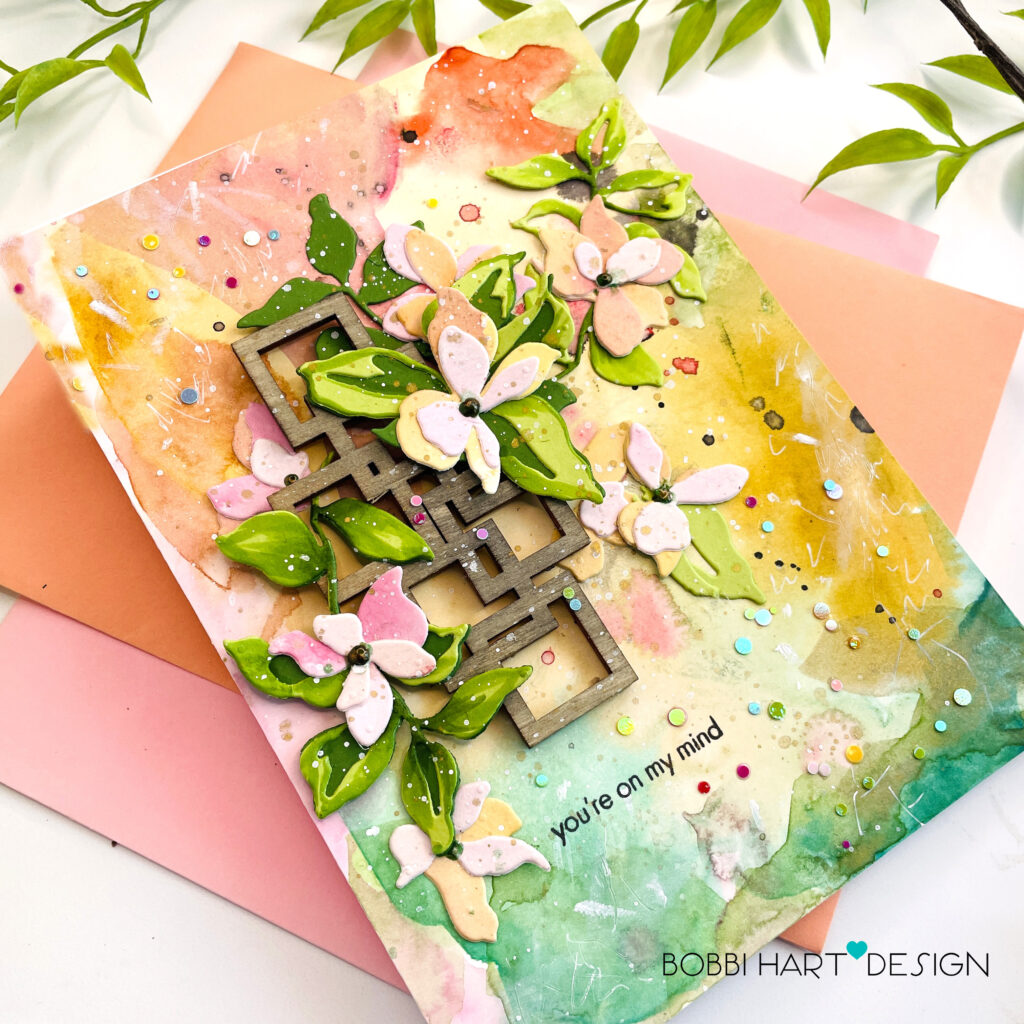 I stamped a saying below the focal point from the Elegant Sayings stamp set. I added small markings in white to the painted background for stronger interest. A few black dots and some additional tiny sequins of color were attached around the design to finish the look. I love how this turned out. It's artsy and fresh and perfect for any occasion.
GIVEAWAY on Instagram!
Here's a chance to be one of the 2 winners of a $25 gift card to Altenew! Just follow these easy steps for a chance to win:
1. FOLLOW @BobbiHartDesign and @altenewllc on Instagram
2. LIKE the post on Instagram here.
3. COMMENT on the post here.
Thanks for stopping by today. If you want to see more ideas and inspiration from me, subscribe to my blog, BobbiHartDesign.com. I'll send you updates on new posts! You can also find me on Instagram as @BobbiHartDesign and on Facebook as BobbiHartDesign.