I have fallen in love with the new stamps sets from Flora & Fauna! The new release has so many fun ones. My card today uses two new release sets:
If you've been following me, you know I love all of the cute VW beetle bugs and vans from this company. I've done numerous cards using the company's sets. There's something so endearing about these retro vehicles. I can't help my self, but "be hippy" (which by the way, is the cutest phrase ever! Why didn't anyone think of that one before?!) I think only over a VW retro bug, could you have pineapples falling from the sky.
To make this card, I embossed a cute pineapple design in white on gray cardstock and added a little yellow Copic coloring to each one using Y19 color. I added the gray embossed background to a 5″ X 7″ white top folded card base. I stamped the phrase at the top in black ink and added random dots of Y19 and black around the phrase to soften the edges. I added the same dots to the bottom portion of the card base, too.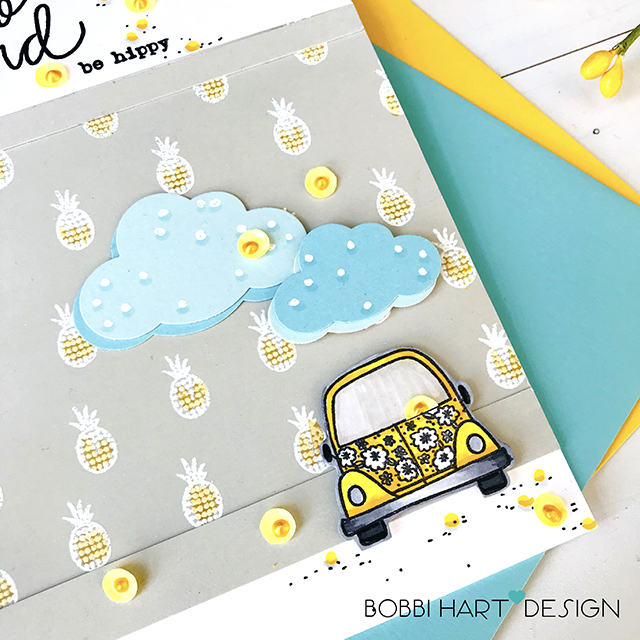 Next, I stamped the cute VW bug and colored it in using C3 around the border, W1 in the windshield area (to match my warm gray cardstock background) and Y19 for the car body. I fussy cut the car out and added dimensional foam to the back so it "popped" off the card. I added some aqua blue clouds above the car. One is popped up with dimensional foam.  I wanted it to look like it was raining pineapples over the bug. Once adhered, I added some random yellow sequins around both the phrase and the car to unite the sections of the card. Each yellow sequin also got a drop of Pearl Pen for a deeper tone in the inside. The pearl drop also helps to secure it to the card base, too!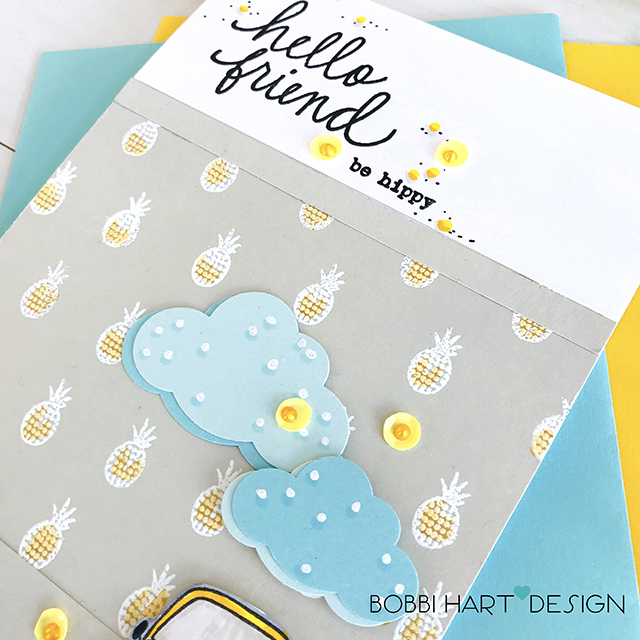 Sometimes its fun to just create a card with lots of whimsy (like raining pineapples out of the clouds). This card and these sets make me very hippy to be a cardmaker. I had fun with this one and I hope you enjoyed it, too!  
Thanks for visiting! Remember let the sun shine and "be hippy!" 
Adding h♥art into every design
Bobbi ♥ Design