Hay, All! 🙂 Back on the farm with Marci with this month's La-La Land Crafts Club Kit. Sign up by June 10 and receive Farmer Marci and Carrot About You stamp sets as well as dies to make a truck and barn, too. I have details on how to sign up below.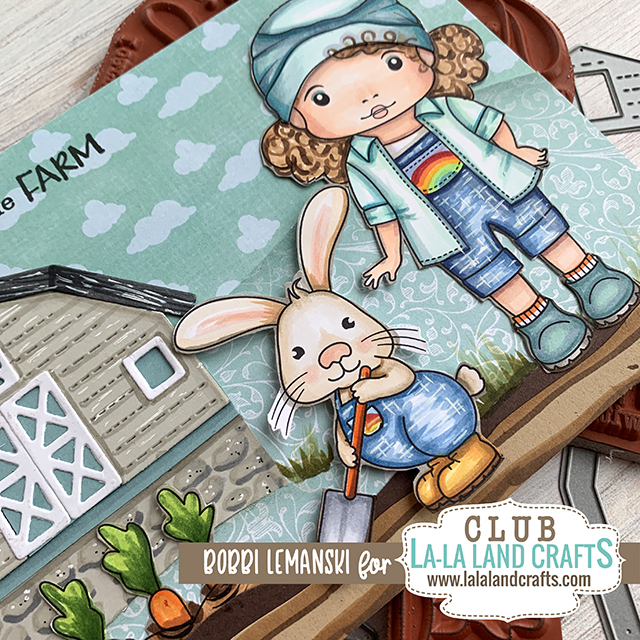 Today's card features the barn dies, Farmer Marci and the bunny with shovel. I created the scene using pattern papers from these packs:
Hello Life paper pack  for the cloudy sky
Love You More paper pack for the green vine paper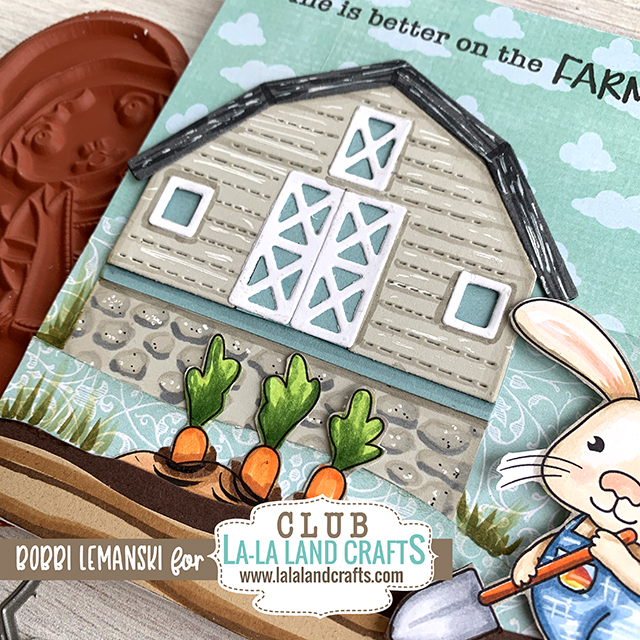 In addition, I added a rock wall foundation on the farm. Many older barns in Wisconsin have a rock foundation like this one. I also hand drew the dirt ground for the plantings, too. I used a white gel pen to add stony texture to the rocks and distressed marks to the siding. The carrots, bunny and Marci were colored using the following Copic Sketch Markers. I added a fun rainbow to Marci's bib pocket as well as the bunny's bib pocket, too. 🙂
Copic Coloring Details:
Marci face and skin: E04, E11, E00, E000
Marci lip and cheek: R20
Marci eyes: BG72
Marci Hair E55, E57, E50
Marci outfit: BG72, BG32, BG10, BG53, BG18, YG05, Y19, YR68, R29, B45, B41, B91, B95, W1, white gel pen
Bunny: E11, R11, E43, E41, R30, W1, W4
Bunny Outfit and boots: B41, B45, Y19, YR27, YR24, W3, W1, E55, white gel pen
Bunny shovel: YR09, YR68, C1, C3, C5
Barn: W5, W3, W1, white gel pen
Carrots: YG67, YG03, R05, YR68
Want to create your own farm scenes using these adorable characters? You can! Subscribe by 6/10! Here's how…
How to Subscribe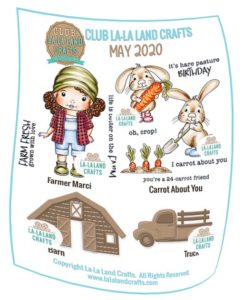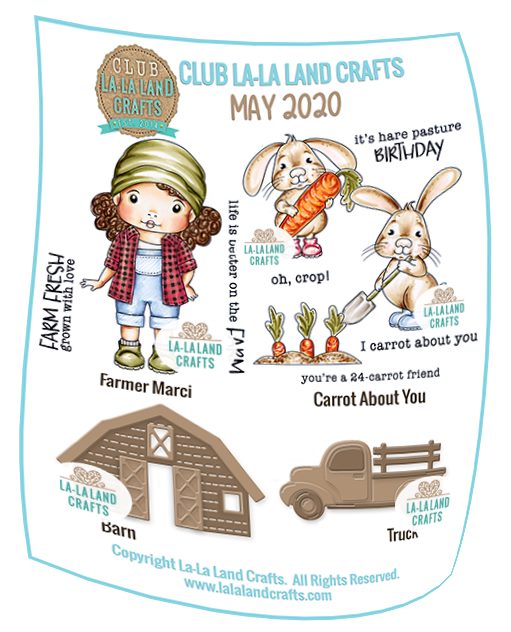 Now for the details…. You can sign up for a monthly La-La Land Club Kit subscription and get just the stamp sets, die or both. Full kits including stamps and dies are $39.99/month (a savings of $29.00 when you purchase the entire kit – a retail vlaue of $68.99) which is the best value. Plus, you get all the goodies for your cardmaking, too. ?  For details on the Club Kits and how to sign up, go to La-La Land Crafts today. Keep in mind – these kits are only available on a subscription basis. You must be a member to purchase this kit and past kits, too.
Sign up by 6/10/2020 to get this kit!  Once you are a member for two consecutive months, you will also be eligible to purchase other past months' kits (one/month and while supplies last). This is a benefit of being a member of the Club! Full details on the kit subscription page.
Sign up now to receive this kit in the mail. Here's a link to the page to sign up.
Want to see more ideas and inspiration from me? Subscribe to my blog, BobbiHartDesign.com.
I'll send you updates on new posts! You can also find me on Instagram as @BobbiHartDesign and on Facebook as BobbiHartDesign.