Today is day 2 of the sneak peeks of Craftin' Desert Diva's March release. I'm excited to show you this fun set called, Rainy Days. There's nothing rainy or gloomy about these characters. The animals in this set are outfitted with raincoats, hats and boots and are ready to play in the rain. There's something fun about a rainy day and these images tell all.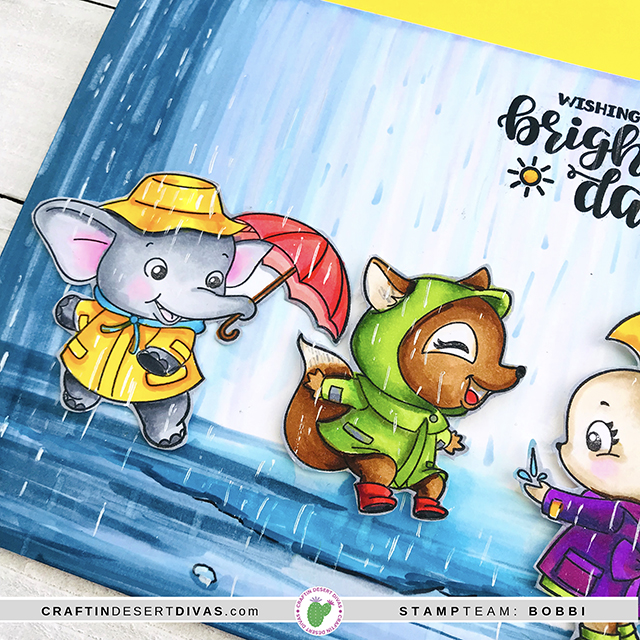 I stamped and colored all of the images using Copics. I also used Copics to color in the background with various shades of blue, going from dark to light in the middle. A while back, I took a coloring course by Sandy Allnock called Rainy Days and I learned some tips and tricks on creating raindrops. I used many of them here in this background. One of those tricks is to use a much lighter Copic marker such as a B000 on the dark areas of rain to make lighter/whiter marks resembling raindrops. I love the look this creates and never had thought about doing that before. The lighter shade basically moves the color out and leaves a "white mark" in the dark areas. I also added more raindrops using a Signo Uni-Ball gel penn in white, too.  In the light areas of the background, I used a darker shade of blue to make the raindrops so that they would show up, too.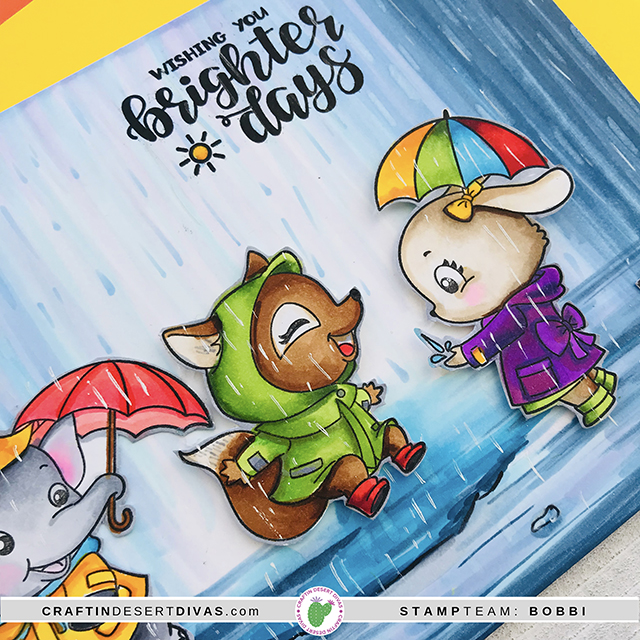 I created puddle-like looks on the ground so that these cuties could have some fun jumping and splashing in the rain. Lastly, it's important to add raindrops over the images, too. It's hard to make a bunch of random marks over a colored image, but it makes a big difference in the "realistic" look of the scene. 
Rainy Days and the entire Craftin' Desert Diva's March release will be available beginning March 13 at Craftin's Desert Divas!
Thanks for visiting! I hope your next rainy day is full of fun and joy!
Pouring my h♥art into every design! 
Bobbi ♥ Design