Wow! What an exciting week at Honey Bee Stamps. It's Party Animal Week!!!!!! Now through March 9, you can save 15% off on all animal themed stamps and coordinating dies using coupon code, PARTY15 at checkout. Hurry! Tomorrow is the last day of the deal-e-o. Check them out all here. 
I am using the following party animal sets for my card today:
I also used the Birds and Bees sets and dies for the greenery in the card and Simple Alpha for some phrasing. This is not part of the PARTY15% off, but a great set to have in your stash.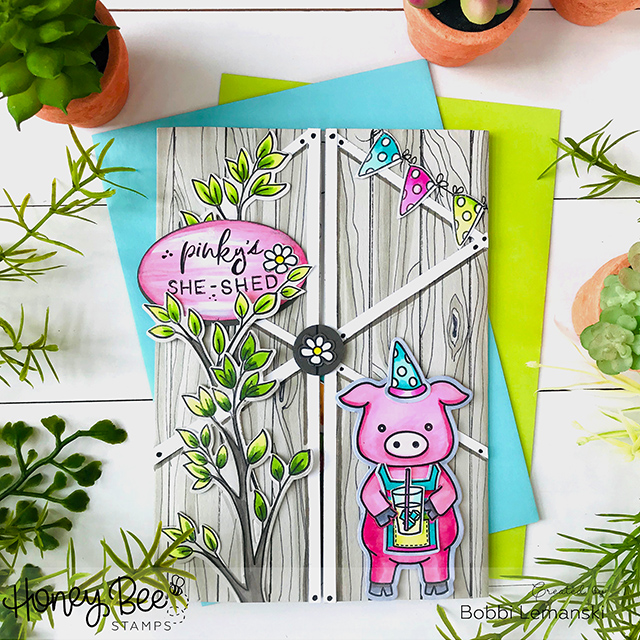 I wanted to create a scene for these cool partiers and what better place to hold a party, than "Pinky's She-Shed." I guess she said it was time to party! 😉 Each animal has a fun party outfit to wear. Each of these animals has so many accessories that it's fun to create with them.  
I needed to create party hats for all of Pinky's guests and a fun banner for the inside and outside of the shed. I actually used the piece of pizza from Pinky's set to make both! That way, two have one type of party hat and the other two have a pizza-turned-hat! I think the pepperoni (aka polka dots) make adorable banners, too! Sometimes you just have get creative with your stamps!
I hand drew the shed floor on the inside and the wood planks on the outside of the shed using Copic W colors. I paperpieced strips of white for exterior shed trim. I then added elements inside and out and a nice phrase to the right. SHED RULES: GO WILD! I like that!  
I used a color theme for all of the characters and the party place using pinks, aquas and yellow greens. I think they are very festive together! A few accessories for the she shed finishes off the look. Most of the accessories are from Pinky's set since it is party themed, but the tree stump table is part of Bill's collection.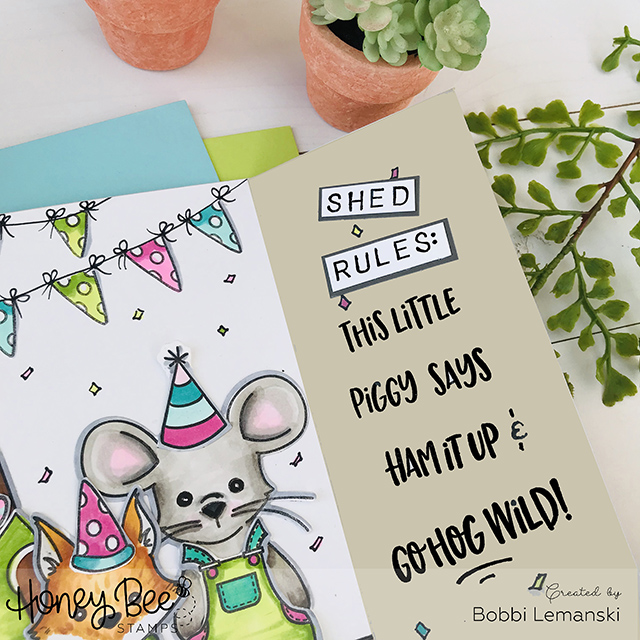 Thanks for visiting! I hope your next party is a blast!
Pouring my h♥art into every design! 
Bobbi ♥ Design
So here's the fun part! I get to give a away an animal piecing die on my instagram page, thanks to Honey Bee Stamps. Go to my page and leave a comment for a chance to win! Here's a link to it. See you over there and good luck!