It's opening day of the Simon Says Stamp Blossoms and Butterflies release! Today I'm sharing a couple of cards I made using the new Bouquet of Roses 6″ X 6″ stencil. 
To make this card, I started by splattering on some black watercolor onto a fresh slightly off white speckled cardstock. I sponged on some distressed ink using the stencil in Mermaid Lagoon, Spiced Marmalade Mowed Lawn distressed inks. For me, the flowers needed more definition so I also used my Copics (after the ink dried completely) and added lighter shades of the inks to fill in the flowers. I did the same with the leaves, offering some shading and more dimension with my copies.  I also wanted to add more petals and veining in the leaves so I used think markers to add those elements, too.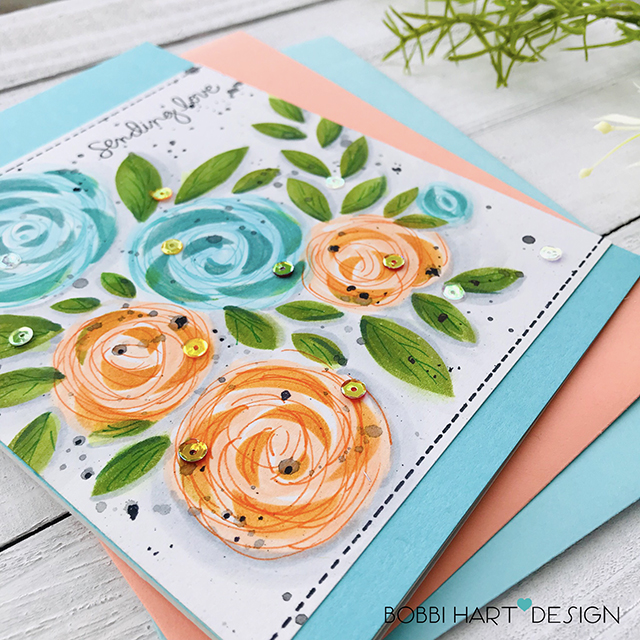 I stamped the sentiment from the stamp set, Handwritten Sentiments in black ink and added some black stitching to the top and bottom of the off-white cardstock. Lastly, I had to add a little sparkle to the front with some sequins in gold and silver.  That finishes my card. Now on to the next card…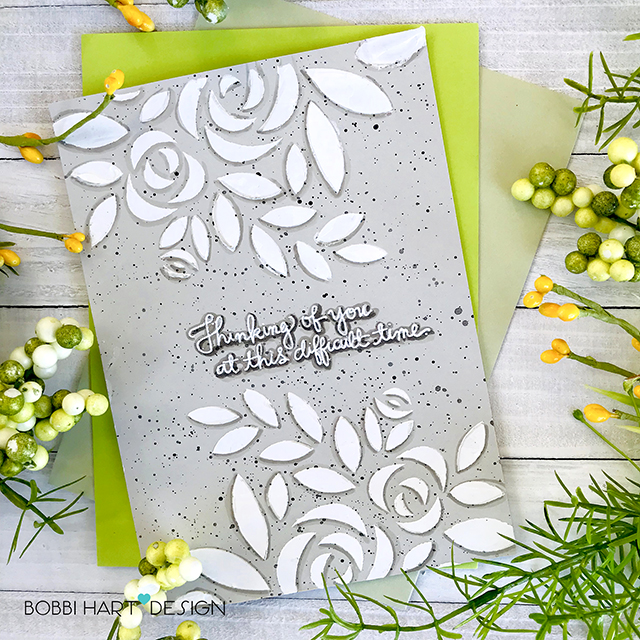 In my next card, I used white embossing paste with the stencil on gray cardstock. To begin, I speckled my background first using black watercolor and a brush. Once it dried completely, I added the paste using a knife to create a thin coat with the stencil as my pattern. I set the card front aside to dry completely before I continued. Once dry, I added more shading using my Sketch warm grays to make the design really pop off the page. I needed a sentiment for card so I used Handwritten Greetings also from Simon and embossed it with white embossing powder. I didn't think it showed up really well so I added some brushes of warm grays around the letters for more background contrast. That did the trick. I didn't want a lot of color on this. I wanted it to remain more peaceful and soft and I think I accomplished it by using only grays and white. 
Check out all the new products from this release today. You can find it all here. Now, I must go shopping myself! 
Thanks for visiting! May your day be blossoming with spring all around you! 
Adding h♥art into every design! 
Bobbi ♥ Design