Take a look inside this window. You'll find another sneak peek of a new stamp set by Honey Bee Stamps. All week long the Bee is unveiling new sets each day for their 4th Anniversary celebration. It's been four years of fabulousness from Honey Bee and this anniversary release takes it to a whole new level! Not only is this cute little rooster adorbs, but how about this window, leaves and phrase? They are ALL from NEW sets to be released at midnight, CST on Friday, April 19.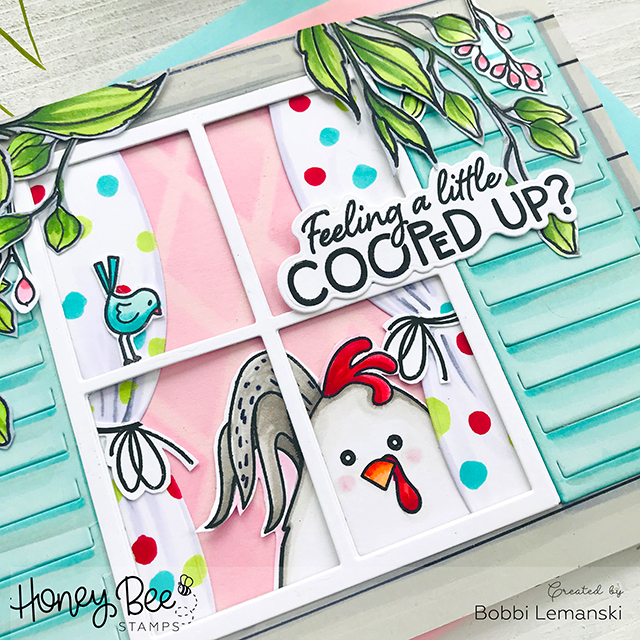 For this card, I used the following new products from Honey Bee:
This card is easy and fun to make. It's easy because everything can be die cut for perfect layers. It's fun because everything can be tailored to fit your style. Believe it or not, I made four set of curtains before I decided on one that looked best in the window!
More about this cute window…
The Cottage die set comes complete with a 4-pane window, drapes, shutters, and flower boxes. You can make the window an exterior frame or an interior frame (simply put the curtains in front of the window). There are loads of possibilities. I'll be using this one a lot in the coming months. I can see so many fun scene possibilities.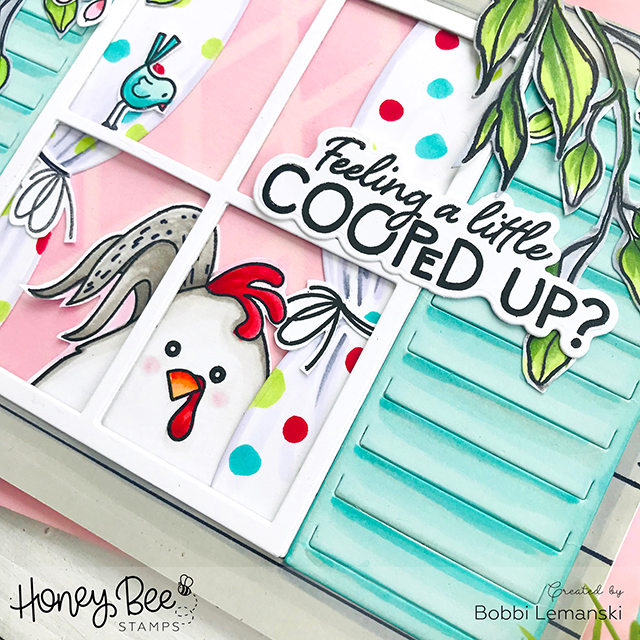 This is a 5″ X 7″ card and I used all of the space for this beautiful window. I added "siding" to the card front by drawing horizontal lines on gray cardstock. I then attached the layers to create the scene, beginning with the wallpaper in the room. That served as my backdrop to the interior scene. From there, I added the rooster, curtains, pane, shutters and greenery. This card is not hard to make, but it does involve layers so get your glue stick or adhesive ready for this one! I think this card would make a wonderful get well soon or thinking of you card for a friend or loved one. You can tailor your message inside to fit the need. 
Check out all the fabulous new sets and take advantage of chances to win on the Honey Bee blog all week! 
Thanks for visiting!  If you're feeling cooped up, get out and do what you love to do today! 
Adding h♥art into every design
Bobbi ♥ Design