Um…what does that card say? SEE YOU LATER, ALLIGATOR! Did you get it right away? My husband and kids did not! Well, it is a bit cryptic. It takes a minute to solve the mystery message which is part of the fun. (Yeah, I'm one of those peeps who loves to try to make meaning out of cryptic license plate messages.) When you open this card, there's a whole parade of characters waiting to celebrate with you!
Today's card is a farewell card. It could be given from:
a group of employees celebrating a coworker's last day of work or new retirement.
a family congratulating the new graduate who is leaving for college.
a host family saying goodbye to its visiting guests or vice versa.

I'm so happy to be guest designing for Hello Bluebird this month. This company has so many cute images and fun sets to use. This is my second card as the guest designer. (See my first card here.)  Today's card uses the following Hello Bluebird Stamps products:
An Alpha Die Set Offers Unlimited Custom Messages
When Hello Bluebird asked me what sets I'd like, I included the Charlie Alpha die set. I love to create custom messages to make more use out of sets. I wanted to create a custom message on this card to go with the Party Parade Stamp set so… "Hello, Charlie." It's Charlie to the rescue! I love having alpha sets for this very purpose. There is no limit to the fun things you can say on your cards, like "C U L8R (AKA See you later)." If you like a less cryptic message, go ahead and spell it out. 🙂  This set also has a matching numbers die set. I don't have the numbers die set so I created the "8" using two stacked, on-the-side and overlapping Os. It worked great and allowed me to add two cute fishies to make the number eight. (Tip: The Charlie Alpha Die set is only $11.99! That is a total bargain for an alphabet die set. It's the perfect size – not too big nor too small. )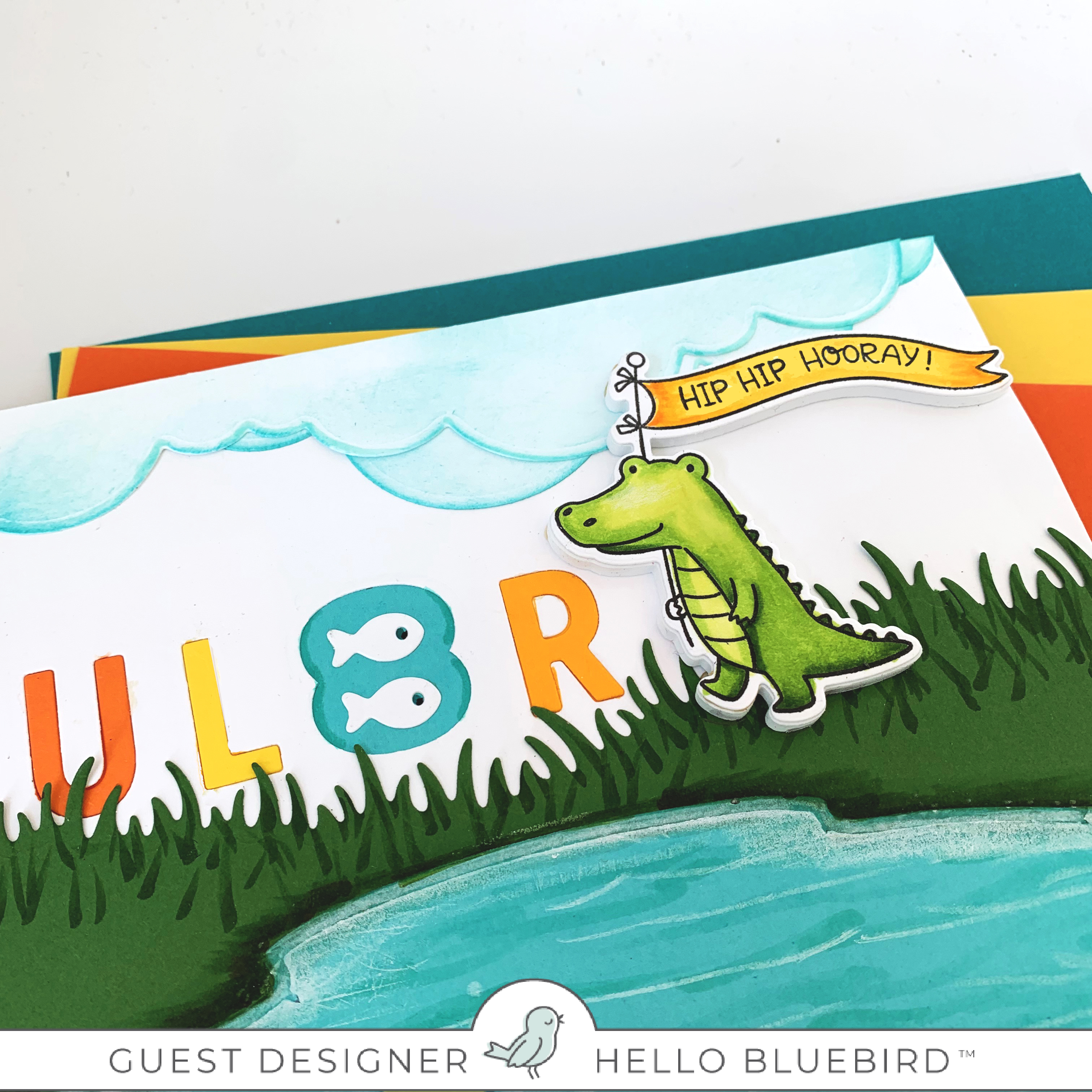 Creating the Card Front
To create this 5″ X 7″ card, I planned out my letters, alligator and pond scene and die cut my letters from the white card front, I added letters back in to the spaces in five different colors and secured in place from the back with a piece of tape. I stamped, colored with Copics and die cut four of the animals from the set,  I also die cut my pond, grassy areas, clouds and fish and added additional coloring to them for added interest. These pieces were added to the card front, above and below the letters.
I die cut a piece of craft foam and glued it to the back of the alligator to make him "pop" up a bit from the rest of the design. The dimensional alligator was added to the front and the other three images were set aside for the card base construction.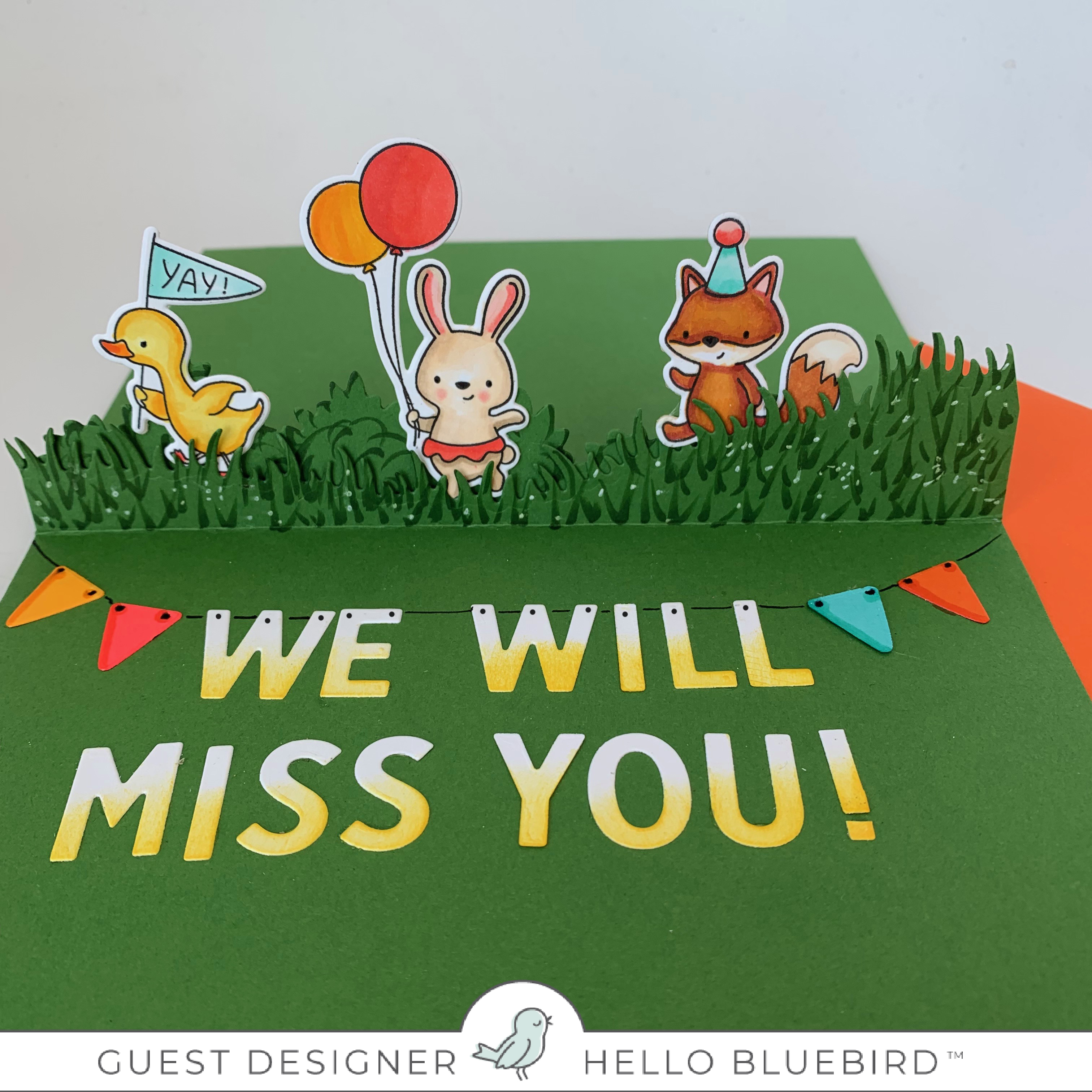 Constructing the Card Base
To make the 5″ X 7″ card base, I cut two rectangles 7″ wide X 6.25″ tall and die cut one 7″ edge of each using the Pond Builder dies and scored at 5″, measuring from the opposite side of the cuts. Here's a look at the pieces after they were die cut and scored. The three animals will be tucked in between these pieces.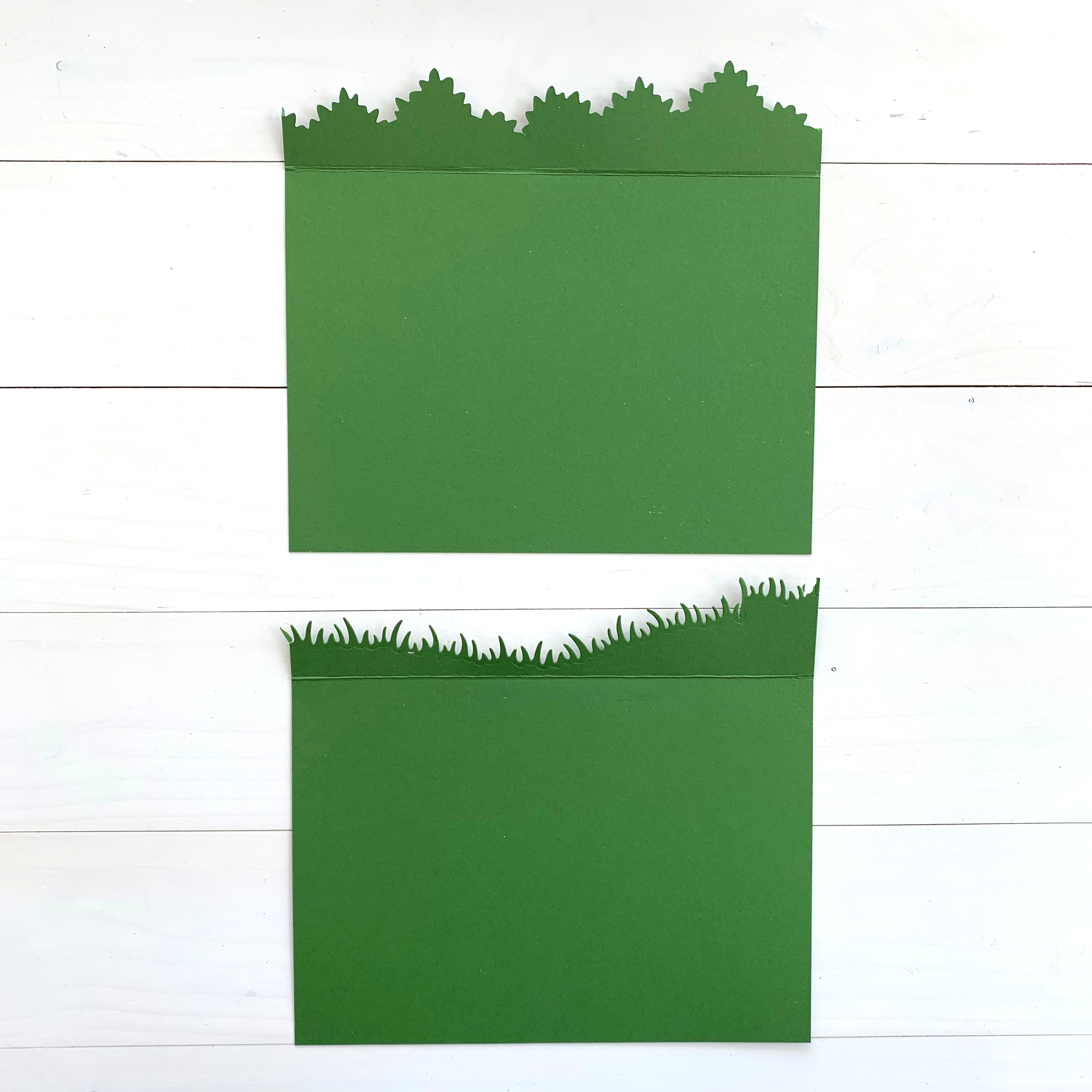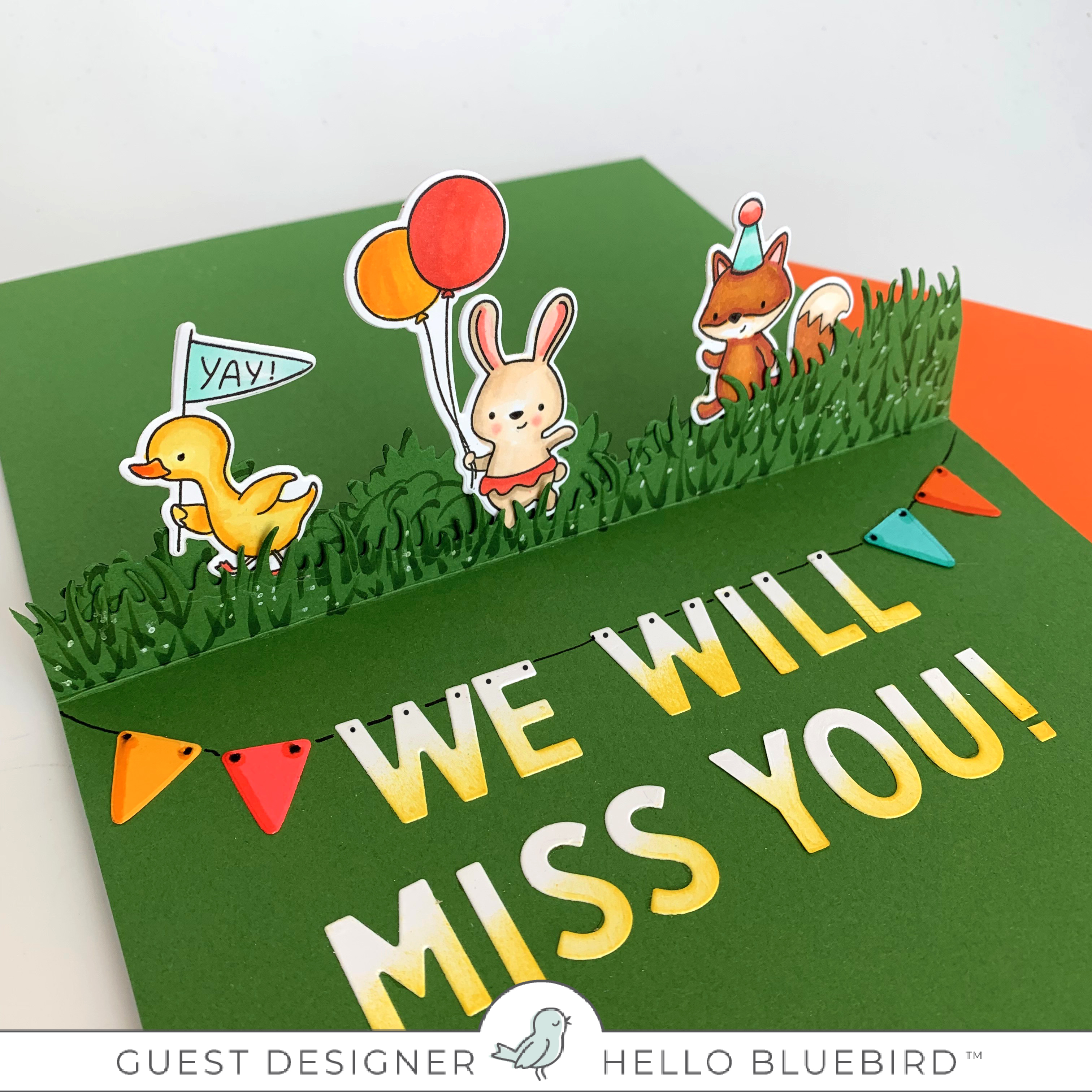 To put this card base together, the top die cut sides were adhered together from die cut edge to the scored lines. The scored lines will be the top of the card edge when the card is folded to its 5″ X 7″ folded size.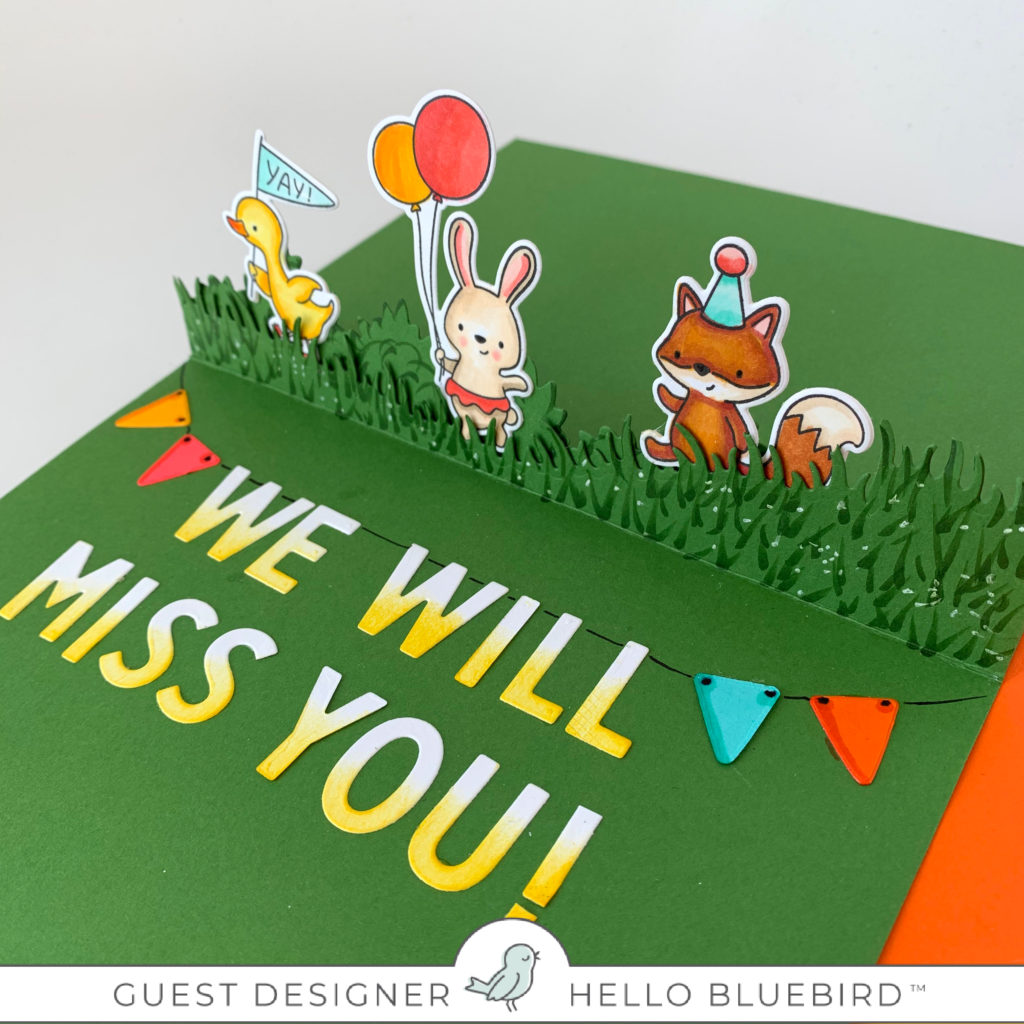 The animals were tucked/glued in between the the "sandwiched" cut edges. Below is another look from top down. You can see how the animals are sandwiched in between the grassy foreground and background. They pop straight up when the card is in the open position.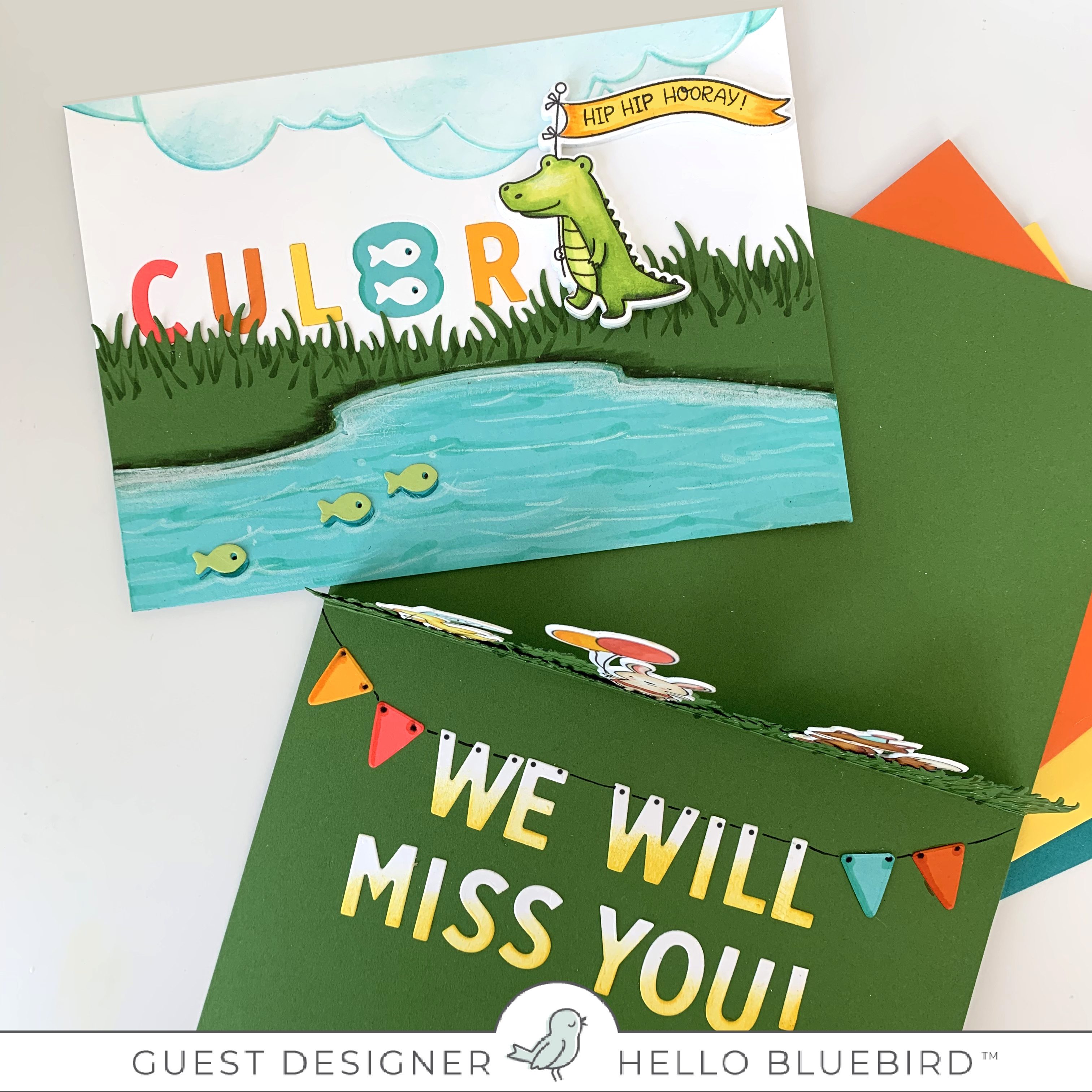 Next, letters were added to the inside to spell out, "We will miss you." I added a little Mustard Seed Distressed Ink at the bottom of the letters for interest. I also hand drew a banner string and attached the colorful pennants and and letters to the string for fun.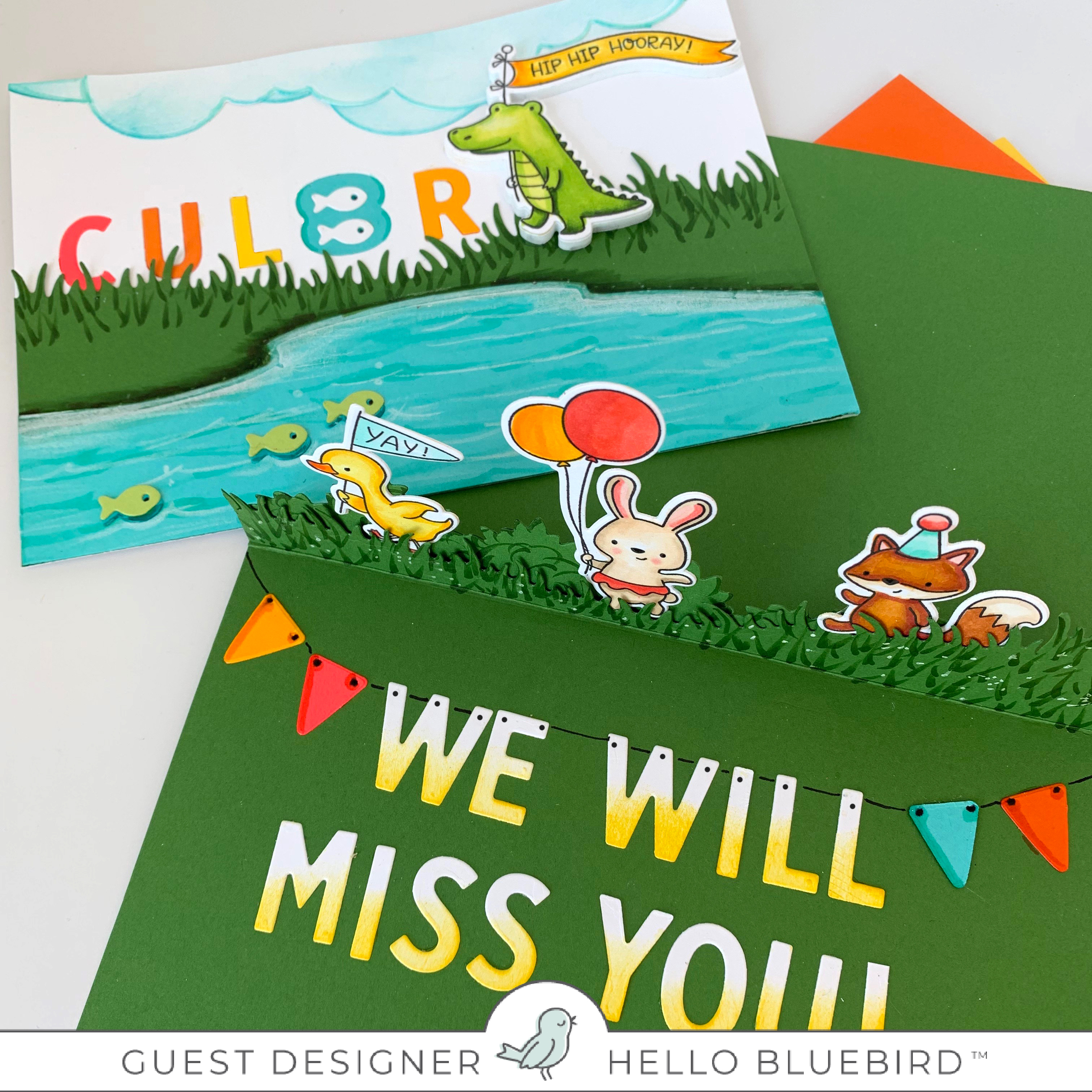 The card front was adhered to the base, finishing this farewell card. If you don't like cryptic messages, go ahead and spell out "See you later" for this card. The best part is that you can make your message whatever you like by using the alpha dies!
Thanks for stopping by and visiting me today. Keep watching for another Hello Bluebird card from me this month!
C-U-L8R, Alligator. After while, Crocodile! 
Adding h♥art into every design
Bobbi Hart♥ Design