A new La-La Land Club kit for January 2020 was revealed today. The kit includes Marci With Pen and Happy Mail. Both sets are not only perfect for your valentines, but also for your whole year of cardmaking. Take a look…
Card 1: Hugs Enclosed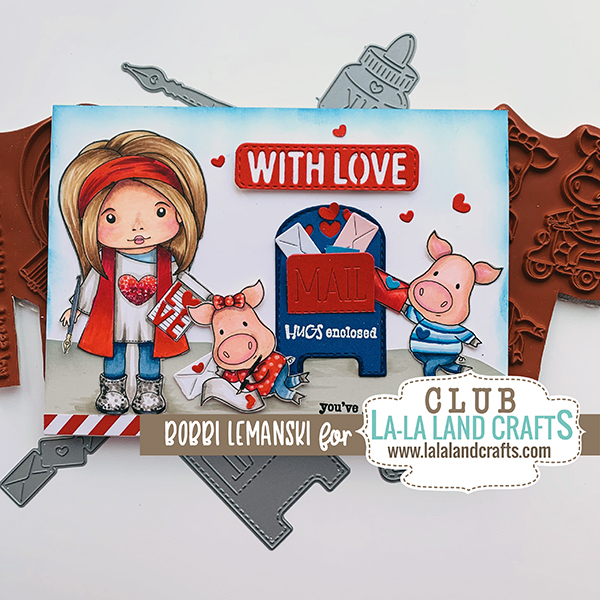 Letters, a mail box, three cute pigs, some ink, a pen and lots of envies… time to make Valentines for your loved ones! Marci is busy writing letters and the piggies are at her side writing, mailing and delivering the mail. In my first card, I used Marci and the piggies along with the mailbox and the "With Love" die. It's bold and striking! There are many fun phrases this month to accompany the characters. I used "you've got HAPPY mail" and "HUGS enclosed" on this card. That small red/white pattern strip at the bottom is from the La-La Land Crafts Merry Little Pack paper pack set.
For coloring this card, I used Blue Lagoon Distressed Oxide Ink around the top border for a light sky. For the characters/images, I've used the Copic Sketch Marker colors listed below.
Coloring Details:
Marci's hair: E57, E55, E42
Marci's skin: E04, E11, E02, E00
Marci's lip: RV11, RV10
Marci's tops and headband: R39, R46, R29, R27, R17, W3, W1
Marci and pigs' pants: B39, B97, B93
Marci's boots: 100, W9, W7, W5, W3
Pig's skin: E04, E00, R83, RV11, Rv10
Pig sweater (blue): B93, B05, B00
Pig sweater and head bow (red): R39, R29, R27, R14 and white gel pen
Pigs' hooves: W5, W3
Marci's Tablet and Piggy's paper: W3, W5
Card 2: Special Delivery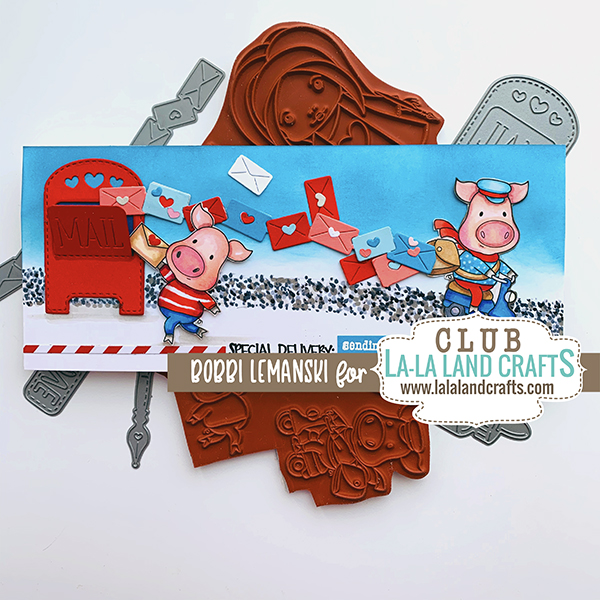 In my second card, I'm using the envelope border and mailbox dies to create this slim line card. Mr. Piggy is driving off with his valentines flying out of his mail bag. Let's hope they all fly into the box for delivery. Meanwhile his friend is putting a special valentine in the box for special delivery. I used the phrase, "special delivery: sending my love" for this card. I added a little strip of red/white to highlight the phrase at the bottom.
This card measures 9″ wide by 3.75″ tall. I'll use my envelope maker to make a coordinating envie to fit this size card.  No special postage is needed since the card is flat and within US postal sizing requirements.
For coloring this card, Ranger Distressed Oxide Inks in Blue Lagoon create thy sky above and the paved road was created using dots of black plus cool and warm grays. For the characters/images, I've used the Copic Sketch Marker colors listed below.
Coloring Details:
Pig's skin: E04, E00, R83, R81, RV11, Rv10
Pig sweater (blue): B01, B00 and white gel pen
Peg pants (red): R29, R27, R17
Pig sweater (red) R39, R29, R17, R14, W1
Pigs' pant (blue): B39, B97, B93
Pigs' hooves W5, W3
Pig cap: B01, B00, R29, R17
Scooter: 100, W9, W5, E57, E55, B39, B04, Y00
Mail Bag Crossbody and Envelope: E55, W1
Road: 100, C9, C5, W9, W5, W3
Kit Contents
In this month's kit you will receive the following items:
Marci with Pen stamp set
Happy Mail stamp set
Ink with Pen dies
Envelope border die
With Love die
Mail box die
Exclusive tutorials to make cards designed by the design team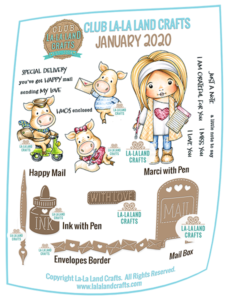 How to Subscribe
Now for the details…. You can sign up for a monthly La-La Land Club Kit subscription and get just the stamp sets, die or both. Full kits including stamps and dies are $39.99/month which is the best value. Plus, you get all the goodies for your cardmaking, too. ?  For details on the Club Kits and how to sign up, go to La-La Land Crafts today.
Sign up by January 20! Want this kit? Sign up by January 20 to receive this one in the mail. After January 20, this kit will no longer be available to purchase. Here's a link to the page to sign up. I'll be sharing two more cards later this month. Watch for those soon!
Want to see more ideas and inspiration from me? Subscribe to my blog, BobbiHartDesign.com.
I'll send you updates on new posts!
You can also find me on Instagram as @BobbiHartDesign and on Facebook as BobbiHartDesign.
Bobbi Hartmann Lemanski, Bobbi Hart♥ Design,
Adding h♥art into every design