There's something so adorable and endearing about a vintage camper. The Honey Bee Stamps  Camper Trailer Card die  is no exception. I love this shaped card die set. I used it to create a three-dimensional treat box by adding a simple business card sized clear box sandwiched in the middle of the front and back panels to create the perfect Valentine! I added small Dove chocolate hearts inside mine. It holds about 7-10 candies inside. This sweet project was featured in the Scrapbook and Cards Today, Winter Issue, too. 🙂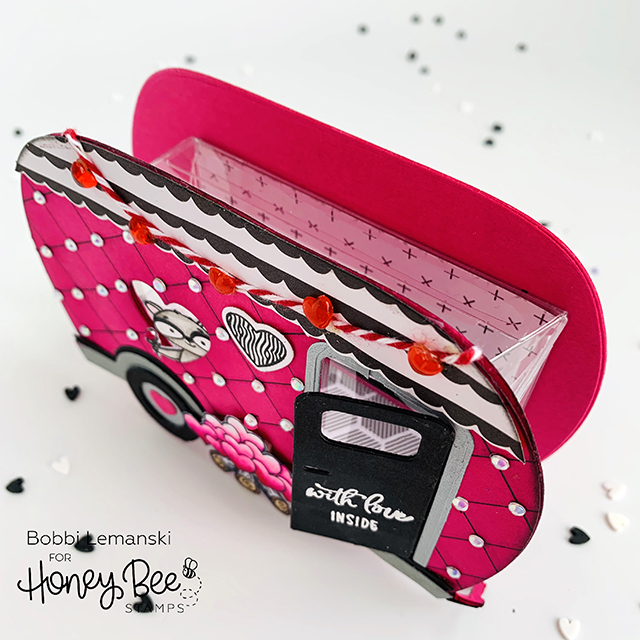 To make this card, I used the following Honey Bee Stamps products: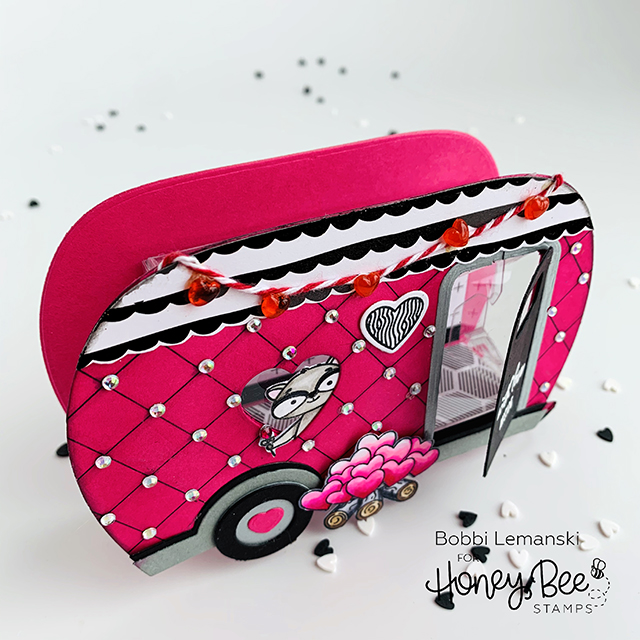 Interested in making this one? Here's the steps I used to make this camper:
Die cut camper pieces out of various colors of cardstock and pattern papers and begin to assemble like shown. (Note: Cut four camper sides to cleanly finish the inside and create more stability to hold the candy box in place. The inside panels will show through the box.)
Heat emboss the phrase on the outside of the camper door using Wow! White Embossing Powder.
Stamp, color and cut the campfire, raccoon, and heart design.
Stamp the sentiment to the back side of the camper. I did not photograph the back, but I had added "happy valentines day" phrase with a to/from section.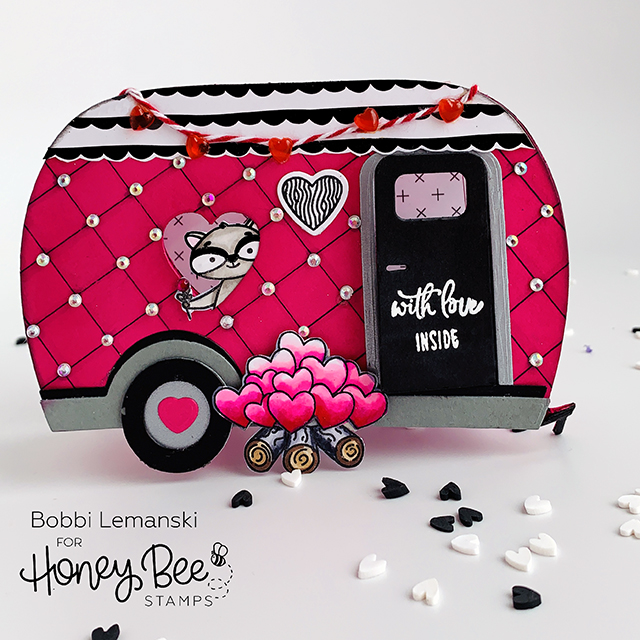 With a ruler and marker, create a diamond pattern on the front side of camper. Add a rhinestone to each intersection.
Add campfire to front with foam tape behind it so there is room between camper and heart mound fire. Add the animal to window and twine for heart lights to front and adhere to back of camper front. Attach another camper side die cut to the back to cleanly finish the back. Do the same for the back side of the camper.
Attach acrylic hearts to baker's twine string to create the string of lights.
Adhere the clear candy box to camper by sandwiching it between camper front and back sides. Keep flap opening of box to the back of the camper. Use a very strong adhesive like adhesive tape to adhere sides and box together. Note: Position box so that it covers the door and window openings from the front. Candy will show through. Open the door to reveal the candy inside!
Add candy to the box from the back end to complete the look! That's it! I'm off to mass produce ten of these for my teenage daughter to give her friends on February 14! Thanks for visiting. 🙂
Want to see more ideas and inspiration from me? Subscribe to my blog, BobbiHartDesign.com.
I'll send you updates on new posts! You can also find me on Instagram as @BobbiHartDesign and on Facebook as BobbiHartDesign.
Bobbi Hartmann Lemanski, Bobbi Hart♥ Design,
Adding h♥art into every design