Hi friends! I have to tell you that I got the nicest message from my 93-year old friend. I had sent her a card earlier in the week to bring a little brightness, perhaps small surprise to her life. I think she appreciated it. She sent me the nicest email back. She lives in a senior living complex and is somewhat isolated now due to COVID-19. Her family can see her through the windows, but do not go in.  She would be in the high risk category due to her age. She is the sweetest lady and you could not find a nicer person on earth!
The new charity sets from Honey Bee Stamps are the perfect sets to use to connect to others from a distance. So many people are isolated at home, hospitalized and/or working really long hours at medical facilities, caring for those with the virus. Sending a card, a paper hug, can make all the difference – even for just a moment in their day. The charity sets are being sold exclusively by Honey Bee Stamps (online store) so that all 50% of proceeds from the sale of these sets can go to FeedingAmerica.org. Melissa, Honey Bee Stamps owner, will be donating the profits to help those in need right now. I think that is pretty amazing!
My card today features the charity stamp and die sets called, Hang in There. I love this cute bunny and the phrases in this set are perfect for someone you want to share a hug with. Along with the bunny, you get this toilet paper roll that can bring a laugh or two in someone's day. Take a look at my card here where I created a humorous card with the roll.
A Socially Distant Hug Card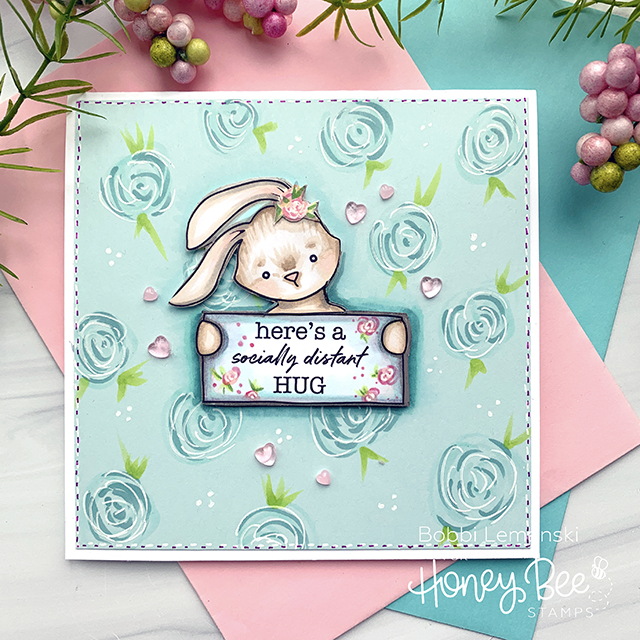 To make the card, I colored and die cut my bunny and stamped the phrase on the sign. I also created the background roses free hand, with Copic Markers. Stitching lines were added around the perimeter using a white gel pen and a fine-tip fuchsia color. Small pink acrylic hearts in Strawberry Ice were glued to the front. The card front was attached to a 5-1/4″ square, white card base. This card fits in a 5-1/2″ or larger square envelope.
I 've got other cards on my blog and Instagram using the two charity sets so look for them here and on IG.
Want to see more ideas and inspiration from me? Subscribe to my blog, BobbiHartDesign.com. I'll send you updates on new posts! You can also find me on Instagram as @BobbiHartDesign and on Facebook as BobbiHartDesign.
Bobbi Hartmann Lemanski, Bobbi Hart♥ Design
Adding h♥art into every design