Hello! We're talking floral hand bouquets today! I'm using a super cute set from The Gray Muse for today's featured 5″ X 7″ card.
When I want to send a note to a friend, I can't think of a better stamp set to use than the Flourishing Bouquet stamp set by by The Gray Muse and available here at Simon Says Stamp (SSS) and The Gray Muse (TGM). The Gray Muse sent me this wonderful floral stamp set along with the  and I had so much fun coloring it for my card today.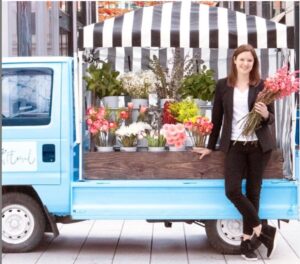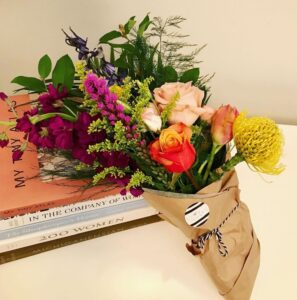 Some background… I am the daughter and sister of Florists who studied under a very famous florist in Chicago many years ago. I also have a niece, Ali that is a third generation florist in our family. The name of her business is Blue Ribbon Floral and she's located in the DC area and services DC, Maryland and Virginia areas. The name of her business is a combination of my mom's floral shop, Blue Ribbon Bouquets and my sister's floral shop (her mom), Rainbow Floral. Here's a photo of Ali in front of her truck. Ali sells bouquets from her tiny blue truck in the DC area. Her bouquets are wrapped up similar to the stamp image from this set. She uses a brown kraft paper to wrap the stems and ties a cording around the paper. Isn't her bouquet beautiful above?!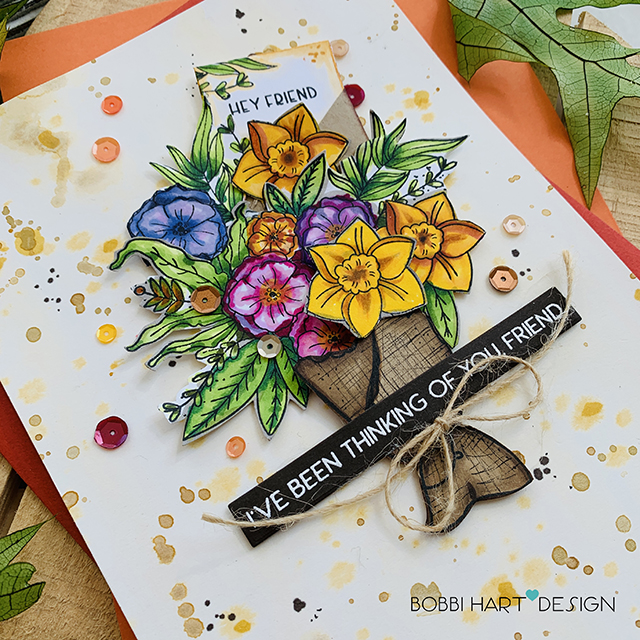 Growing up, I worked in my parent's flower shop. We always offered our customers the opportunity to add a small note in an envelope to the bouquet. I did the same here. I love to have a little surprise in every card and for this one, it's the tiny note tucked inside this bouquet. 🙂 I added a little miniature envelope made from kraft cardstock and a little white folded card that fits inside. I stamped some greenery from the bouquet image to the front of the card and added "Hey, Friend" to the outside of the card. The tiny phrase is from The Gray Muse stamp set, "Favorite Card Maker" (SSS/TGM) stamp set.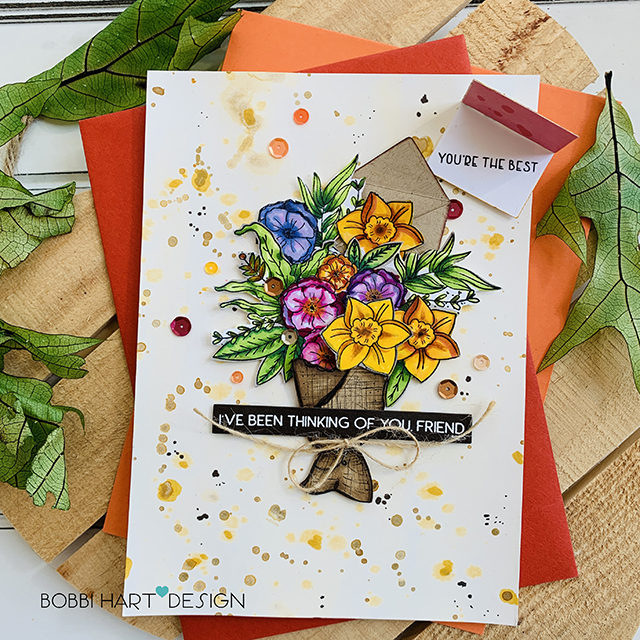 Inside the card, I stamped "You're the best," another phrase from the same set.  I added twine cording to the cinched kraft wrap just like Ali's bouquet above. I also added a few more flowers and greenery to "wrap" the envie and also create a bit of dimension to the bouquet. For example, the yellow flower in front has a foam tab under it to pop it up.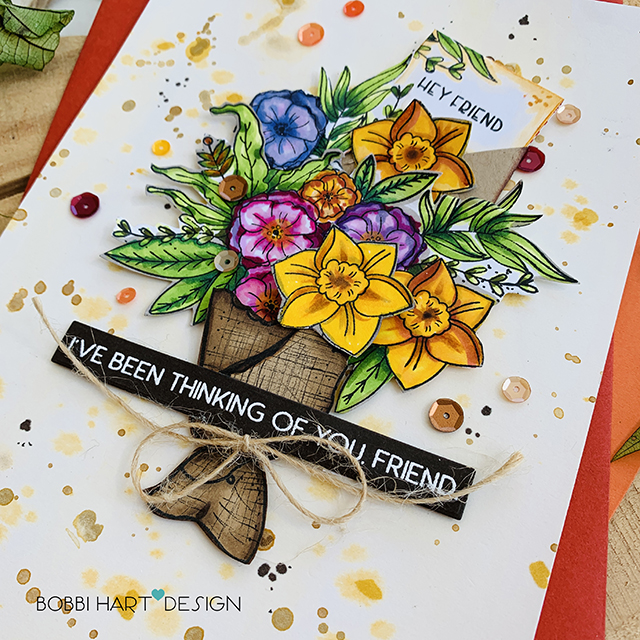 I attached the flourishing bouquet to a 5″ X 7″ card front made from watercolor paper that I splattered with Zig Kuretake Gansai Tambi watercolor paints in yellows, mustard, bronze and gold metallic paints. I added some black splotches using my marker, too. I added the phrase, "I've been thinking of you, friend" from the Flourishing Bouquet stamp set. I stamped, heat embossed in white on brown cardstock and added it to the front of the card using dimension tabs to make it stand out. Sequins in coordinating colors were added to the front for a little sparkle, too!
Thanks for stopping by today. If you want to see more ideas and inspiration from me, subscribe to my blog, BobbiHartDesign.com. I'll send you updates on new posts! You can also find me on Instagram as @BobbiHartDesign and on Facebook as BobbiHartDesign. Bobbi Hartmann Lemanski, Bobbi Hart♥ Design, Adding h♥art into every design