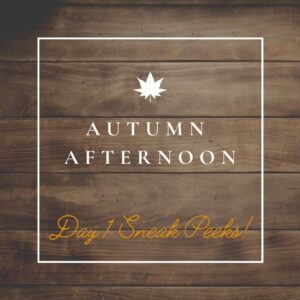 Hi Crafty friends! It's Day 1 of the Autumn Afternoon release by Honey Bee Stamps. This release is filled with autumn love from pumpkins, plaids, fall florals to nutty squirrels, wagons, barrels, apples and more! We'll be doing four days of sneak peeks followed by the release, Monday, 9/21 at midnight, EST. There will also be a blog hop on Tuesday and Wednesday, 9/22 and 9/23. I'll be featuring a special project on day 1 using the new products.
In the meantime, I'll be sharing a peek each day for the next four days. Today's sneak peek features two products in the release:
Harvest Blooms Background stamp and
Blessed Buzzword stamp and Honey Cuts die sets.
So many great sets to share. Let's get started…
Blessed Harvest Blooms Card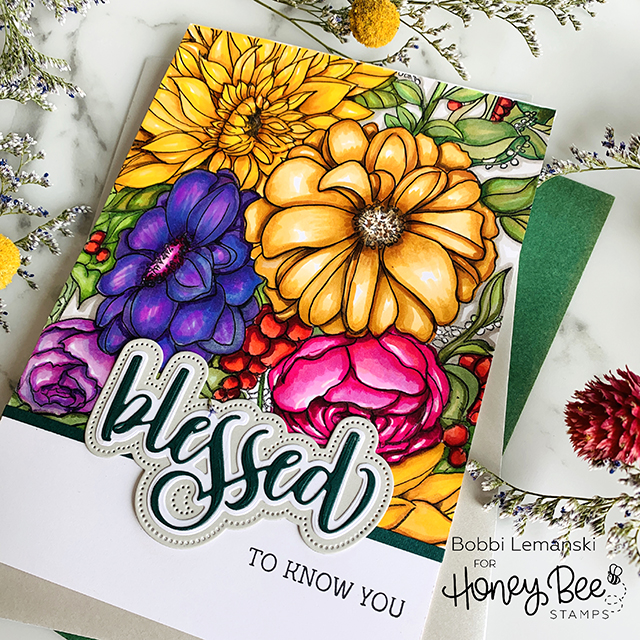 If you love to color like I do, the Harvest Blooms background stamp is the bomb! I had so much fun coloring this one.  These blooms are so full and beautiful. This is a great stamp to practice shadows, highlights, creating depth, blending and more. My card is a 5″ X 7″ size and this stamp is 6″ X 6″ in size. Because of that, I colored the design, cropped it to 5″ wide X 6″ long and attached it to my white 5″ X 7″ card base, leaving white space at the bottom.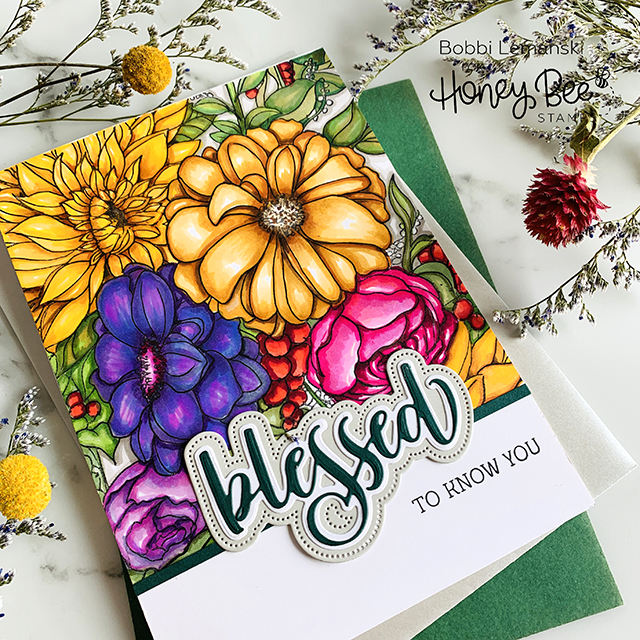 I like that the white space at the bottom allows your eyes to rest after viewing all the vivid florals on the top. It's also a great place to add a bit of accent color. I chose a hunter green. This is not a "go-to" color for me, but it felt right to me with these florals. My strip is 1/4″ wide. I used the same green for the "Blessed" script die, adding white and warm gray shadow layers behind it to make it really stand out. The Blessed Buzzword die set is three layers. I'm using all three layers on this card. It's such a beautiful font and I love the layers! Lastly, using the Blessed Buzzword Stamp set, I stamped the phrase, "to know you" below the word die to complete this card.
These sets will be available on Monday, 9/21 at midnight, EST! Get yours at Honey Bee Stamps! See you tomorrow for the next sneak peek!
Thanks for stopping by today. If you want to see more ideas and inspiration from me, subscribe to my blog, BobbiHartDesign.com. I'll send you updates on new posts! You can also find me on Instagram as @BobbiHartDesign and on Facebook as BobbiHartDesign. Bobbi Hartmann Lemanski, Bobbi Hart♥ Design, Adding h♥art into every design