Hello. It's time for a another new monthly release from The Greeting Farm! We begin sneak peeks today with the NICEST COUPLE from the farm. The Nicest Couple includes the cutest boy and girl along with some flowers, phrases and butterflies. I created this scene for this adorable couple.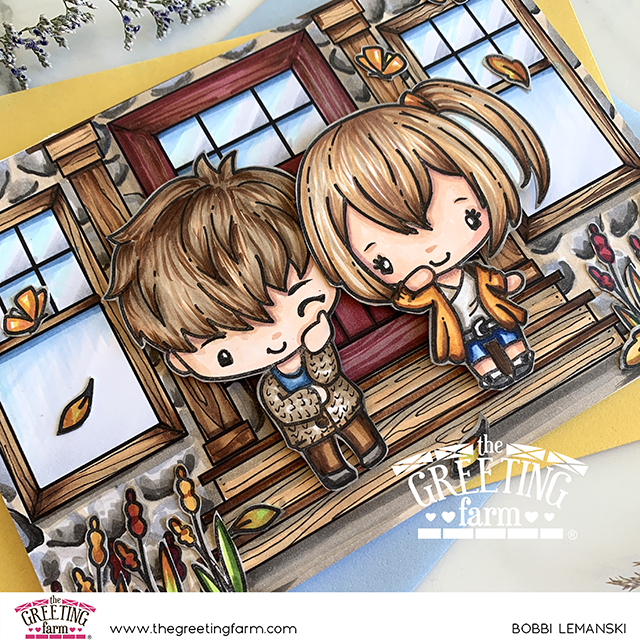 To create this 5″ X 7″ card, I used digis to create the background and stamps to create the foreground elements. Here's what I used and where I got them:
Nicest Couple stamp set – Couple, flowers, falling leaves, butterflies (to be released on 9/15)
Porch 2 digi set – Windows, door, wood columns
Freehand – Steps, stone and wood textures using Copic Sketch Markers
I use Adobe Photoshop when I'm putting my digi scenes together, but not everyone has Photoshop available nor needs Photoshop to do this. The Greeting Farm has some great tutorials on creating scenes using software that many crafters already have available. In addition, if you don't want to create the scene on screen first, you can simply print the elements (door, window, etc.) and then physically layer them on your card front to create the scene. It's totally acceptable! The advantage of creating the scene on screen is that you are able to size everything and get a look at the entire scene before you print.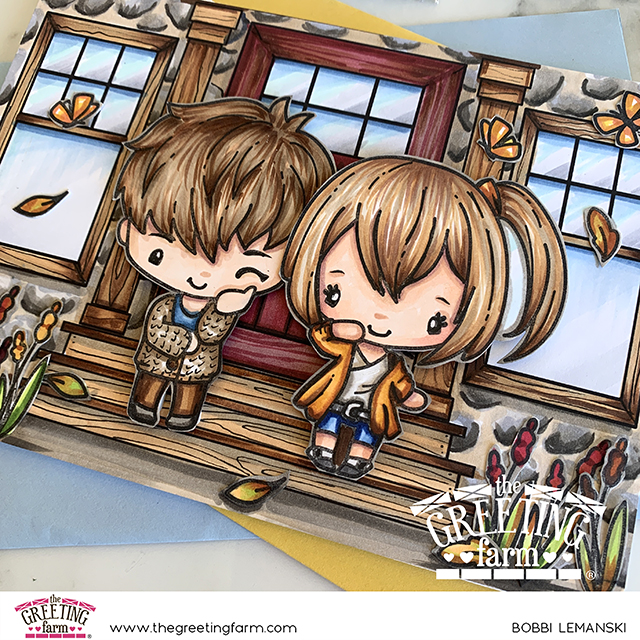 You can see I have used a mix on this card. I used the static stamp elements to define the size of the digi elements so that they all complement each other on this card front. I kept to fall shades for the clothes, flowers, leaves and house for an autumn card. I had fun coloring this one. I think these two are the sweetest. The set comes with a couple phrases to use inside the card, too!
Keep watching daily for new release products this week! You can shop all of the Greeting Farm products here.
Want to see more ideas and inspiration from me? Subscribe to my blog, BobbiHartDesign.com. I'll send you updates on new posts! You can also find me on Instagram as @BobbiHartDesign and on Facebook as BobbiHartDesign. Bobbi Hartmann Lemanski, Bobbi Hart♥ Design, Adding h♥art into every design