Happy Friday! I'm sharing a card today featuring only the accessories from two of  Paperie Ink's holiday stamp sets, Santa Baby and Like Christmas. Sometimes it is fun to change it up and look at the accessories in the sets to be your focal points. You won't see any Santas, Reindeers, or bears here… just the accessory images!
Santa Baby – Tress, presents, mouse
Like Christmas – Ornaments, bird. string of lights
So Merry – Phrase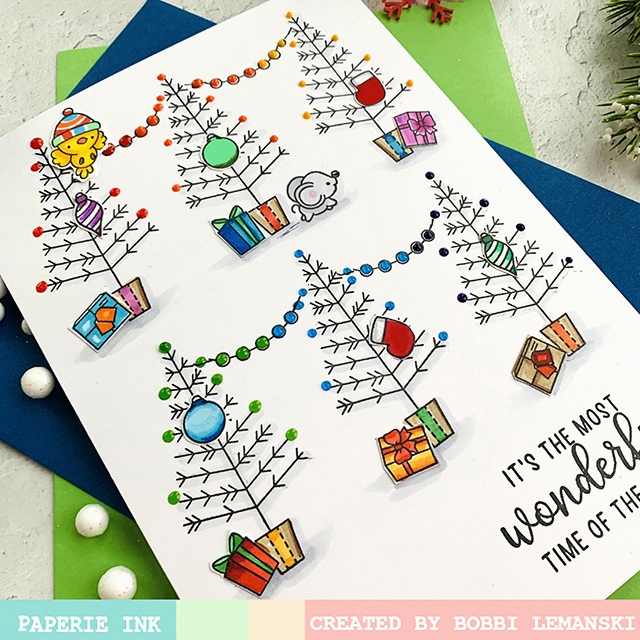 For my 5″ X 7″ card, I used the tree from Santa Baby and stamped it six times. I love the "bare bones" look of the tree and the graphical nature of the branches. I decided to color each tree in a color of the rainbow. Since I only have six trees, I eliminated one color. (ROYGIV) I don't think you miss it though. 🙂
Each tree got Pearl Pen dots in the color of the rainbow for lights and then a hanging ornament and some presents in the neighboring colors, too. I wasn't sure how this was going to look when I got done, but I like it! It's different.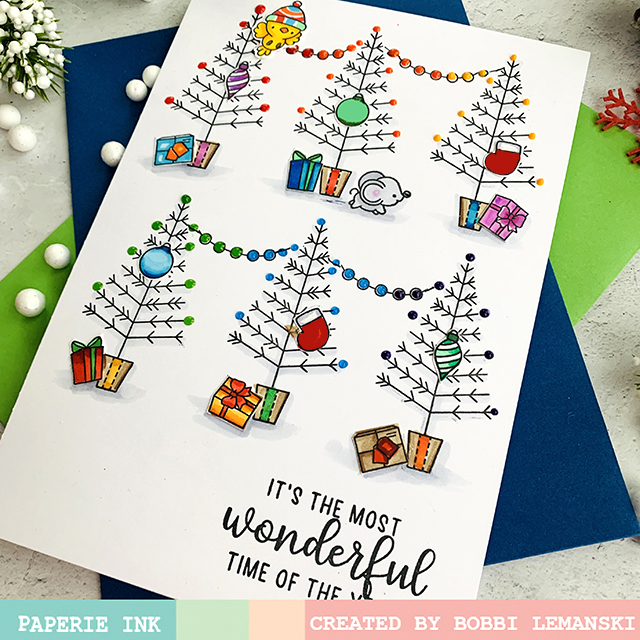 At the bottom, I added the phrase from the So Merry stamp set (which I love) to finish the look. I also had a slight accident with a recently-refilled Copic in the upper corner, so I added a cute bird in a rainbow-colored stocking cap to cover it up. Yep, I have accidents, too. 🙂 It thought it would also be fun to add a mouse scurrying about in the house. I hope you like the finished project!
Shop Paperie Ink today!
Thanks for stopping by today. If you want to see more ideas and inspiration from me, subscribe to my blog, BobbiHartDesign.com. I'll send you updates on new posts! You can also find me on Instagram as @BobbiHartDesign and on Facebook as BobbiHartDesign. Bobbi Hartmann Lemanski, Bobbi Hart♥ Design, Adding h♥art into every design