Hello, friends. I'm sharing some new digi stamp sets from The Greeting Farm today. I shared the Store Fronts and Cheeky Shop earlier this week. I have another card below that uses these same sets. I'm also sharing cards using the Valentine Phrases digis on a separate post. To see the Valentine Phrases post, click here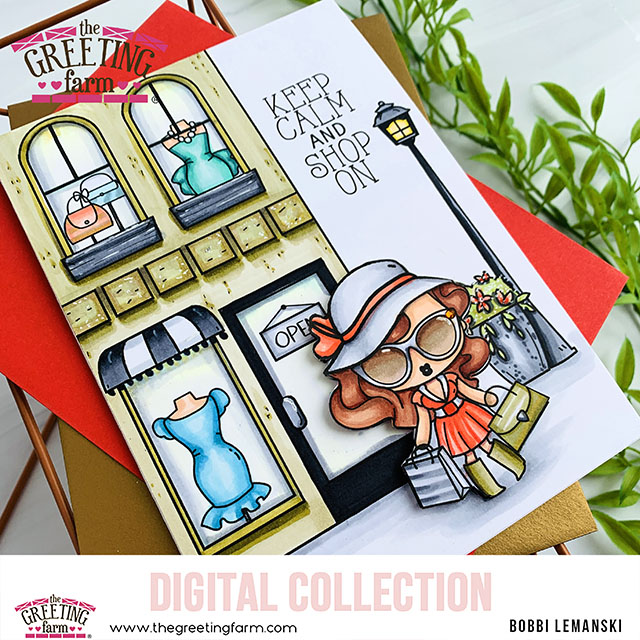 One of the the best parts about using digis is that they can be resized to fit your project AND you can purchase, download and use them all in the same day! For this 5″ X 7″ card, I made everything much bigger than my last card. In this scene, I'm showing only a portion of one shop v. a whole city street of shopping like I did in this card. I also added sunglasses, shopping bag, purse and sunglasses to the same cheeky shopper I used last time. She looks so different in this card! I  added mannequins, purses, and an open sign in the windows of the boutique. A lamplight, outside pot of plants and the phrase adorn the righthand side of this card front. To create the scene, I used Photoshop to place my items on my card front, printed it out on 80lb Neenah Solar White cardstock, cut it down to a 5″ X 7″ scene and colored it up! You don't need Photoshop to make this card. Other non-graphic design programs will work, too. Word processing programs even work.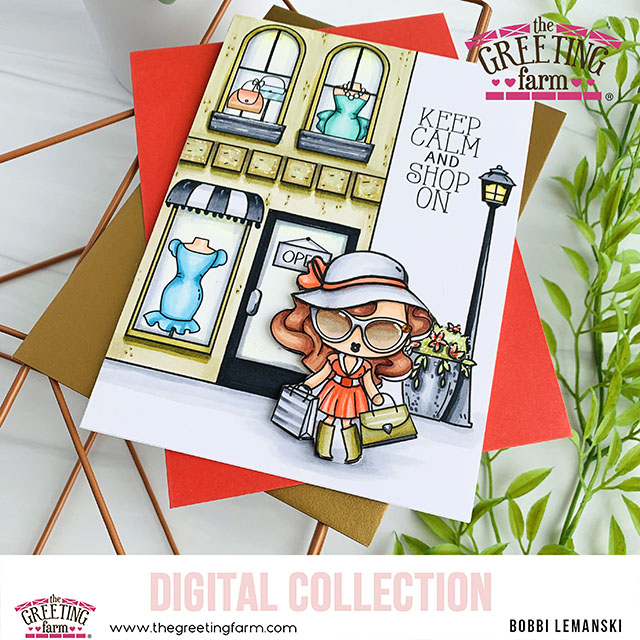 I made sure to reuse the colors from the shopper's outfit to the window dressings for a nice coordination of color on the card front.
I used the following colors to color the images:
Building and shopper's boots and purse: YG91, YG93, YG95
Shopper's dress, bow on hat and purse in the window: YR000, YR00, YR65, R05
Shopping bag, plant pot, first floor window awning and lamplight: C9, C7, C4, C1
Skin and hair: E00, E04, E11, R20, E13, E15, E17
Hat: C3, C1, C0
First floor mannequin outfit and purse: B05, B02, B00, B000
Second floor mannequin: YG11, G000, G00
Windows: BG000, Y00, Y13, Y18
Lamppost light: Y18, Y13
Sunglasses: E57, C1, YR24, E43 I also used a white gel pen for highlights on the sunglasses, too
The sunglasses have a small copper-colored rhinestone on the frame for a little sparkle, too. 🙂 Little extras like that make your card more special!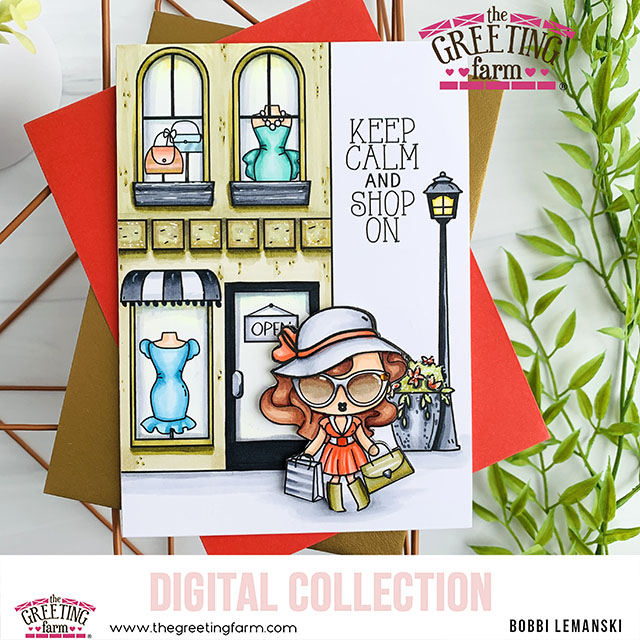 If you decide to place an order, please use my links in this post so that the companies know how you found these products I used! I appreciate it very much. It helps me to continue to bring more ideas to you!
Thanks for stopping by today. If you want to see more ideas and inspiration from me, subscribe to my blog, BobbiHartDesign.com. I'll send you updates on new posts! You can also find me on Instagram as @BobbiHartDesign and on Facebook as BobbiHartDesign.
Bobbi Hartmann Lemanski, Bobbi Hart♥ Design, Adding h♥art into every design