Jane's Doodles just released two new sets called, Fresh Cut Flowers and Surf's Up. Both are beautiful sets and the Design Team is sharing lots of ideas with a blog hop this weekend. You can hop along and every time you leave a comment, you are entered to win a free set from Jane! I'm sharing two cards today featuring the new sets. I have a list of the individuals on the hop below. Make sure to stop at each one for more inspiration!
Fresh Cut Flowers Greeting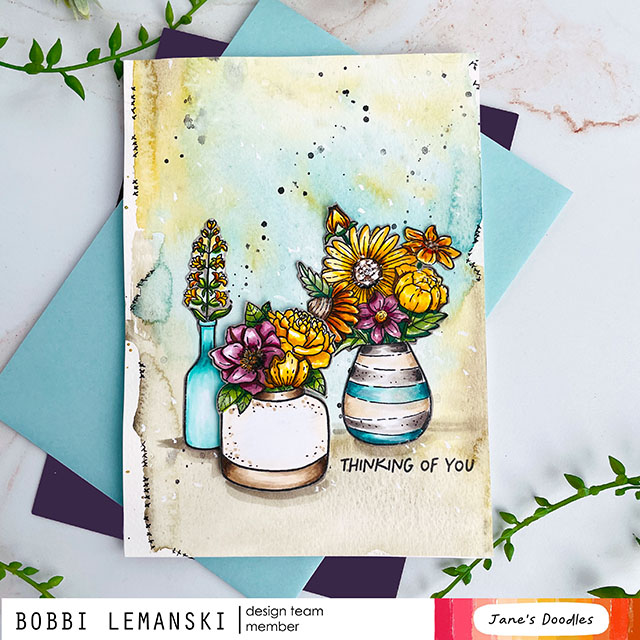 My first card is a 5″ X 7″ card featuring a watercolor background and these beautiful vases of flowers from the Fresh Cut Flowers stamp set. Jane has already done all the arranging of these centerpieces. All I needed to do was color them in the colors to match my decor. 🙂 I chose a teal, yellow and tan palette for this composition. I wanted an earthy, farmer's market feel. I love that you can add simple texture to these vases with dots and markings to fit the shapes.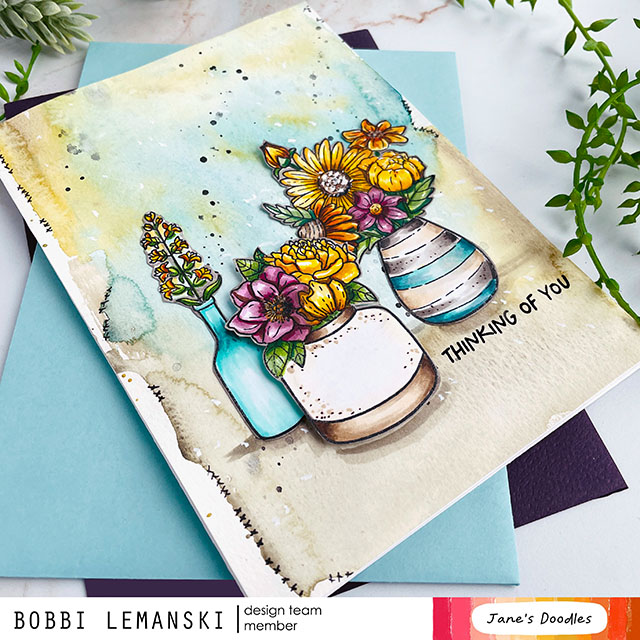 I used the following Copic colors for this card:
Browns: E44, E43, E41, E53, E50
Teals: BG10, BG11, BG23, BG49, BG59, BG72
Yellows/Golds: Y38, Y19, Y18, Y15, Y13, Y11
Red/Violets: RV69, RV95, RV93, RV91, RV00
Grays: W4, W3, W1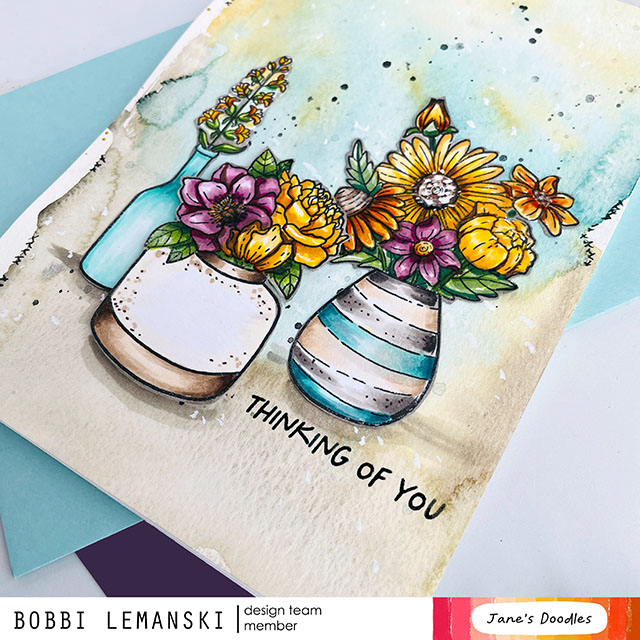 The watercolor background was made using Kuretake Gansai Tambi watercolors (48)  and Canson XL Bristol Smooth watercolor paper. I used teals, blues and browns to create this look. I added in some gold to warm it up, too. Splotches of white using Dr. Ph Martin's Bleed Proof paint were added once the paper was dry. I also added some shading in warm grays to ground the vases. Finally, I added the phrase at the bottom from the set and added tiny black crossstiches to the watercolor background for added interest.
Surf's Up Greeting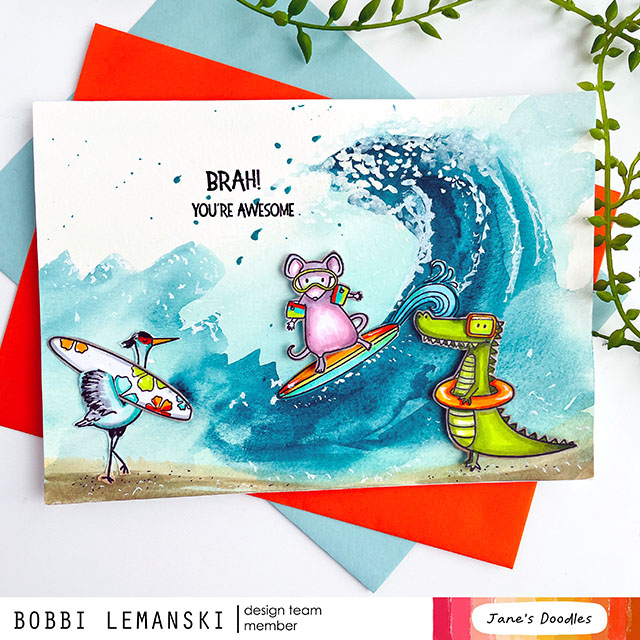 This was a fun 5″ X 7″ card to make. I started with creating this big teal-toned wave using watercolors. I used Kuretake Gansai Tambi watercolors (48)  and Canson XL Bristol Smooth watercolor paper for the background. I used Dr. Ph Martin's Bleed Proof white paint to create the foamy white water bubbles at the top of the wave. I love how this turned out. It looks like one massive wave to surf. 🙂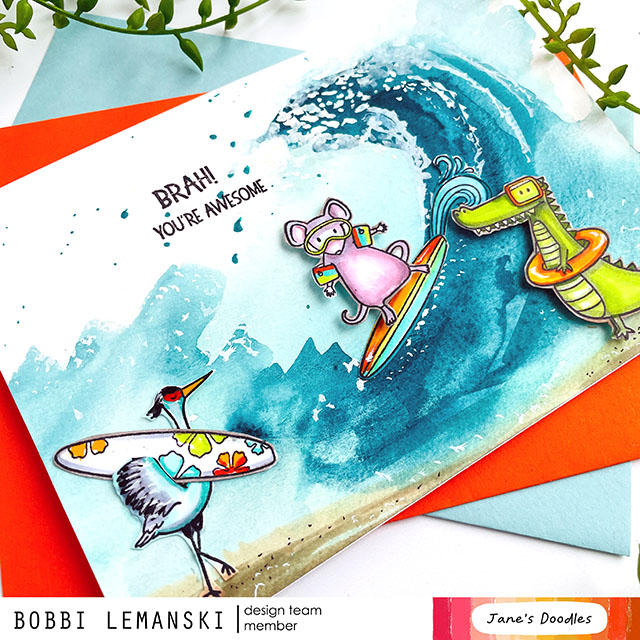 Next, I stamped, colored and fussy cut these cute characters from the set, Surf's Up. I used the same Copic marker colors listed in card one along with the introduction of some green and orange for the crocodile, surf boards and swimming accessories:
Greens: YG67, YG03, YG00
Oranges: YR68, YR12
To allow the crane to carry his own board, I fussy cut down between his wings on the image and slid the board right in. How cute is that?!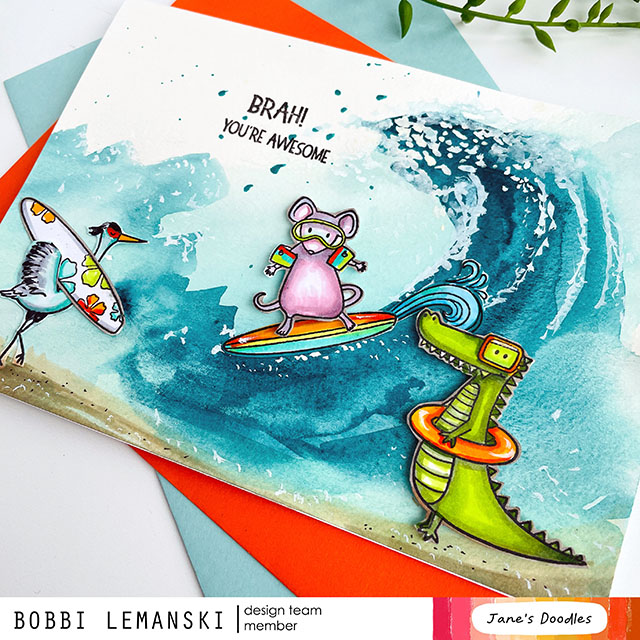 The crocodile, mouse and crane were added to the wave scene. I did add dimensional foam tabs behind the surfing mouse and the crocodile to make them stand out a bit for dimension. Finally, I added the phrases. Inside the card, I used the Happy Birthday phrase from the set, too.
You can shop the entire Jane's Doodles store including these two new stamp sets here and here >> Fresh Cut Flowers and Surf's Up. If you decide to place an order, please use the links in this post so that Jane knows which ideas inspired you!
Your next stop on the hop is the talented, Katja here! (See full list below)
Thanks for stopping by today. If you want to see more ideas and inspiration from me, subscribe to my blog, BobbiHartDesign.com. I'll send you updates on new posts! You can also find me on Instagram as @BobbiHartDesign and on Facebook as BobbiHartDesign.
Here is the full Hop List: