Life flies. Days become years and years become decades. Next thing you know, you've been married 50 years!  I wanted to share this idea in this "flippin" fun card. It's Bobbi Lemanski here with a card for a newly wed couple or a pair celebrating an anniversary. This card will work for either. I'm using the following Sunny Studio Stamp products:
Wedded Bliss stamp set and coordinating dies
Passionate Penguins stamp set and coordinating dies
Heart Bouquet stamp set and coordinating dies
Inside Greetings Sentiments Congrats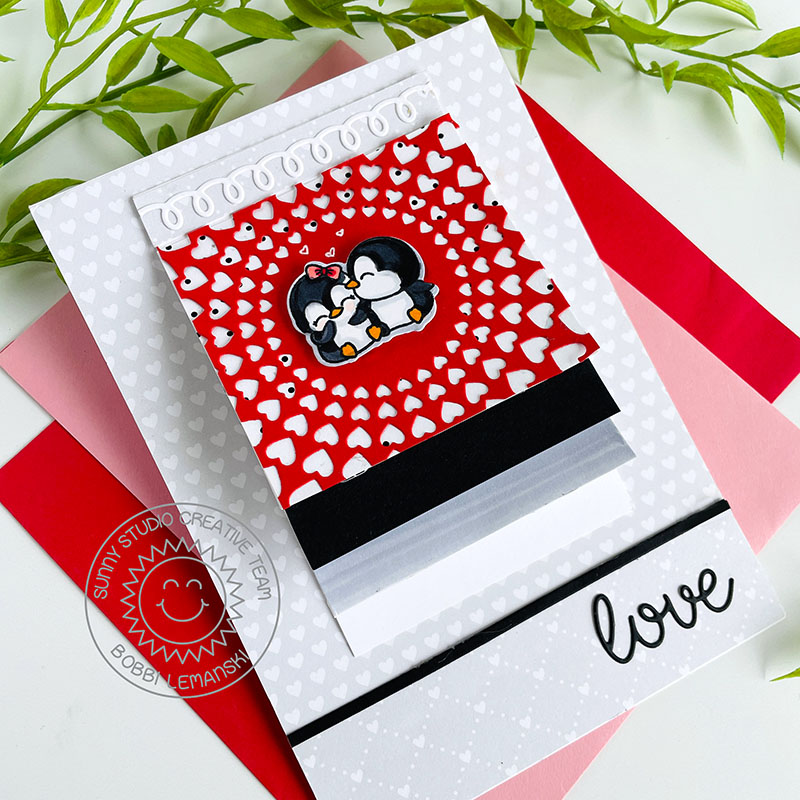 To create this 5″ X 7″ card, I cut the following pieces from white cardstock. I used a lighter, 80lb cardstock for the pages that flip to keep it less bulky when stacked. The card base (A7-sized full piece in the back) is made from 100lb cardstock for stability.
White Cardstock pieces:
3-1/4″ wide X 3-1/2″ long, scored 1/2″ from the top (80lb)
3-1/4″ wide X 4″ long, scored 1/2″ from the top (80lb)
3-1/4″ wide X 4-1/2″ long, scored 1/2″ from the top (80lb)
3-1/4″ wide X 5″ long, scored 1/2″ from the top (80lb)
5″ wide X 7″ long (100lb)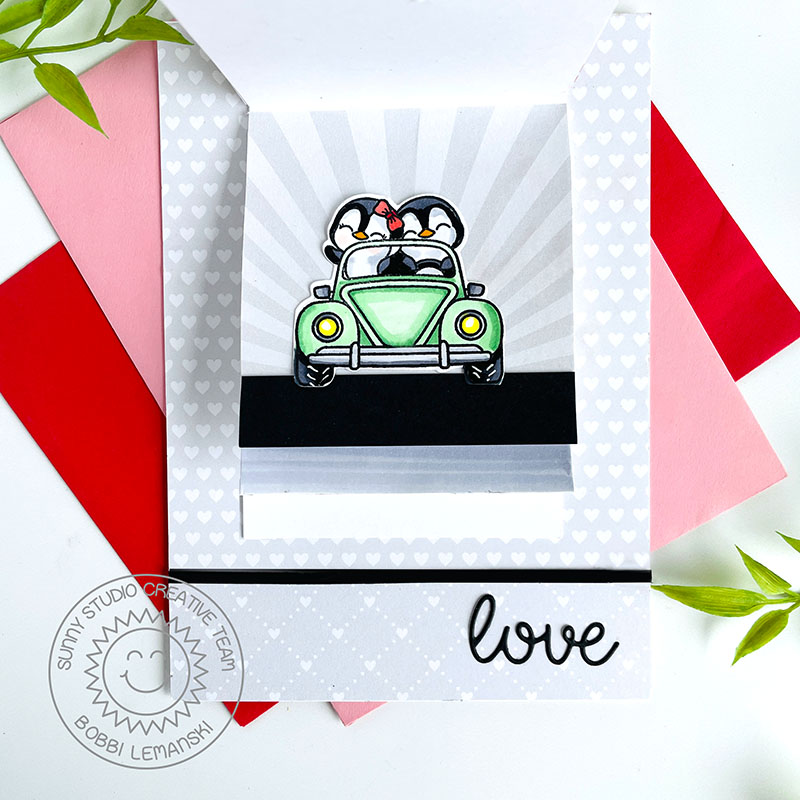 I stamped the penguin images from the Wedded Bliss stamp set (bride and groom), the Passionate Penguins stamp set (pair in the car, kissing couple, and dancing pair) and the balloons from the Heart Bouquet stamp set  and colored them using the following colors: 100, c9, c7, C5, C3, C1, YR16, R14, YG41, YG45, Y06, Y19, R00, R22, R14, R29, BG15, and BG13. These will be featured on each page in this order:
Page one: "first kiss"
Page two: "courting years" in the convertible bug
Page three: "happy together" with the heart balloons
Page four: "wedding day" with the happy couple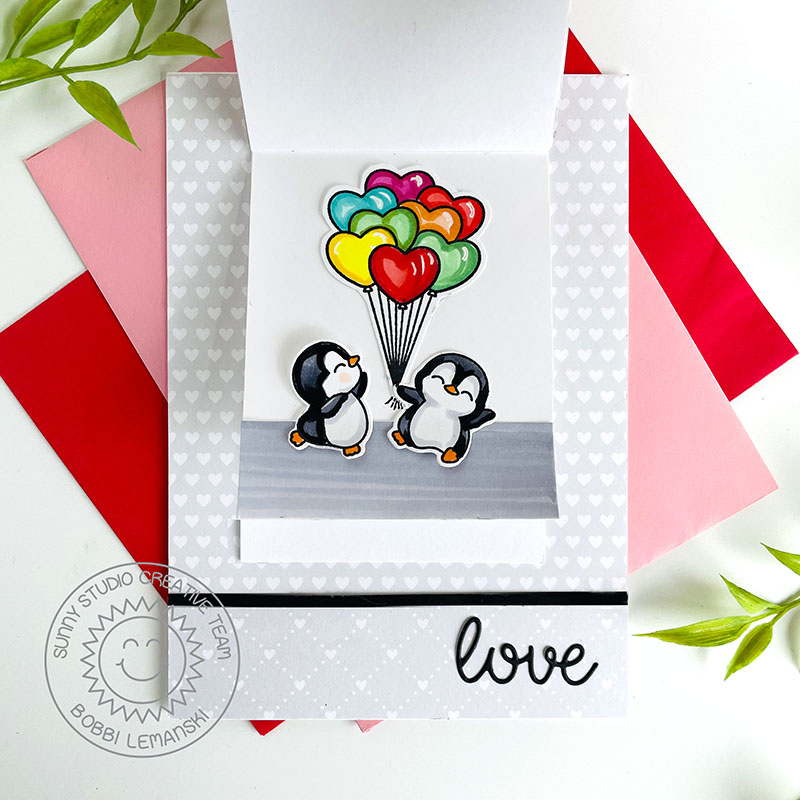 I assembled the card by adding pattern paper from the Subtle Grey Tones paper pack to the base (5″ X 6″ top piece and a 5″ X 1″ bottom strip). Next, I attached the flip pages to the base. I stacked the four pages and adhered them together  above the 1/2″ score line. I used other pattern papers as backgrounds on the pages, too. The Bursting Hearts Die, cut from a red cardstock was used as the backdrop on the front page and the Scalloped Oval Mat die was used on the last page as an arch for the wedding couple.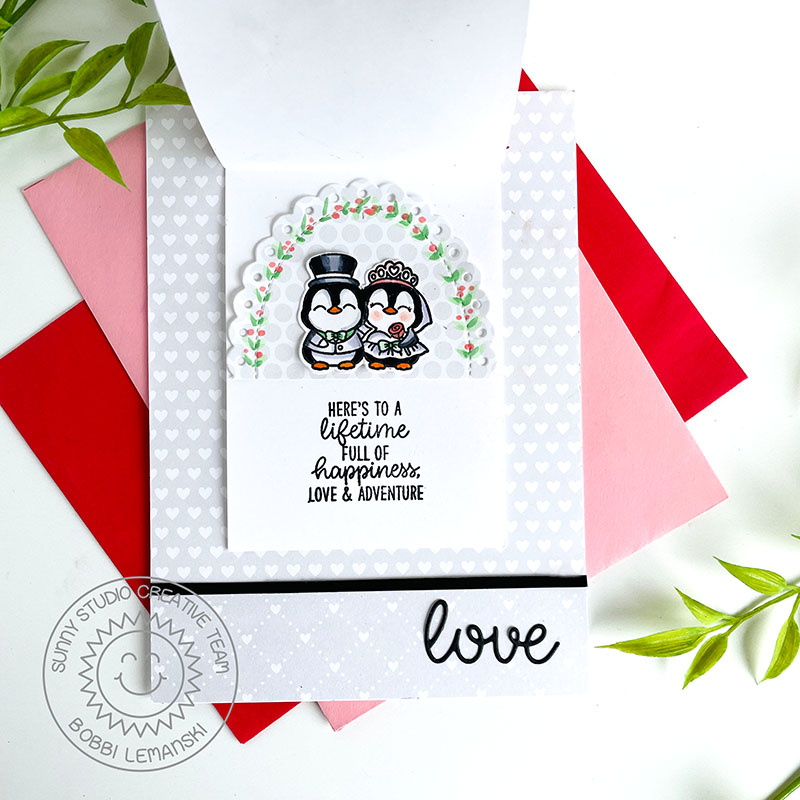 Finally, I added a wedding sentiment from the Inside Greetings Sentiments Congrats on the last page and added the "love" die cut and a 1/8″ strip to the bottom to finish the card.
Thanks for stopping by today. If you want to see more ideas and inspiration from me, subscribe to my blog, BobbiHartDesign.com. I'll send you updates on new posts! You can also find me on Instagram as @BobbiHartDesign and on Facebook as BobbiHartDesign.