It's time to reveal the March 2020 La-La Land Club Kit. Here's the scoop on this new club kit. "Marci With Ice Cream" and the "Here's the Scoop" stamp sets are both included in the March kit along with some delicious dies! I'm sharing two cards today featuring this sweet kit.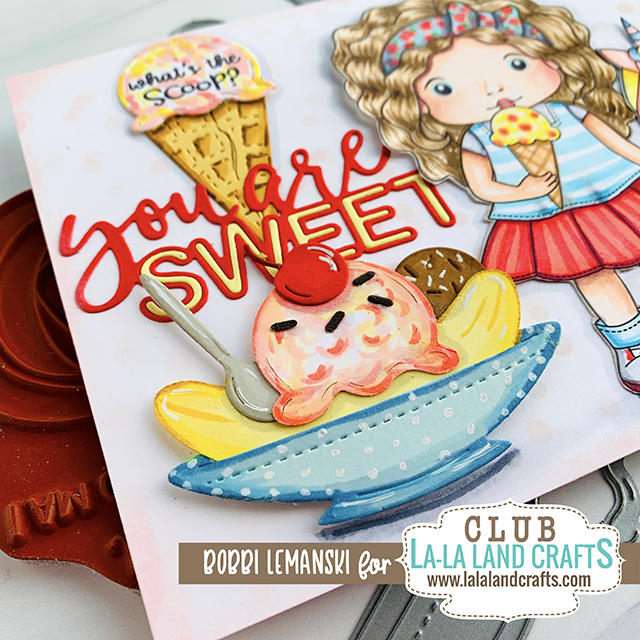 The La-La Land Crafts kit includes the two stamp sets and a number of wonderful dies including a scoop of ice cream, cone, sundae dish, banana, sprinkles, cherry, cookie, spoon and the "You are sweet" scripted phrase.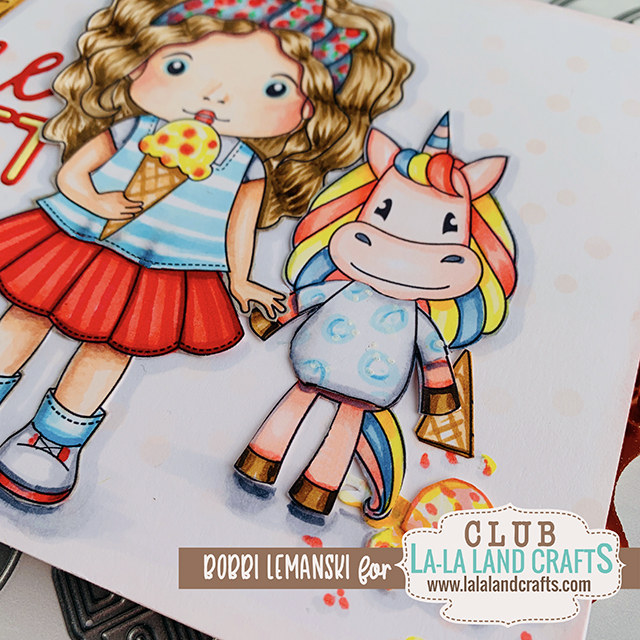 The two stamp sets include sweet Marci with an ice cream cone in her hand, and three adorable unicorns. (Check out my next post to see the trio of cute unicorns included in the kit.)
For this card, I added the spilled cone to the unicorn's hand. I also used the Snowy Hills Layering Stencil Kit for the background.  Here's the details on my Copic coloring of the images for this card.
Copic Coloring Details
Marci
Skin: E04, E11, E00, E000
Hair: E44, E43, E53, E51
Lip: R22, R14
Cheek: R20
Eye: B00
Headband: R14, B00, Bo4, G05, C5, C3, C1
Top: B04, B00, C3, C1
T-shirt: C5, C3, C00
Skirt: R27, R14
Socks: B04, B00, C1
Shoes: C3, C1, C6, R27
Unicorn
Mane/Tail/horn: R22, R20, B21, B00, Y19, Y06, Y11
Body: R20, R21
Shirt: B00, B04, C3, C00
Hooves: E57, E55
Cones/Sundae: Y19, Y06, Y11, R22, R20, E55 E53, E44
Now to get this set…
How to Subscribe
Now for the details…. You can sign up for a monthly La-La Land Club Kit subscription and get just the stamp sets, die or both. Full kits including stamps and dies are $39.99/month (a savings of $30.00 when you purchase the entire kit) which is the best value. Plus, you get all the goodies for your cardmaking, too. ?  For details on the Club Kits and how to sign up, go to La-La Land Crafts today. Keep in mind – these kits are only available on a subscription basis. You must be a member to purchase this kit and past kits, too.
DON'T WAIT! For new members, to get this kit as your first kit, you need to sign up by March 25, 2020. If you sign up after March 25, you will receive next month's kit as your first kit.
Sign up now to receive next month's kit in the mail. Here's a link to the page to sign up.
Want to see more ideas and inspiration from me? Subscribe to my blog, BobbiHartDesign.com.
I'll send you updates on new posts!
You can also find me on Instagram as @BobbiHartDesign and on Facebook as BobbiHartDesign.
Bobbi Hartmann Lemanski, Bobbi Hart♥ Design,
Adding h♥art into every design