Hi there! This week's card features the new Ribbon and Lace Border dies by Sunny Studio Stamps. These dies are long in length to work on slimline cards and feature scallops, eyelet and stitching line designs. I used the designer borders on this sweet and delicate bra card. I paired the new dies set with the the Stitched Heart 2 dies, Scalloped Heart dies, and the Spring Fever pattern paper.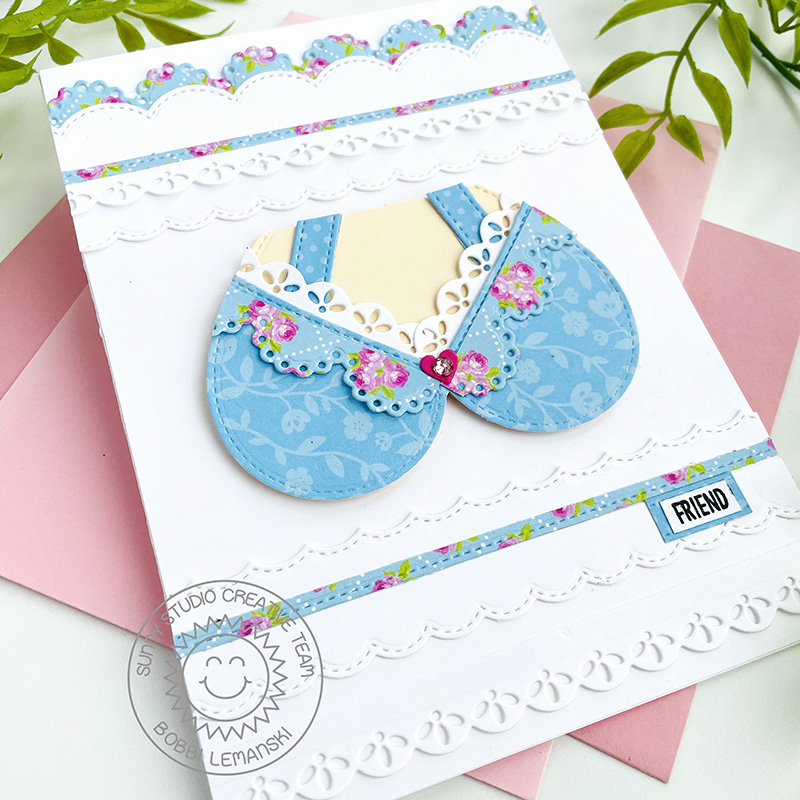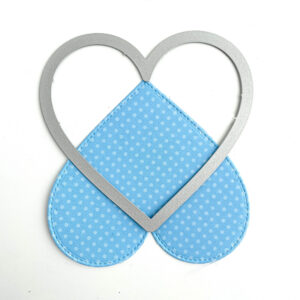 To make this 5″ X 7″ card, I cut a card base (10″ X 7″) out of white cardstock and scored down the center. I set it aside and worked on the bra feature next.
Using the largest stitched heart, I cut the shape out of a skin tone-colored cardstock. I used an ivory color for this one. I cut it down by cutting off the point side, leaving 3-1/2″ length to use.
I used the same heart die to cut a another heart out of blue pattern paper and then used the same heart die to cut the bra top V-neck shape. By simply turning one heart upside down and running it through the die cutting machine, the bra is cut evenly on both sides and ready to add to the ivory heart shape.
It's time to dress up the bra top with laces, appliques and straps. I used the Ribbon and Lace Border dies to add extra touches. I introduced a coordinating pattern with pink roses to add more interest. I cut and glued on a bright pink applique heart (cut from fuchsia pink paper) to the deep V. A little pink rhinestone was layered on top, too. Straps in another coordinating print were attached as well as the scallop lace edging pieces.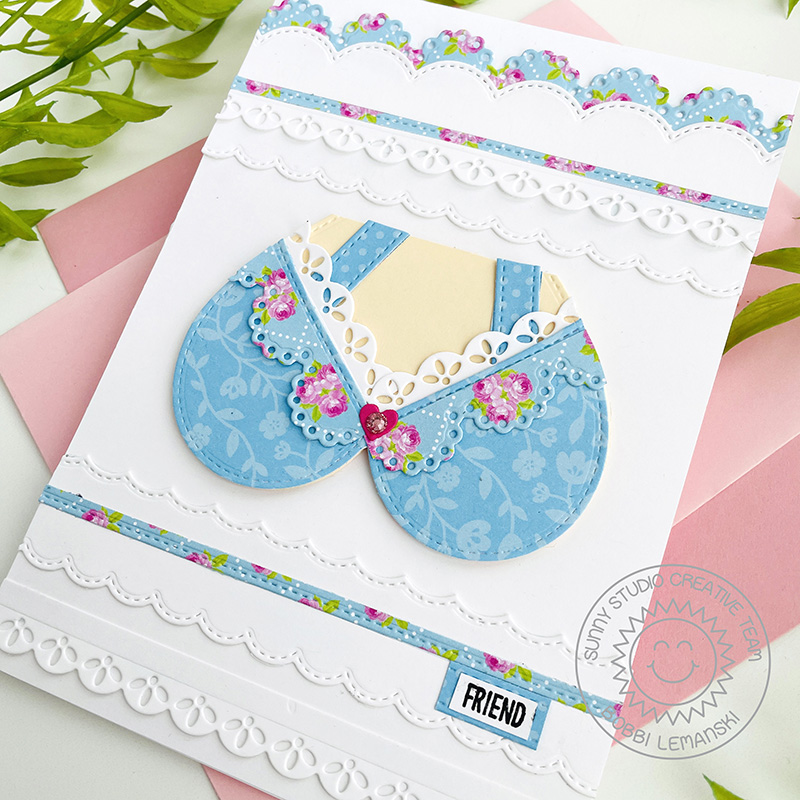 For the background, I added white and pattern pieces of lace, scallops, eyelet and straight stitched pieces. I love all of these and I love what a beautiful background they create for this delicate bra top.  I added the word "friend" to the front, making it look like a clothing label. The "friend" word is from the Clucky Chickens stamp set.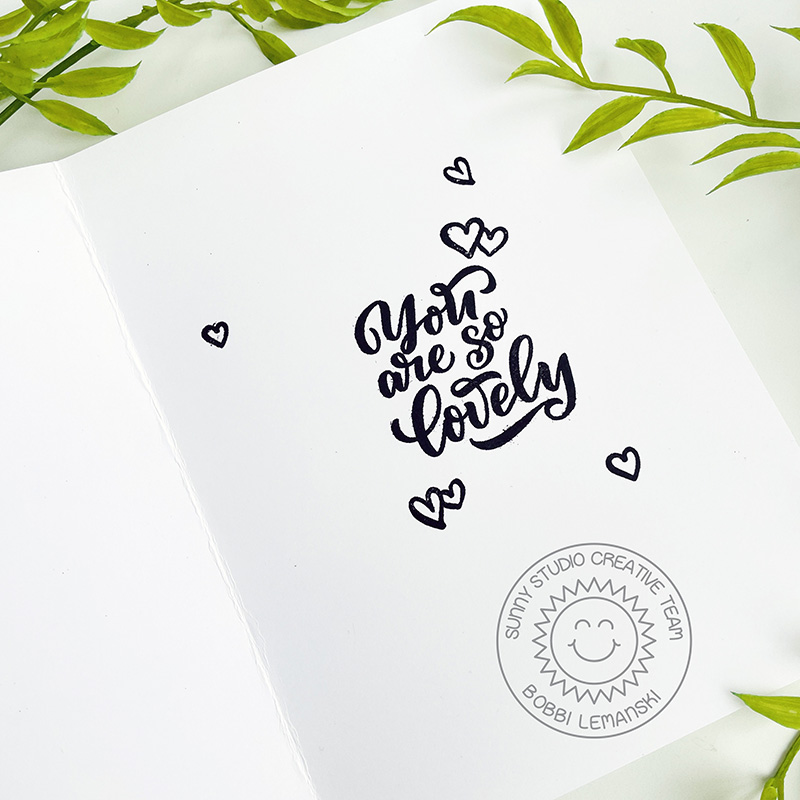 Inside the card, I stamped some hearts and a sentiment from the Lovey Dovey stamp set.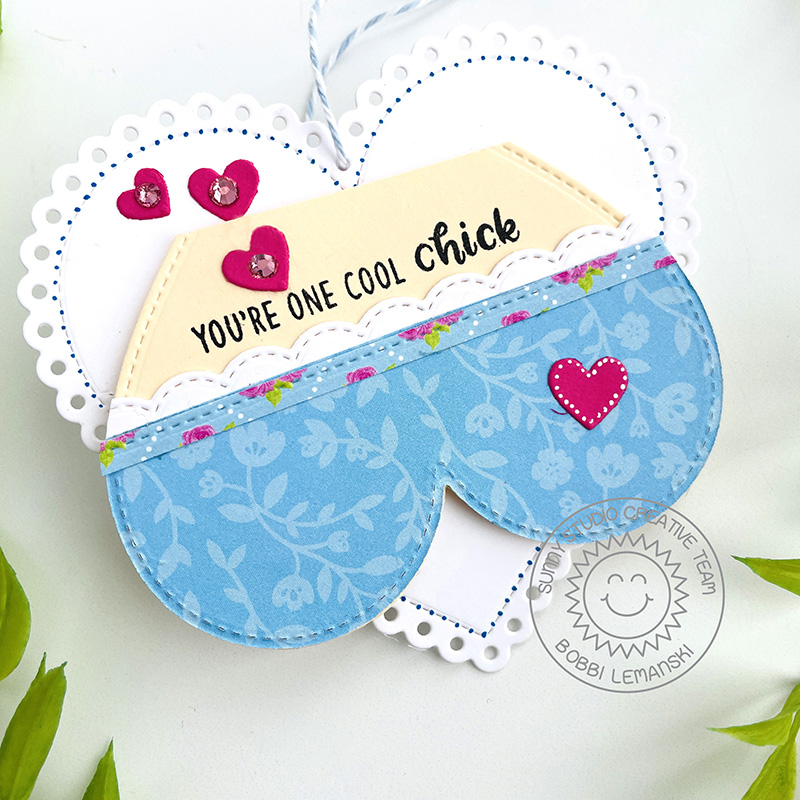 Here's a little bonus item. I made a matching tag to go with this card. I used the same dies and pattern papers as in the card. I used the Scalloped Heart dies to create the tag base and then added the image to the front. The "You're one cool chick" phrase is also from the Clucky Chickens stamp set.
Thanks for stopping by today. If you want to see more ideas and inspiration from me, subscribe to my blog, BobbiHartDesign.com. I'll send you updates on new posts! You can also find me on Instagram as @BobbiHartDesign and on Facebook as BobbiHartDesign.